Yunnan Woman Dies Due to the Persecution of Her Faith
Feb. 17, 2021 | By a Minghui correspondent in Yunnan Province, China
(Minghui.org) A Kunming City, Yunnan Province resident succumbed to a stroke and constant police harassment in the past few years for practicing Falun Gong. She passed away on October 30, 2020, at the age of 77.
Falun Gong, also known as Falun Dafa, is a spiritual discipline that has been persecuted by the Chinese communist regime since 1999.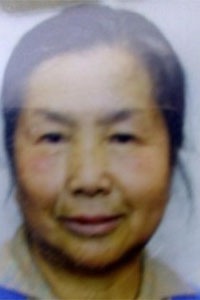 Ms. Deng Guiying
Ms. Deng Guiying, a retired employee of a chemical company, took up Falun Gong in 1997. Because of upholding her faith in the persecution, she was arrested five times and sentenced to prison twice. The police repeatedly harassed her and ransacked her home.
First Three-Year Sentence
Ms. Deng was arrested in 2008 for talking to the locals about Falun Gong and distributing Falun Gong informational materials. She appeared in Kunming City Intermediate Court on August 11, 2008, and was sentenced to three years in Yunnan Province Women's Prison.
After she was taken to the prison in November 2008, the guards forced her to sit on a small stool from 7 a.m. to 11 p.m., with only four restroom breaks, every day. At the same time, she was forced to watch propaganda videos slandering Falun Gong and ordered to write thought reports.
After four months of intensive torture, Ms. Deng was transferred to the regular ward and ordered to do unpaid labor. She and other practitioners imprisoned for their faith were made to work from 6 a.m. to 10:30 p.m. every day. The work they did included sorting dried peppers, sewing wallets, and making bead embroidery. They often had to work overtime if they couldn't finish the quota.
During the more than two years she served in the prison, she was only allowed to wash her bedding three times. In addition to the intensive labor and physical torture, the poor living conditions in the prison took a toll on Ms. Deng's health and she developed high blood pressure. Yet the police continued to harass her after she was released.
Second Prison Sentence
Ms. Deng was arrested a few more times, on October 27, 2011, in 2014 and 2016, respectively, for distributing Falun Gong informational materials. She was briefly held in custody each time and released soon afterwards. While in detention, she often urged the police to stop participating in the persecution of Falun Gong and advised them to read the Falun Gong materials. One officer bought lunch for her following her October 2011 arrest and released her after she finished eating.
In 2015, she filed a criminal complaint against Jiang Zemin, the former head of the Chinese Communist Party who ordered the persecution in 1999.
On September 24, 2016, Ms. Deng was arrested again along with five other practitioners after being reported for distributing Falun Gong materials. All six of them were brought to the hospital for physical examination. The police also took their photos and body-searched them.
After the practitioners' families went to the police station to demand their release, the police released four practitioners older than 70 on bail after ordering them to pay a 2,000-yuan bail bond each. The four practitioners were Ms. Deng, Ms. Zhai Yuexian, 80, Ms. Gao Qiaongxian, 78, and Ms. Lu Changying, 76.
Two practitioners younger than 70, Ms. Zhu Yulian, 57, and Ms. Li Shixia, 66, were taken to the Kunming City Women's Detention Center.
On October 19, 2016, Ms. Deng, Ms. Zhai, Ms. Lu, and Ms. Gao received a notice from Jingning County Police Department, which accused them of committing crimes. The four women wrote a joint response to the police, urging them to not follow the regime to make accusations towards Falun Gong practitioners, who are only striving to live by the principles of Truthfulness-Compassion-Forbearance. They also explained why they risked their lives exposing the persecution – to help people understand the illegality of the persecution and to break away from the regime so as to avoid being held responsible when the time comes to bring to justice the perpetrators of the persecution.
The four practitioners on bail, as well as the two in custody, were tried by the Jinning County Court on August 29, 2017. Ms. Deng was sentenced to two years with three years' probation and was therefore able to serve her time outside of prison. The judge also sentenced Ms. Zhu to three years, Ms. Li to two years, Ms. Lu and Ms. Gao to two years with three years probation, and Ms. Zhai to one and a half years with two years probation.
The police continued to harass Ms. Deng during this time, which eventually caused her health to quickly deteriorate and her ultimate death.