Hong Kong Practitioners Send New Year Greetings to Master Li
(Minghui.org) This year marks the 29th year since Falun Dafa was first introduced to the public. The spiritual discipline is practiced in over 100 countries and regions worldwide with hundreds of millions of practitioners. As part of their Chinese New Year celebrations, practitioners from around the world, including Hong Kong, sent festive greetings to the founder, Master Li Hongzhi, and thanked him for his compassionate salvation.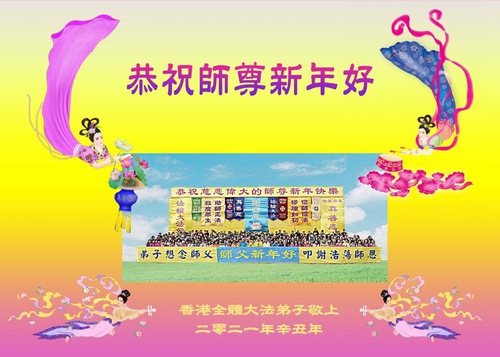 Practitioners in Hong Kong wish Master a Happy Lunar New Year!
Terminal Illness Resolved One Month after Practicing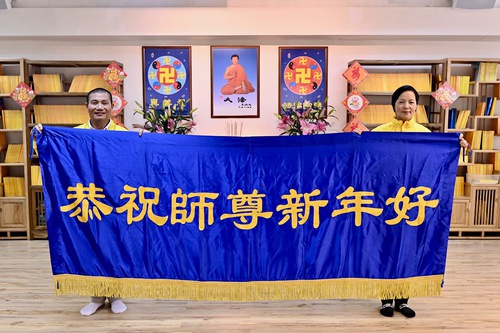 Practitioners in Hong Kong send New Year greetings to Master Li and thank him for introducing Falun Dafa to the public.
Due to Hong Kong's current restrictions on gatherings, practitioners were not able to hold their usual public activities. On New Year's morning, Ms. Chen and Mr. Hong dressed in bright yellow exercise outfits and wished Master Li a Happy New Year.
Ms. Chen, who has practiced Falun Dafa for 5 years, had late-stage breast cancer. A year after completing chemotherapy, her cancer returned and spread to her brain. Doctors said she had only one month to live. When she was in great despair, a good friend told her about Falun Dafa. 
Ms. Chen felt she had found a treasure after reading the main book of Master's teachings, Zhuan Falun. Many questions she had about life were answered and gave her hope. She decided to practice Falun Dafa. She measured her every word and action with Dafa's principles, Truthfulness-Compassion-Forbearance, and diligently practiced the exercises every day.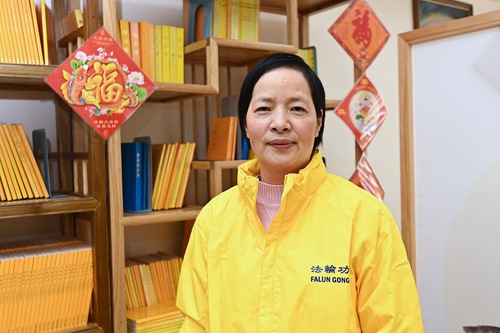 Ms. Chen found Dafa as she was dying from late-stage breast cancer. She thanks Master for giving her a new lease on life.
In the beginning, Ms. Chen was so ill she could barely walk. She couldn't do household chores and had to rest halfway through taking a bath. Someone had to take her to the park so she could do the exercises. She could not stand when she did the exercises. But no matter how hard it was, she persisted. In time, she was able to get to the park on her own and do the exercises. Without taking a single pill, she recovered in a month. Five years later, not only has her cancer not relapsed, her health is better than before she had cancer. "I used to be out of breath after climbing a few flights of stairs but now I am not tired no matter how far I walk," she said.
"I didn't expect that practicing Dafa would save my life. My family is grateful, too," she said. Her young children did not have to suffer the loss of their mother. Her elderly mother became a practitioner after witnessing her amazing transformation. Many friends changed their negative perception of Falun Dafa. A friend who had terminal stage cancer also began practicing after hearing about Ms. Chen's experience. 
With tears in her eyes, Ms. Chen expressed her heartfelt gratitude to Master for saving her life. She and her mother go out every day to tell people about Falun Dafa. Ms. Chen's New Year's wish is for more people to experience firsthand how wonderful Falun Dafa is.
More People Support Dafa
Hong Ruifeng started to practice Falun Dafa in January 1998. Many ailments including an overly sensitive sense of smell disappeared after he began to practice. Most importantly, he said he found the true meaning of life. When the CCP (Chinese Communist Party) started to suppress the practice in July 1999, he made efforts to clarify the truth just like many other practitioners.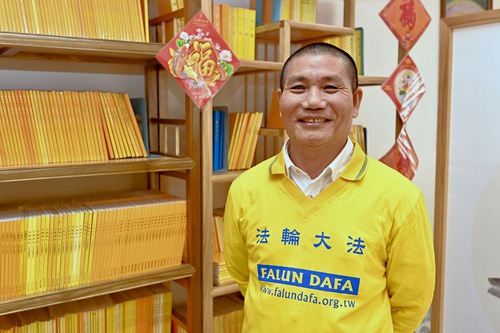 Hong Ruifeng, who began to practice in January 1998, recovered from many health problems after he started to practice Falun Dafa.
Hong Ruifeng has been going to the truth-clarification site next to Sam Shui Po train station for nearly 20 years. He has endured countless hardships including long-term harassment by members of the Hong Kong Youth Association (a group organized by the CCP). Together with another practitioner Pan Lianhua, they filed a lawsuit against the Food and Environmental Hygiene Department for illegally confiscating banners in 2013. The case is still in the Court of Final Appeals and will be heard on May 13, 2021.
Having overcome many challenges in clarifying the truth to people for two decades, Mr. Hong said he is moved most by how people now support Dafa. For example, on September 13, 2020, a female member of the Hong Kong Youth Association cut up a banner at the Sam Shui Po truth-clarification site. When he confronted her, many passersby supported him and told him not to let her get away with what she'd done. The female member reported to her supervisor that she was surrounded by Falun Dafa practitioners.
Mr. Hong laughingly explained he was the only practitioner there. "In the past, people didn't care when they saw us being harassed. After the movement against the extradition law and practitioners' long term efforts in clarifying the truth, they are now very supportive of Falun Dafa. So much so that the female member thought they were all Falun Dafa practitioners. This shows that people are awakening to the truth," he said. The courts later fined the woman 2000 HKD for destroying the banner. 
Mr. Hong's New Year wish is for more people to know the facts about Falun Dafa.
81-Year-Old Woman Clarifies the Truth All Year Round
On the first day of the New Year, many truth-clarification sites in Hong Kong opened extra early. Practitioners busily handed out information and talked to people about the practice and the persecution.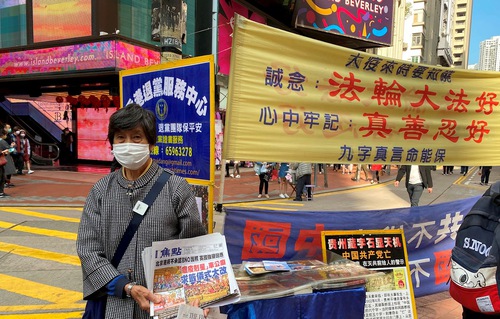 Ms. Zhang, 81, clarifies the truth to people outside Sogo shopping mall in Causebay Bay during the New Year holidays.
Ms. Zhang, who has been clarifying the truth to people outside the Sogo shopping mall in Causebay Bay for a decade, is 81 years old. She said with tears in her eyes, "Thank you, Master, for turning me, a person loaded with karma, into a good person." She explained why she did not take a break during the New Year holidays, "We never take a day off. Especially during holidays when there are many people outside. All the more we should come out and tell them about Dafa. It is worth it if even one person realizes the truth."
She explained that peoples' attitudes are changing, "In the past, people refused to take the information, Now, even if they don't take it, they give us a thumbs up and say we are great and to keep it up."
She said she had no fears or worries since the National Security Law was passed: "Our mission is to clarify the truth and awaken peoples' conscience."
She said her wish for the New Year is, "I hope Master can rest assured--we will do better."
Helping 100,000 People Quit the CCP
Ah Rong has practiced Falun Dafa for over 20 years. All 365 days a year, she clarifies the truth to people and helps them quit the CCP at various tourist attractions in Hong Kong. She said that, besides tourists from China, many people who moved from China to Hong Kong are CCP members. Having been through the umbrella movement and the protests against the extradition laws, the general public has awakened, especially young people. Therefore it is easier to get them to renounce their Party membership in just a few sentences.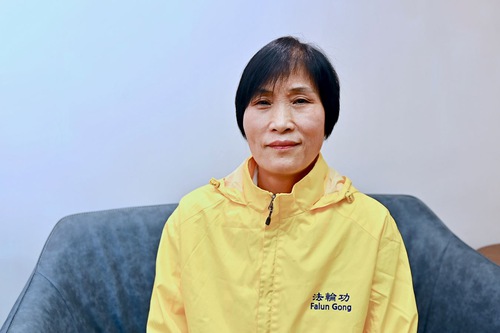 Ah Rong sends New Year greetings to Master Li.
She gave an example. During the protests against the extradition laws, she met young protesters in their 20s and 30s. They told her, "We now realize that what you say is true—the CCP is killing practitioners for their organs!" As soon as she suggested they quit the CCP, they immediately agreed. Several police officers who grew up in China and were CCP members also quit.
Since the Nine Commentaries on the Communist Party was published at the end of 2004, over 300 million Chinese people have withdrawn from the CCP and its affiliated organizations. She said it's hard to keep track of how many people she's helped quit the CCP over the past 10 years. It must be at least 100,000, because every day she's helped at least 12 people quit. At the opening ceremony of the Hong Kong- Zhu Hai - Macau Bridge, many people came to Hong Kong. At its peak, she helped a hundred people to withdraw from the CCP. Even during the pandemic, since Hong Kong is so densely populated, people continue to go outside, especially on weekends. When she goes to tourist spots to clarify the truth, people line up to get information and she has the opportunity to help many people quit the CCP every day.
Wants More People to Know the Facts about Falun Dafa
Zhou Sheng, who lives in Wan Chai, recovered from many difficult-to-treat ailments such as epilepsy after practicing Dafa.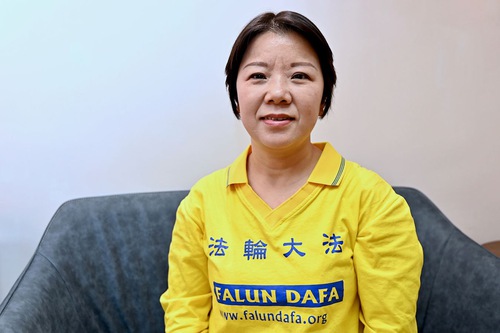 Zhou Sheng hopes more people will know the truth about Falun Dafa.
She is most grateful to Master for giving her good health and improving her moral character. "I became a better person after I began practicing Dafa. Master taught me to be a noble person with high moral values. I hope more people can know the truth about Dafa and not be deceived by the CCP's lies," she said.