Falun Dafa Supporters Send New Year's Greetings to Founder of Practice
Feb. 15, 2021 | By a Minghui correspondent
(Minghui.org) Over the past 22 years, Falun Dafa practitioners in China have been clarifying facts about their faith and raising awareness about the persecution. Their perseverance, peaceful actions, and kindness have moved the hearts of many Chinese. On the special occasion of the 2021 Chinese New Year, many of those whose hearts have been moved are sending their sincere wishes to the founder of Falun Dafa, Master Li Hongzhi, to express their support for the practice.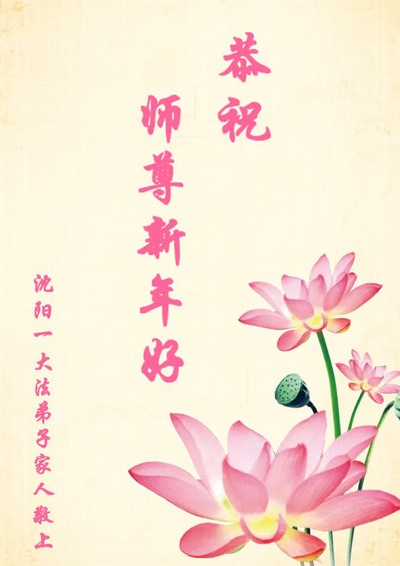 One resident of Nanjing City, Jiangsu Province, said they witnessed the beauty and magnificence of Falun Dafa from their family member who does the practice. When the police came to harass the practitioner, they stood up against the persecution and drove the officers away. One official also apologized to the practitioner. 
Another resident of Tangshan City, Hebei Province, wrote, "My wife practices Falun Dafa. I witnessed firsthand how quickly her health improved after she took up Falun Dafa. She also treats our parents better, takes self-interest lightly, and has become kinder and more compassionate. Our family is filled with harmony. In such a corrupt society in China, it's amazing to see how Falun Dafa has changed my wife completely in such a short period of time. It's really a testimony to the extraordinary power of Falun Dafa!"
Fourteen residents of Beijing said, "In the chaotic world today, it's through Dafa practitioners' peaceful truth-clarification, that we see how serene and pure the practice is. Falun Dafa is leading society toward goodness and it's the hope for humanity. Although we don't practice Falun Dafa yet, we will be good people just like Dafa practitioners and no longer drift along with the degenerating current." 
A Sunwu County, Heilongjiang Province, resident shared similar thoughts. He said in his greeting, "In the chaotic world, people don't know how to live a normal life and they no longer have true happiness. But the community of Falun Dafa practitioners is a pure land!"
The mother-in-law of a practitioner in Jinzhou City, Liaoning Province, said she has been reciting the auspicious phrases "Falun Dafa is good; Truthfulness, Compassion, Forbearance is good" every day and her kidney cysts and asthma have recovered. She is grateful for all the blessings and protection she has received from the practice.
A family of Zhucheng City, Shandong Province, said in their greeting, "Eight of our family members practice Falun Dafa. They are bringing positive energy and harmony to our family. We all get along very well with each other. We are longing for the persecution to end and the practitioners being vindicated."
Another big family of 31 in Shijiazhuang City, Hebei Province, wrote, "Three of our four siblings practice Falun Dafa. While our youngest brother and his wife don't, they support Dafa and have often spoken up for Dafa. Once the sister was arrested, the younger brother went to seek her release and said to a government official, 'Falun Dafa is very good.'"
The sister of a practitioner in Zhaoyuan City, Shandong Province, said, "Although I haven't started to practice Dafa yet, I support it very much and admire Master Li. In the past two decades of persecution, we all face tremendous pressure. But no matter what, I have always supported my sister and helped her. I know she didn't do anything wrong in upholding her faith. It's the police and those who arrested her who are violating the law. I know for sure that justice will be upheld for Falun Dafa one day and the Chinese Communist Party will collapse. I know it won't be too long. I'm longing for that day!"
Other greetings hailed from the following regions:
Lechang City, Guangdong ProvinceXiannian City, Hubei ProvinceYingkou City, Jinzhou City, Shenyang City, Anshan City, Benxi City, and Jianping County, Liaoning ProvinceNanchong City and Meishan City, Sichuan ProvinceShanghaiBeijingLinkou County, Huachuan County, Jixi City, Huanan County, and Qitaihe City, Heilongjiang ProvinceBaiyin City and Huining County, Gansu ProvinceTonghua City, Yanji City, and Changchun City, Jilin ProvinceZhaoyuan City, Shandong Province Taiyuan City and Yanggang County, Shanxi ProvinceTangshan City, Baoding City, Shijiazhuang, and Fuping County, Hebei ProicnceHuaian City and Qidong City, Jiangsu Province