New York: Practitioners Wish Master Li a Happy New Year and Express Their Gratitude
(Minghui.org) With 2022 fast approaching Falun Dafa practitioners gathered in Kissena Corridor Park, in Flushing, New York on December 12, to wish their founder Master Li Hongzhi a happy New Year and to thank him for his boundless grace.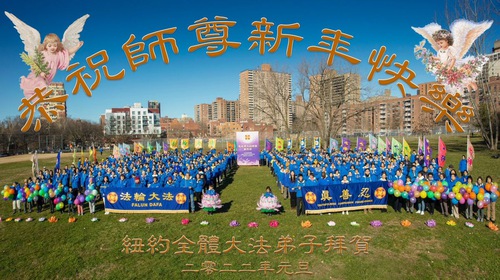 Practitioners wish Falun Dafa's founder Master Li a Happy New Year. 
Under the bright, blue skies, colorful flags were displayed at Kissena Corridor Park in Flushing. A huge panel that read "Happy New Year, Compassionate Great Master" was set up. Another banner which had a Falun emblem read, "At the final moment of Fa-rectification, all Dafa disciples will fulfill their sacred mission, assist Master and save sentient beings."
With grateful hearts, the practitioners pressed their hands together and said in unison: "Master, Happy New Year. Falun Dafa is good. Truthfulness-Compassion-Forbearance is good."
Some were veteran practitioners who have practiced Dafa for more than 20 years, and there were also new practitioners who just started. They wanted to share their stories and express their gratitude.
Getting a Second Life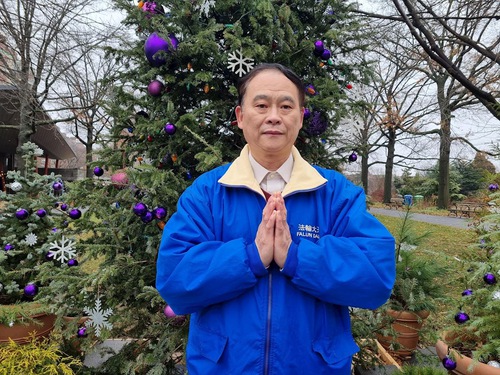 Mr. Xiaoping Yang, 66 years old, appreciates Master and Dafa for giving him a second life.
Mr. Xiaoping Yang, 66 years old this year, had severe arthritis, cervical spine disease, lumbar spine disease, and stomach disease before he began practicing Falun Dafa. He said, "My fingers were severely deformed. From my head to the cervical spine to the lumbar spine, every joint hurt. 
"I visited all the hospitals in Shanghai. One doctor said, 'If your hands become numb, you will be paralyzed.' Another doctor checked my spine and said, 'You are finished.'"
Mr. Yang said that his stomach condition was more serious and he often held a hot water bottle against his abdomen to relieve the pain. In order to avoid surgery, he tried everything. He dared not have surgery because it was too risky. 
In order to treat his illnesses, he practiced several types of qigong, but none of them worked. When his situation was desperate, he heard about Falun Dafa in 1995. Soon after he began practicing, all his illnesses were resolved. He even quit smoking—he had begun smoking in the fourth grade. 
Mr. Yang's wife had a serious heart disease when she was young. The doctor warned her and said she should avoid getting pregnant, otherwise her life would be in danger. When his wife became pregnant, the doctor asked her husband if he wanted to save her or the unborn child if it came to that. After many difficulties, the child was born. 
Mr. Yang said, "After I practiced for a year, my wife saw my changes and began practicing. Her heart disease disappeared."
Mr. Yang's daughter used to have bed wetting problems. She kept wetting the bed even though she was twelve years old. "Every day, the bedding, bed, and clothes were wet, which was embarrassing. But after my daughter practiced Falun Dafa for a week, she stopped wetting the bed."
Mr. Yang said that his entire family benefits from Dafa, and they are all healthy. He said, "We appreciate Master for his compassionate salvation and wish Master a happy New Year. We hope more people in the world will learn about Falun Dafa, and learn the true meaning of life."
New Practitioner Quits Smoking and Drinking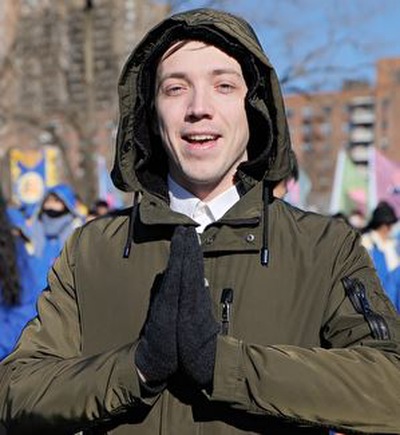 Mr. Igor Jankovski began practicing Falun Dafa two years ago. 
Mr. Igor Jankovski started to practice in 2019. He is a musician. Before learning Falun Dafa, he was obsessed with having fun, going to nightclubs, smoking, drinking, and indulging in bad habits. 
He said, "The first time I practiced the exercises I felt a very large energy field." A week later he stopped drinking and smoking. He said it was as if his body was rejecting the poison.
After reading Zhuan Falun, Mr. Jankovski said that this was exactly what he was looking for. He had been looking for spiritual things all his life. Falun Dafa answered all his questions. 
He said, "Falun Dafa teaches us Truthfulness-Compassion-Forbearance. We must become virtuous and better people." He enlightened that forbearance includes endurance when facing difficulties and has deeper connotations. 
Falun Dafa is Extraordinary 
Ms. Xia, 57 years old this year, said that after practicing Dafa, she recovered from her illness. She felt better physically than when she was young. "I am very grateful to revered Master for giving me a second life."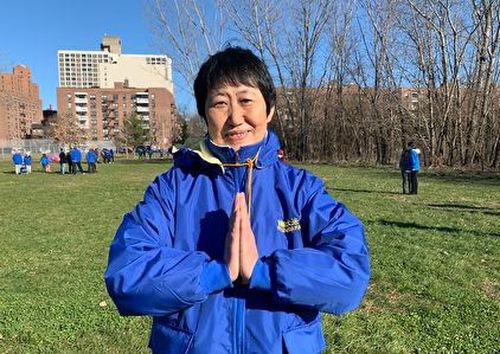 Ms. Xia appreciates Master.
Ms. Xia said that before she began practicing Falun Dafa, she had many illnesses. "A doctor said that I would die before I was forty years old." She also had several miscarriages. After she began practicing Falun Dafa in early 1994, she gave birth to a son that same year. She said that all her relatives and friends were amazed and praised Falun Dafa. She said, "Because of Dafa, I have a beautiful family." 
Ms. Xia hopes that people will remember the two phrases "Falun Dafa is good, Truthfulness-Compassion-Forbearance is good." She hopes that the people of the world will cherish Falun Dafa, "Don't be indifferent, especially now that the pandemic is raging. Please remember the two phrases so that you can survive it and be safe."
All articles, graphics, and content published on Minghui.org are copyrighted. Non-commercial reproduction is allowed but requires attribution with the article title and a link to the original article.