Vancouver, Canada: Rally Held to Mark Human Rights Day and Call for Sanctions Against the Chinese Communist Perpetrators
(Minghui.org) Falun Gong practitioners held a rally in front of Vancouver's Chinese Consulate on December 8, 2021 to mark International Human Rights Day, December 10. The Global Democracy Summit began on December 8, and was attended by Canadian Prime Minister Trudeau. Practitioners in Vancouver urged Prime Minister Trudeau to speak up for human rights, demand that the Chinese Communist Party (CCP) release Canadian citizens detained in China, and sanction CCP officials who persecute human rights.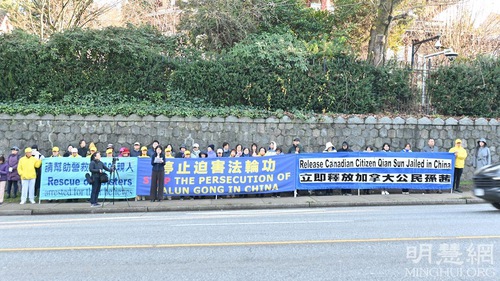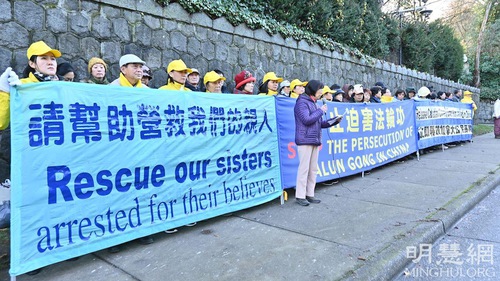 Practitioners held a rally in front of the Chinese Consulate in Vancouver on December 8.
Falun Dafa Association: The Canadian Government Should not Become the CCP's Accomplice
Su Zhang, spokesperson for the Vancouver Falun Dafa Association, read the Canadian Falun Dafa Association's announcement at the rally. The association urged the Canadian government to demand that the CCP release Canadian citizen Qian Sun, who has been subjected to violent persecution in China because of her belief in Falun Gong. They also asked that all family members of Canadians who are being persecuted be released.
Ms. Sun, a Canadian Chinese business owner in Vancouver, was sentenced to an eight-year prison term by the CCP on June 30, 2020, for practicing Falun Gong.
Ms. Zhang said, "At present, 12 family members of Canadians are illegally imprisoned in Chinese prisons or black jails, including Yang Jingyan, a 94-year-old Canadian citizen, and the daughter of an elderly Vancouver man."
In her speech, Ms. Zhang pointed out that the CCP persecuting, torturing, killing, and slandering Falun Gong practitioners simply because of their belief is completely against morality.
She called on the Canadian government to protest the persecution, "The more our government remains silent on the persecution of Falun Gong, the more it will become an accomplice in the persecution. The weaker we become against the CCP, the more fiercely the CCP will attack Canada's democracy, morals, and values, as we are witnessing now."
Calls to Sanction CCP Officials Involved in the Persecution
The announcement also stated that according to the Magnitsky Act, one hundred and fifty Chinese officials who committed human rights violations should be sanctioned and prohibited from entering Canada, and their assets in Canada should be frozen.
On International Human Rights Day last year, the Falun Dafa Association submitted a list of 150 CCP officials to the Canadian Minister of Foreign Affairs and provided evidence that these officials have seriously violated the human rights of Falun Gong practitioners.
Magnitsky-style laws are named after Moscow lawyer Sergei Magnitsky. He was arrested and imprisoned in November 2008, after exposing tax fraud by Russian officials. After being detained in a Moscow prison for one year, where he was tortured, he died in November 2009. Magnitsky's death aroused a strong response from the international community.
The United States and Canada passed the Global Magnitsky Accountability Act in 2016 and 2017, respectively. The European Union of 27 countries passed the European version of the Magnitsky Act in December 2020. In March 2021, the EU sanctioned four CCP officials and one entity, and imposed sanctions on these individuals by enforcing travel bans and freezing their assets.
In her speech Ms. Zhang said, "Today in China, Falun Gong is still one of the largest and most violently persecuted groups."
Help Rescue My Mother
Canadian citizen Alice Zhang also addressed the rally and called on the Canadian government to help rescue her mother, Tang Huafeng.
Ms. Tang is a teacher. After practicing Falun Gong, her many diseases were resolved and she became a kinder and more peaceful person. Simply because she told others about her beneficial experience, she was detained by the CCP authorities in June this year. She was imprisoned for the same reason from 2014 to 2018. She had a heart attack and went into a coma during while imprisoned.
Her daughter Ms. Zhang said, "The CCP's persecution of Falun Gong since July 20, 1999 has caused great trouble and harm to countless practitioners and their families."
She called on the Canadian government and members of parliament to make efforts to defend Canada's values of democracy, freedom, and respect for human rights.
Background: What Is Falun Dafa?
Falun Dafa (also known as Falun Gong) was first introduced to the public by Mr. Li Hongzhi in Changchun, China, in 1992. The spiritual discipline is now practiced in over 100 countries and regions worldwide. Millions of people who have embraced the teachings—which are based on the principles of Truthfulness, Compassion, and Forbearance—and learned the five exercises have experienced improved health and well-being.
Jiang Zemin, former head of the Chinese Communist Party (CCP), perceived the spiritual discipline's growing popularity as a threat to the CCP's atheistic ideology and on July 20, 1999, issued an order to ban the practice.
Under Jiang's personal direction, the CCP established the 610 Office, an extralegal security organization with the power to override the police and judicial systems and whose sole function is to carry out the persecution of Falun Dafa.
Minghui.org has confirmed the deaths of thousands of practitioners as a result of the persecution over the past 22 years. The actual number is believed to be much higher. More have been imprisoned and tortured for their faith.
There is concrete evidence that the CCP sanctions the harvesting of organs from detained practitioners, who are murdered to supply the organ transplant industry.
All articles, graphics, and content published on Minghui.org are copyrighted. Non-commercial reproduction is allowed but requires attribution with the article title and a link to the original article.