Man Incarcerated for 13 Years Loses Wife and Father to Persecution of His Faith
(Minghui.org) The authorities in Kunming City, Yunnan Province, continued to harass a local man after he was incarcerated for 13 years for refusing to renounce his faith.
Mr. Yan Jingxiong, 59, is a practitioner of Falun Gong, a mind and body practice based on the principles of Truthfulness-Compassion-Forbearance. Since the Chinese communist regime ordered the persecution of Falun Gong in July 1999, he has served two years and seven-and-half months in a forced labor camp, a six-year prison term in 2009, and another five-year prison term in 2016.
The seemingly endless harassment and incarcerations put his family under tremendous financial and mental strain. His wife's health deteriorated and she died in 2005 at the age of 42. Five years later, his father hanged himself and died at 77.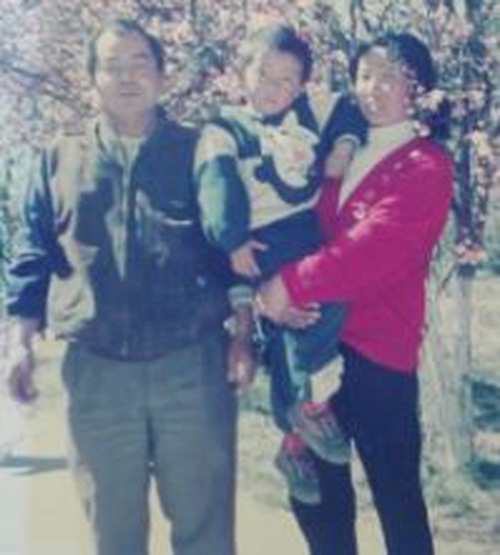 Mr. Yan Jingxiong, his child, and his wife Ms. Zhang Fengxian
Wife Dies after Husband Released from Forced Labor Camp
Mr. Yan was arrested on February 8, 2000, and detained for a month. His wife was terrified and worried sick about his safety. On April 26, 2001, the police arrested him again and ransacked his home. He was detained and tortured for 24 hours. Three months later on July 20, the police ransacked his home again. He was forced to live away from home to avoid future arrests.
At the end of 2001, Mr. Yan and his wife Ms. Zhang Fengxian were on their way to harvest vegetables on their farm when the police stopped them. Claiming they needed to ask Mr. Yan some questions, the police took him away and held him in a detention center.
Without any due process, the Guandu District Police Department gave him two years in Yunnan Second Forced Labor Camp. His term was extended for 7.5 months because he refused to renounce Falun Gong.
Due to the stress and fear, Ms. Zhang suffered frequent tightness in her chest. After Mr. Yan was released, her wish for a peaceful life was crushed when the police kept returning to harass them and arranged for people to stay outside their house to watch them. The trauma took a toll on her health and she passed away on May 8, 2005.
Sentenced to Six Years for Giving Out a Falun Dafa DVD
Mr. Yan visited a friend in Mouding County (about 180 miles from Kunming) on March 27, 2009, and brought him a DVD with information about Falun Gong. Liu Xianshun of the Mouding 610 Office later found the DVD. Liu and several police officers ransacked the friend's home and interrogated his son and daughter-in-law, who were forced to reveal Mr. Yan's name and address.
Liu ordered the Kunming Police Department to monitor Mr. Yan. The police arrested him on the morning of March 30 and took him to the County 610 Office, where he was interrogated for 24 hours. The police later put him in a detention center and tried to extract a confession from his son and cousin.
When Mr. Yan was tried in a court in Mouding, presiding judge Li Guanghui prevented him from defending himself. He sentenced Mr. Liu to six years in prison two weeks later.
After Mr. Yan was taken to the Yunnan Province First Prison on September 23, 2009, he was put under strict management and forbidden from talking to others or getting food on his own. The guards made him sit still on a small stool all day long and instigated other inmates to insult him and his belief. He tried to clarify the facts about Falun Gong, only to be abused even worse.
Mr. Yan was released early, on June 30, 2014. Guard Liu Jun punched him four times because he asked for the verdict before he left the prison.
Five Years in Prison for Handing Out Falun Gong DVDs
Mr. Yan was arrested again on October 11, 2015, when the police saw him giving out Falun Gong DVDs. Officers from Wuhua District Domestic Security Office held him in the Wuhua District Detention Center for five months.
Mr. Yan was sentenced to 5 years by the Wuhua District Court on February 11, 2016. He was taken to Yunnan Province First Prison on March 23, 2016, and released on October 10, 2020. The police have continued to harass him ever since.
All articles, graphics, and content published on Minghui.org are copyrighted. Non-commercial reproduction is allowed but requires attribution with the article title and a link to the original article.