Woman Dies after Enduring Two Decades of Persecution for Her Faith
(Minghui.org)
Chinese Name: 崔玉芳Gender: FemaleAge: 62City: ChangchunProvince: JilinOccupation: N/ADate of Death: October 20, 2021Date of Most Recent Arrest: 2016 SpringMost Recent Place of Detention: Jilin Province Women's Forced Labor Camp
Since the Chinese communist regime began to persecute Falun Gong in 1999, Ms. Cui Yufang, from Changchun City, Jilin Province, has been arrested many times and given two labor camp terms, all for raising awareness about the persecution. The police continued to harass her after she was released. The mental pressure took a toll on her health. She passed away on October 20, 2021. She was 62.
Two Labor Camp Terms
Shortly after the onset of the persecution, Ms. Cui went to Beijing to appeal for the right to practice Falun Gong. She was taken back to Changchun and held in the Balibao Lockup for 15 days.
Ms. Cui and two other practitioners posted information about the persecution outside of the Changchun City No.1 Detention Center in December 2000. The patrolling guards noticed them and arrested them.
Xingyejie Police Station officers kept the three practitioners in the Balibao Lockup for two weeks before taking them to the Jilin Province Women's Forced Labor Camp (also known as Heizuizi Women's Forced Labor Camp). Ms. Cui was given one year and three months, another practitioner was given one year, and the third was given a year and a half. All three were later released early, after their families bribed the guards in exchange for their release.
Ms. Cui was arrested again in May 2005 after she and two other practitioners were reported for distributing Falun Gong materials in a residential area. The three of them were surrounded by the police after they left an apartment building and taken to the Kaixuanlu Police Station. The police handcuffed them behind their backs and then lifted their arms up to torture them. They also beat and interrogated them. One practitioner suffered severe vision loss as a result. The police ransacked Ms. Cui's home but left without finding Falun Gong materials.
The next day, Ms. Cui and one practitioner were taken to the Changchun City No.3 Detention Center, while the third practitioner was transferred to the Changchun City No.1 Detention Center.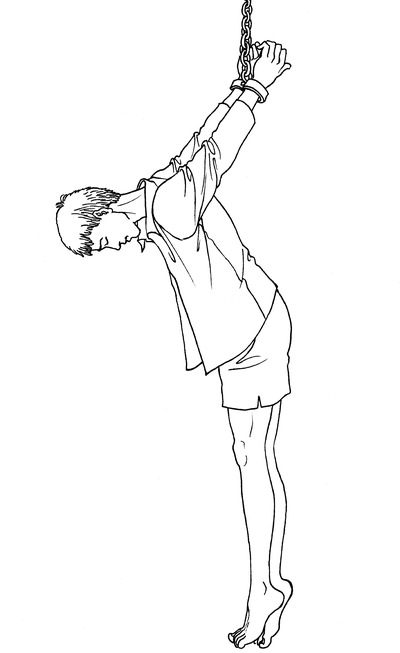 Torture illustration: Handcuffed behind the back and hung up
Ms. Cui was given one and a half years in the Jilin Province Winomen's Forced Labor Camp 20 days later. Another practitioner was given two years at Chaoyanggou Forced Labor Camp and the third practitioner was released after 15 days of detention.
Ms. Cui was forced to stand for long hours without sleep at the labor camp. Unable to bear the torture, she was forced to renounce Falun Gong against her will. She soon regretted it and nullified her renunciation.
In 2009, two years after she was released, she suffered a stroke and was bedridden for several months. By practicing Falun Gong, she mostly recovered, but the right side of her body was still weak.
Continued Harassment
The police harassed Ms. Cui at home in the winter of 2012. They claimed they were with the Changxinjie Police Station and were looking for another practitioner also named Cui Yufang.
Although they left when they realized that Ms. Cui wasn't the person they were looking for, officers from the Liuyinglu Police Station came and arrested Ms. Cui the next day. While Ms. Cui was at the police station, the police returned to her home and confiscated her computer and photo of Falun Gong's founder.
Even though the doctor recommended that Ms. Cui be hospitalized after noticing her stroke-related symptoms, the police still took her to the lockup. The detention center refused to accept her due to her symptoms, so she was released around midnight.
Ms. Cui was arrested again in the spring of 2016, when the police followed a local practitioner to her home, after finding out they were using banknotes with messages about Falun Gong printed on them. (Due to strict information censorship, many Falun Gong practitioners use creative ways to raise awareness about the persecution, including printing information on banknotes.)
Both Ms. Cui and the other practitioner were denied admission by the Weizigou Lockup and released around midnight. The 10,000 yuan in banknotes with Falun Gong information printed on them were held by the police and never returned.
The police continued to harass Ms. Cui afterwards, including in the "Knocking on Doors" harassment campaign in 2017 and the "Zero Out" campaign in 2020. Both campaigns aimed to force every practitioner on the government's blacklist to renounce their faith.
Li Zhenping, an officer with the Liuyinglu Police Station in charge of Ms. Cui's neighborhood, often stopped her and threatened her whenever he spotted her walking in her neighborhood. Li once stopped Ms. Cui just as she left home and demanded to search her home. Ms. Cui was forced to let the police in, but they didn't find any Falun Gong materials and left.
The mental pressure of two decades of persecution took a toll on Ms. Cui's health. She suddenly became incapacitated and was unable to get downstairs around May 2021, yet the authorities continued to harass her over the phone.
With no children to take care of her and her husband deceased a few years ago, Ms. Cui never recovered and passed away on October 20, 2021.
Perpetrators' contact information:
Du Shunge (杜顺阁), head of Xingyejie Police Station: +86-15904405617Li Zhenping (李振平), officer, Liuyinglu Police Station: +86-15904406130Xu Liyan (徐立岩), head of the Liuyinglu Police Station: +86-15904405762, +86-431-82639403Li Hengfei (李恒飞), deputy head of the Liuyinglu Police Station: +86-15904405634
All articles, graphics, and content published on Minghui.org are copyrighted. Non-commercial reproduction is allowed but requires attribution with the article title and a link to the original article.