Police Pry Open Door, Seize Former Party School Teacher Without Arrest Warrant
(Minghui.org) Seven or eight police officers went to knock Mr. Song Jianguo's door on October 14, 2021 but refused to show their identifications. As Mr. Song refused to open the door, the police called in a locksmith to unlock the door. They broke into his apartment and seized him. They also raided his home and confiscated some personal belongings including two cell phones and one iPad.
These police officers didn't show any search warrant either. They didn't notify any family member of Mr. Song's whereabouts after they took Mr. Song away. 
It was reported that the main perpetrators responsible for Mr. Song's arrest included Zhou Maojun, an associate director of Nancheng Police Station in Sanhe City, his subordinate Sun Yi, and Yi Weina, the director of the local residential committee.
The police interrogated Mr. Song for several hours at the Nancheng Police Station before they sent him to the Sanhe City Law Enforcement Case Management Center in Yanjiao for further detention.
The news of Mr. Song's arrest quickly attracted international attention. With the efforts of many concerned parties, he was released the next afternoon. But police refused to return his two cell phones and an iPad, saying they would seek an independent investigation of the devices. 
This is not the first time that Mr. Song has been targeted for upholding his faith in Falun Gong. He was fired from his job and held in a labor camp for more than five years, during which time he was subjected to brutal torture, including electric shocks, force-feeding and deprivation of sleep for 18 days in a row.
Over 20 Years of Persecution for Upholding Faith
Mr. Song graduated from Hebei Province Normal University with a bachelor's degree in history in 1991. He landed a job as a lecturer at the Sanhe City Communist Party School in Hebei Province. He attended Master Li's (founder of Falun Gong) lecture series in Beijing in 1993 and found answers to many of his life-long questions about life. 
Within one year of his practice of Falun Gong, his chronic bronchitis and neurasthenia were gone. He worked hard to improve himself and became the first teacher to qualify for the rank of "lecturer" in his school. His research papers and teaching plans received both municipal- and provincial-level awards.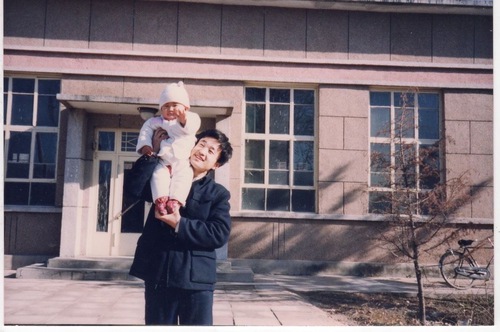 Mr. Song and his daughter in 1990s.
After the Chinese Communist Party (CCP) started the persecution of Falun Gong in 1999, Mr. Song became a primary target because he was a young fellow in political circles. He has been illegally detained at his school, police station, and brainwashing center at least nine times. During the eight months he was held at the Beijing Law Education Center, which was in fact a brainwashing center, he was subjected to various forms of torture, including death bed and sleep deprivation. He was also twice given forced labor for a total of five years and nine months. 
To avoid persecution, he also lived away from home for two years.
Mr. Song was arrested in February 2003 after he was reported for talking to people about Falun Gong on a bus. He was held at the Jiulongshan Police Station in Beijing overnight before he was sent to a detention center. A few days later he was transferred to Beijing Law Education Center, where he was held for over eight months.
Right after he was sent to the legal training center, Mr. Song was restrained on the death bed for 15 days. The blanket was soaked wet by his urine and he often woke up freezing at night. He was also force-fed with a tube inserted into his nostril. 
During his incarceration, Mr. Song applied to go home to see his father who was critically ill. While deputy director Ruan Daguo of the legal training center approved the application, he sent Mr. Song to Shijiazhuang Forced Labor Camp instead for further persecution. As a result, Mr. Song didn't get to see his father one last time.
Mr. Song went on a hunger strike at the labor camp to protest the persecution. The guards instructed inmates to force-feed him. He was once slapped in the face by guards Bian Zhiqiang and Qin. He was tortured to the point of becoming critically ill. With the great rescue efforts from fellow practitioners overseas, his family members and friends managed to get his medical parole request approved and he was taken home by his wife and sister.
However, the police never stopped harassing Mr. Song after he was released from the labor camp. He then moved to Beijing to do odd jobs. He was arrested in Beijing on September 19, 2007. Several officers from Sijiqin Police Station in Haidian District beat him and confiscated 500 cash. He was beaten so hard that his glasses slid off his face. 
Mr. Song was taken to Qinghe Detention Center and later Sujiatuo Detention Center before he was sent to a forced labor camp to serve a term of two and a half years. Police officer Zhao Xiongwei shocked him on his face and lips with an electric baton. 
On the eve of the 2008 New Year, Mr. Song was transferred to Wuyuan Forced Labor Camp in Inner Mongolia, where the guards bound him with ropes, forced him to kneel, severely beat him, and shocked every part of him with six electric batons.
Mr. Song was released in the summer of 2010. Upon returning home, he opened a tutoring center for elementary and middle school students. Five years later on August 28, 2015, over ten police officers arrested Mr. Song at his tutoring center. Three days before his arrest, he was harassed by a police officer from Nancheng Police Station and two women from the residential committee.
In April 2021, two police officers (one of whom named Wang Haibao) went to Mr. Song's home and asked him from outside the door if he was still practicing Falun Gong. Mr. Song replied, "I have been practicing Falun Gong for more than 20 years, so why should I stop? Do you know what you are doing is harassment?"
On October 14, the police broke in after having a locksmith pry open his door. 
Related articles:
Mr. Song Jianguo from Hebei Province Sent to Inner Mongolia Forced Labor Camp
All articles, graphics, and content published on Minghui.org are copyrighted. Non-commercial reproduction is allowed but requires attribution with the article title and a link to the original article.