Three Falun Gong Practitioners Still Detained in Etouwan Brainwashing Center in Wuhan
(Minghui.org) Since the persecution of Falun Gong started in 1999, the authorities in Wuhan City, Hubei Province have been actively participating in the persecution, especially in hosting brainwashing sessions against the practitioners.
In a new bid to eradicate Falun Gong, Wuhan has added 10 brainwashing centers since the beginning of 2021. Between January and September 2021, at least 71 practitioners were detained and tortured across the 10 centers.
The brainwashing centers are located in government offices, universities, state enterprises, and private companies and residences. Places such as nursing homes, hospitals, welfare homes, guest houses, and hotels are also used to hold brainwashing sessions.
The brainwashing sessions were ordered by the Political and Legal Affairs Committee and 610 Office, two agencies tasked with overseeing the persecution, with local police officers and residential committee staff members assisting in the arrests.
Etouwan Brainwashing Center in Qiaokou District is one of the leading brainwashing centers in the city. It has a long history of detaining and torturing Falun Gong practitioners.
Since January 2021, the Etouwan Brainwashing Center has held three brainwashing sessions. At least 12 practitioners were taken there and subjected to brainwashing aimed to force them to renounce their faith. Three of them remain incarcerated at the time of writing.
Ms. Xu Lai, in her 70s, was arrested on October 13, 2021, for talking to people about Falun Gong near a hospital. This is the third time that she has been held at the Etouwan Brainwashing Center.
Ms. Zhou Ailin, 53 and former auditor of Qiaokou District Industrial and Commercial Bureau, was reported by three college students for talking to people about Falun Gong on the street on July 29, 2021. The police arrested her around September 14, 2021 and gave her 15 days at Wuhan City No. 1 Lockup. As she was released from the lockup on September 29, the police stopped her at the gate, carried her into the police car, and took her to the Etouwan Brainwashing Center.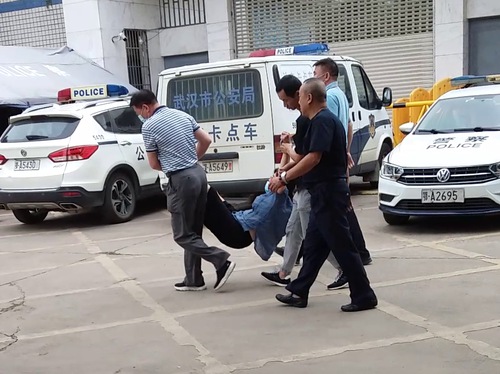 Ms. Zhou being carried away by the police
Prior to her latest arrest, Ms. Zhou has been held at the Etouwan Brainwashing Center, Danshuichi Brainwashing Center, Erdaopeng Brainwashing Center and Hubei Province Brainwashing Center in Wuhan a total of eight times. For not renouncing Falun Gong, she was force fed, beaten, held in solitary confinement and hung up by her wrists for days.
In addition to the incarceration, Ms. Zhou was also fired by the Qiaokou District Industrial and Commercial Bureau and transferred to a subordinate office to work as a secretary.
Ms. Zhang Meirong was arrested at home on September 7, 2021. Similar to Ms. Zhou, the police took her to the brainwashing center after her 15-day detention expired.
Related reports:
Wuhan Authorities Build New Brainwashing Centers in Bid to Eradicate Falun Gong
Wuhan Opens Nine New Brainwashing Centers to Incarcerate Steadfast Falun Gong Practitioners
Wuhan Brainwashing Center Unlawfully Detains and Tortures Falun Gong Practitioners
All articles, graphics, and content published on Minghui.org are copyrighted. Non-commercial reproduction is allowed but requires attribution with the article title and a link to the original article.