Munich, Germany: Practitioners' Grand Parade and Rally Praised "Spectacular!" and "Powerful"
(Minghui.org) "I happened to pass by Karlsplatz to do some shopping and saw this parade—it is amazing!" This was Mr. Daniel Böhm's reaction when he stopped to watch the Falun Dafa practitioners' parade on October 30, 2021. He said, "Spectacular! Such brightness! I felt unbelievable energy!"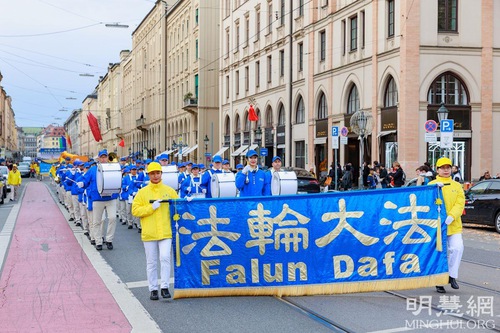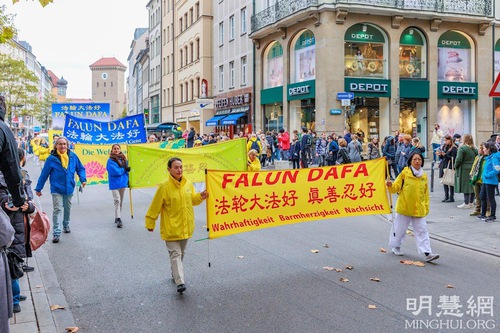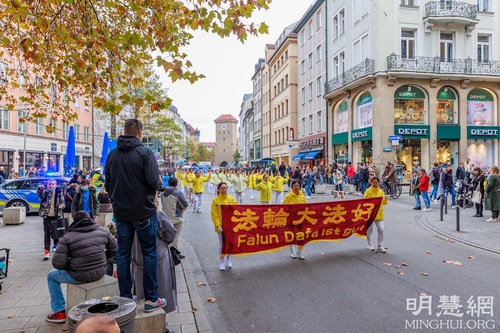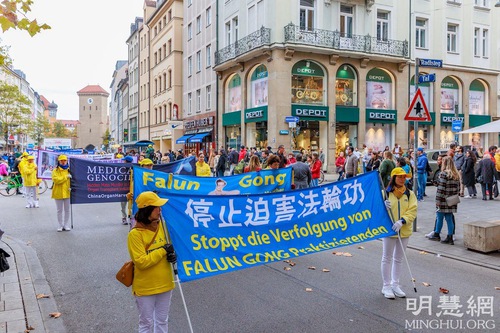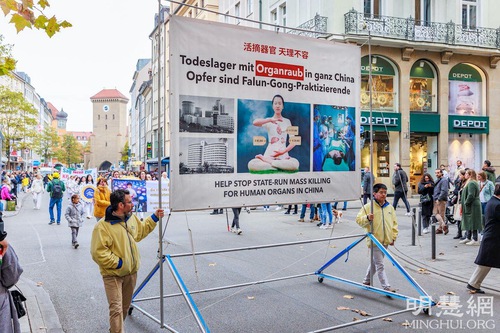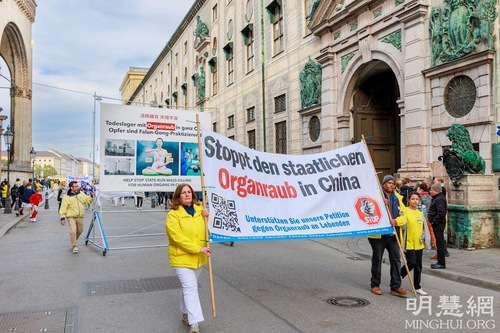 Practitioners' grand parade in Munich's city center on October 30, 2021, attracted many spectators.
Continuing their activities from the previous day, practitioners from Germany, Switzerland, and Austria held another grand parade and rally on October 30. They wished to show people the beauty of the spiritual discipline Falun Dafa and to call on German society to pay attention to the ongoing persecution in China.
The parade was held in Munich's busy shopping district. It passed through Munich Residenz, Nationaltheater, Maximilianstraße – the famous avenue where many international luxury labels have shops, as well as Isartor, the city's first gate, Tal, Viktualienmarkt – a famous food market and Sendlinger Tor before finishing at Karlsplatz. Many people stopped along the route and watched the parade. They also signed the petition to call for an end to the persecution.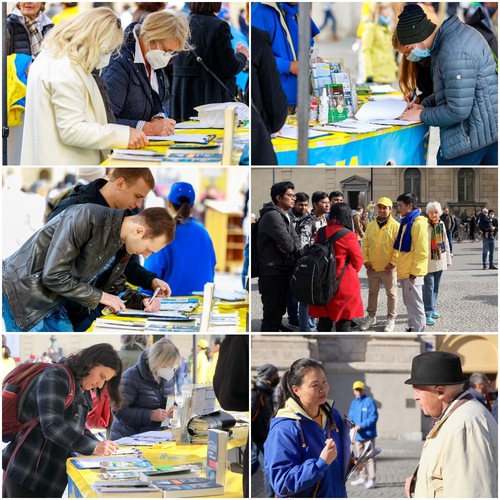 Practitioners' activities attracted the attention of passersby who stopped to learn about the persecution and sign the petition to show their support.
Truthfulness, Compassion, Forbearance Are Universal Values
Purchasing manager Pia Kreit noticed practitioners' events when she took her daughter to Odeonsplatz. Moved by what she saw she said, "Falun Dafa follows the principles of Truthfulness, Compassion, Forbearance. They are universal principles and these are my values too." She signed the petition to stop the Chinese Communist Party (CCP) from persecuting the practice in China.
She added, "The CCP stops people from doing things that are peaceful and healthy. This is not right." She emphasized: "People must say no to actions that prohibit Truthfulness, Compassion, Forbearance!"
Your Activities Have a Strong Impact
Mr. Scharpf a German lawyer who lives in Freiburg and his wife stopped to watch the rally for a long time. He said the CCP's totalitarian rule is unscrupulous. "A person's organs are taken without consent because of his faith. To a European like me living in a democratic country, this is inconceivable. It is horrifying!"
During the parade, Mr. Scharpf and his wife met the practitioner they spoke to earlier during the rally that day. He excitedly told the practitioner, "My wife is now convinced." He praised practitioners' efforts and called them: "Powerful! Excellent! You should let more Germans see you." Before departing, the couple wished practitioners success.
You Should Hold Activities Around the World
This was the first time operations manager Sven Flames saw practitioners' activities. He said, "The (rally) is peaceful and has international appeal."
He said the CCP's 22-year-long persecution of practitioners who live by the principles of Truthfulness, Compassion, Forbearance, is not good. About the regime's organ harvesting, he said, "We must oppose this together." He signed the petition to stop the CCP from taking practitioners' organs.
He also said that the events organized by practitioners are important, "If possible, you should do this globally."
A Single Spark Can Ignite a Huge Fire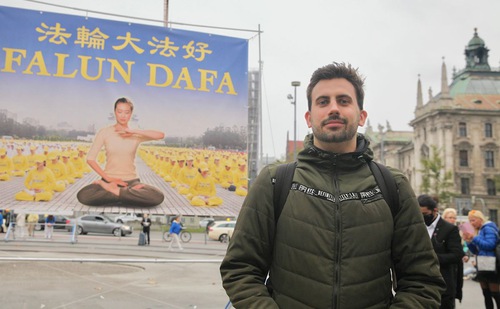 Mr. Daniel Böhm, a business management student, said he could feel the energy coming from practitioners during the parade.
Mr. Daniel Böhm, mentioned at the beginning of this article, is studying business management and is writing a thesis. He spoke to practitioners for a long time after watching the parade and signed the petition to support practitioners in resisting the brutalities. He said, "If everyone signs, a single spark can ignite a huge fire."
About the CCP's persecution of Falun Dafa he said repeatedly, "This is terrible, very bad." "This cannot go on! I hope the situation will change immediately." He thinks such public events are, "Absolutely important. I think this will make a lot of people pay attention to this."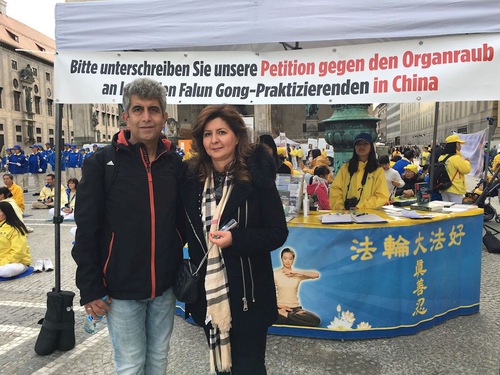 Mr. and Mrs. Asadmygoni from Köln signed the petition to call for an end to the persecution.
After learning about the persecution that has gone on for 22 years, Mr. and Mrs. Asadmygoni from Köln and their two daughters walked up to a practitioner holding a petition and said, "We want to sign this".
The Perpetrators Should be Thrown Into Jail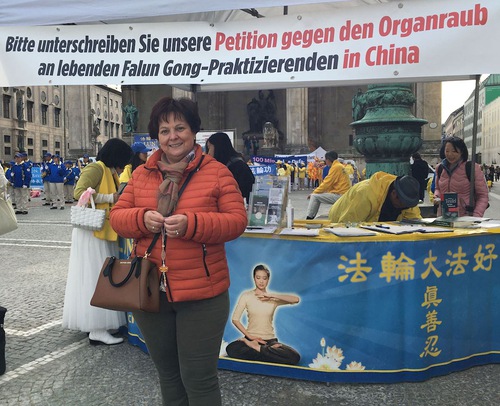 Ms. Hubner a tourist from Austria signed the petition to call for an end to the atrocities.
Ms. Hubner from Austria was a training instructor before she retired. She agreed with the principles taught by Falun Dafa – Truthfulness, Compassion, Forbearance. She signed the petition to stop the atrocities and said, "The organ harvesting is evil, and it cannot be tolerated and must be stopped."
Mr. Alex Beck works in the information technology sector. After signing the petition he said, "It is important to hold these events because people ignore such problems in society. In Germany, we think this has nothing to do with us." He said that in China, people are under a lot of restrictions therefore holding events like these outside China are all the more important. "At least it is doing something to oppose the CCP's persecution of Falun Dafa. People standing up to resist this (persecution) I think is wonderful."
Mr. Beck said, "Your event is very peaceful. The CCP's suppression of those who live by the principles of Truthfulness, Compassion, Forbearance is frightening." He also said, "They (the perpetrators) should all be thrown in jail! I hope things will turn around for the better very soon."
Retired Nurse Hopes to Learn More about Falun Gong
"I signed the petition yesterday at Marienplatz." a retired emergency room nurse told practitioners with a smile on her face. "The things you do are very meaningful. Especially when we are living amid this pandemic. Seeing your parade helps people think. You should hold these events more often in the future."
She also said she wanted to learn more about the mind-body practice. Practitioners told her they hold information day activities every Saturday in downtown Munich. She said she would go and check it out.
The German Government and Its People Should Have a Clear Understanding of the CCP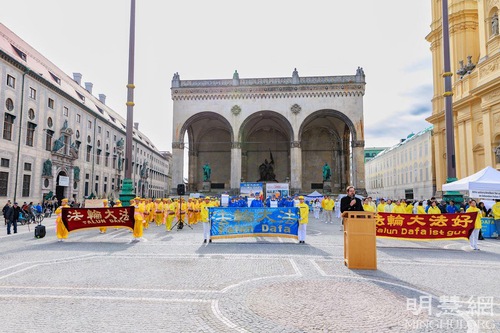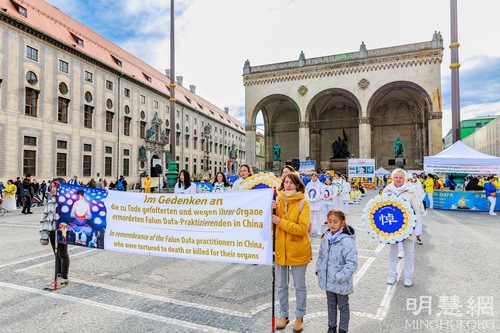 Practitioners held a rally at Odeonsplatz next to Munich Residenz.
Practitioners also held a rally at Odeonsplatz next to Munich Residenz that day. There were performances by the Tian Guo Marching Band, waist drum team, and dragon and lion dances by practitioners who traveled from Poland and Czechia. Many passersby stopped to watch the rally and chatted with practitioners. They asked what Falun Dafa is and details about the persecution in China. Many said they were touched by practitioners' efforts and signed the petition to show their support. Some Chinese citizens decided to renounce their CCP memberships on the spot.
Mr. Manyan Ng, a board member from the International Society for Human Rights in Germany (IGFM in German) spoke at the rally. According to Mr. Ng, Germany's largest human rights organization, IGFM has monitored and commented on the human rights situation in many countries since its foundation in 1972. He said that facts have proven that the CCP is the world's biggest human rights violator. Many people heard of the CCP's persecution of the Uyghurs, Tibetans, and so on but few know about the regime's inhuman suppression of Falun Dafa practitioners that has gone on for 22 years. The organs of numerous Falun Dafa practitioners were taken and their bodies were burned to destroy evidence of organ harvesting.
He gave an example. A politician in the Sweden European Union said at a similar rally, "The Falun Dafa practitioners I know are rational and kind people. To be so afraid of a group of peaceful people, it goes to show how serious the problems are in the political regime." Mr. Ng said the politician's remarks hit the nail on the head.
He said that the problems with the CCP stem from its power being built on lies and violence. It has to constantly cover its past lies with even more cunning deception. It has to suppress people who dare to say no with even more hidden, brutal means. In history, no tyrant has been able to sustain their power through lies and aggression. 
Mr. Ng thinks that as Germany's largest trading partner, the German people and its government should all the more see clearly what the CCP is and try to avoid unnecessary disastrous losses.
All articles, graphics, and content published on Minghui.org are copyrighted. Non-commercial reproduction is allowed but requires attribution with the article title and a link to the original article.