Belated News: Three Deaths Following a Group Arrest 19 Years Ago
(Minghui.org) Police officers broke into an apartment in Daqing City, Heilongjiang Province on November 28, 2002, where they arrested six Falun Gong practitioners who had been forced into displacement to avoid persecution for their faith. Ms. Ye Lianping was tortured to death a day later. Mr. Wang Kemin, who escaped from custody, was also tortured to death after he was arrested again months later. Mr. Wang Yongqiang, who was sentenced to 15 years in prison, died from torture 11 years into his prison term.
Falun Gong, also known as Falun Dafa, is a spiritual discipline that has been suppressed by the Chinese communist regime since 1999.
Ms. Ye Lianping, then 30, Ms. Dong Shuyan, then in her 30s, and Mr. Wang Yongqiang, then 55, all of whom were residents of Mudanjiang City in the same province, were forced into displacement in 2002 to avoid the persecution. They went to Daqing and stayed at the apartment rented by Mr. Wang and located at Room 301 of Building 1-3, Zhonglin Street, Sartu District. Another three practitioners, Mr. Wen, then 39, of Hailun City, Mr. Wang Kemin, then 37, of Daqing, and Ms. "Little Girl" (real name unknown), then 21, also stayed in the same place.
On November 28, 2002, officers from the Daqing Domestic Security Office and Sartu District Police Department broke into the apartment and arrested Ms. Ye, Ms. Dong and Ms. "Little Girl." When Mr. Wang Yongqiang returned from getting a mattress for the practitioners, the police were still ransacking the place. To avoid being arrested, he jumped off of the third floor and broke his back and legs. He was arrested as well.
The police stayed at the apartment after the raid and arrested Mr. Wen and Mr. Wang Kemin at 1 p.m. and 5 p.m., respectively, when they came back.
Mr. Wen was taken back to Hailun City in the evening and then given two years of forced labor.
Mr. Wang Kemin was taken to the Fuqiang Police Station and beaten. He remained in Daqing and later escaped from the police hospital. He was arrested again months later and died the same day.
The three female practitioners were taken to the Zhonglinjie Police Station and beaten. Ms. "Little Girl" fainted as a result. The three women and Mr. Wang Yongqiang were taken back to Mudanjiang City in a police jeep the next day. The police cuffed Ms. Ye and Ms. Dong's hands tightly and hung their wrists from the ceiling of the jeep. In the narrow space in the car, they were unable to stand or sit.
Ms. Ye died the same day she was taken back to Mudanjiang, while Mr. Wang Yongqiang died after serving a decade in prison.
Below are the detailed accounts of each practitioner.
Ms. Ye Lianping
Ms. Ye was a professional fashion designer. In 2001, she was given one year at the Harbin Women's Drug Rehabilitation Center (also known as Harbin Forced Labor Camp). The labor camp guards used brainwashing and coercion in an attempt to force her to renounce Falun Gong, but she wasn't moved.
After Ms. Ye was released, the police attempted to arrest her again and put her on the wanted list. When she lived away from home to hide from the police, Li Fu, the head of Mudanjiang Domestic Security Office, threatened to beat her to death if she was ever arrested again.
On November 28, following Ms. Ye's last arrest, the police poured two bottles of wasabi oil into her nose and covered her head with a plastic bag. She choked and suffocated. The police took turns slapping her in the face. She was also handcuffed, with one hand pulled over the shoulder to meet the other hand pulled up behind her back. Her body was covered with bruises and injuries. She died from the torture the next day. She was survived by a seven-year-old daughter. Officers Qiao Ping and Li Fu were responsible for her death.
Mr. Wang Kemin
Since the onset of the persecution in 1999, Mr. Wang Kemin, a former geography teacher at the Daqing City No. 65 Middle School, was repeatedly arrested, detained and tortured.
Mr. Wang Kemin
He was first arrested in July 1999 for going to Beijing to appeal for Falun Gong and held at a brainwashing session organized by his school for three days. He was detained again in October 1999 for 15 days and taken to a brainwashing center.
Mr. Wang went to Beijing one more time on February 27, 2000, and was detained for 45 days. He was taken to two more brainwashing sessions organized by the school in May and July, respectively, and ordered to write statements to denounce and renounce Falun Gong. When he refused to comply, the police arrested him again in August and detained him for 45 days. He was given one year at the Daqing Forced Labor Camp on September 27.
In September 2001, Mr. Wang was reported by Wang Shuxiang, the Party secretary of the middle school, for showing a Falun Gong DVD to his colleagues. He went into hiding and was arrested again on January 15, 2002, while distributing Falun Gong materials in a village. The police forced him to sit in a metal chair and handcuffed and shackled him. In order to force him to provide information about other practitioners, they covered his head with plastic bags, dripped spicy water into his eyes, choked him with a chair and kicked his handcuffs. His nose broke from the beating. Mr. Wang held a hunger strike for a month. When he was hospitalized for resuscitation, he escaped.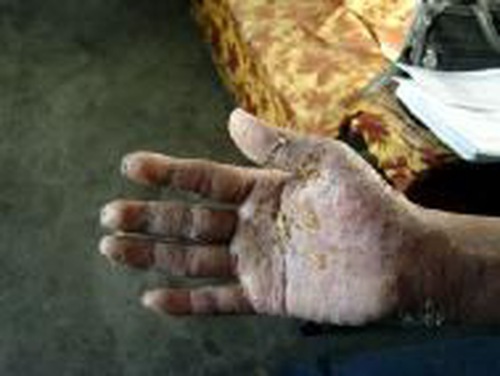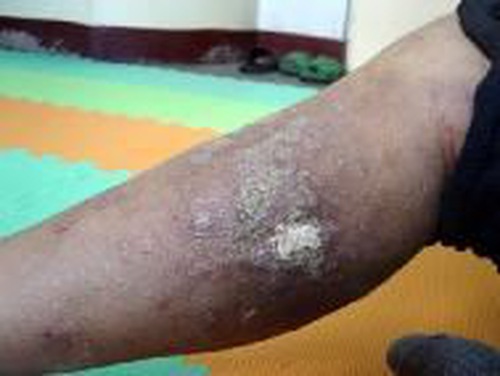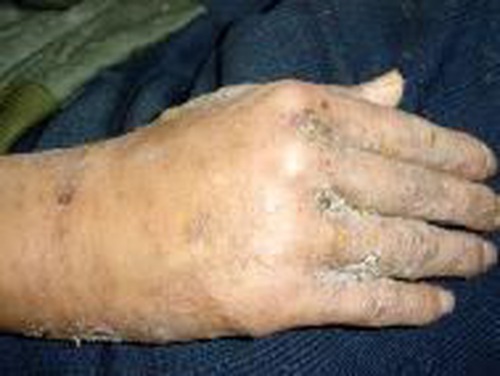 Photos taken after Mr. Wang escaped from the hospital
Following Mr. Wang's arrest on November 28, 2002, the police knocked him out and took him to the Fuqiang Police Station. Suspecting he was a resident of Mudanjiang, the Mudanjiang police demanded to take him there, but they were denied by the police in Daqing, who claimed they deserved the credit of arresting Mr. Wang. The police from the two regions fought for half an hour and they reached the agreement for Mr. Wang to stay in Daqing.
At the Sartu District Detention Center, Mr. Wang was interrogated by Sui, the head of Sartu District Domestic Security Office, on the same day of his arrest. As he refused to answer questions, two officers pushed him to the ground and beat him. His left eye bled and his body was covered with bruises.
The next day, the police formed a special task force to handle his case. They tortured and interrogated him around the clock. They stripped off his clothes and handcuffed him to a metal chair. Then they opened a window and poured snow and cold water on him. The officers also pulled a towel against his chin and almost broke his neck. Sometimes they kicked his cuffed hands or pulled on the handcuff, causing excruciating pain.
During the six days of non-stop torture, Mr. Wang was only given one or two meals. He sustained severe injuries all over his body and was very weak. When he was taken to a regular cell, his legs were swollen so badly that he couldn't take his pants off. His calf was black and blue. He was unable to walk or use his hands. Even a month later, he still couldn't move his right wrist.
Due to the filthy and humid environment, he contracted scabies. His body, eyes and face became sallow. The police later took him to the Longfeng Detention Center, which refused to accept him due to his condition. After he was diagnosed with xanthobiliary hepatitis, the police decided to release him on bail and notified his school and local police station to pick him up on December 14, 2002.
People from his school and local police station didn't arrive until around 7 in the evening. Officer Zhang Zhonghua tried to force Mr. Wang to write a statement to renounce Falun Gong, but he refused to comply. They eventually agreed to take him to the Daqing City No.2 Hospital for treatment.
While Mr. Wang was in the hospital, the prosecutor twice questioned him. The prosecutor said that the communist regime was being too lenient on him by twice releasing him on bail.
The authorities lied to Mr. Wang's mother that as long as he wrote the statement to renounce Falun Gong, they would release him and find him a job. In the meantime, they approved his arrest and planned to sentence him. One high-up official claimed that they would torture him to death if he held a hunger strike. The official also threatened to shoot him to death if he escaped from custody. The authorities also took Mr. Wang to the Daqing Forced Labor Camp for a brainwashing session, but he didn't give in.
Mr. Wang managed to escape from the hospital in mid-January 2003. Prior to that, the local court had scheduled a hearing for January 27, 2003. In retaliation, the police arrested his mother and aunt and held them in the police station for 48 hours. In order to find Mr. Wang, they searched all local practitioners' homes, as well as Mr. Wang's hometown in Kedong County. They ordered that whoever arrested Mr. Wang could kill him without asking for permission.
Mr. Wang was arrested again with three other practitioners on May 7, 2003. He died in the evening. His body was cremated four days later, and the police strictly censored any information about his death. While the police told his family that he fell to his death from a fifth-floor building, his family suspected that he was tortured to death.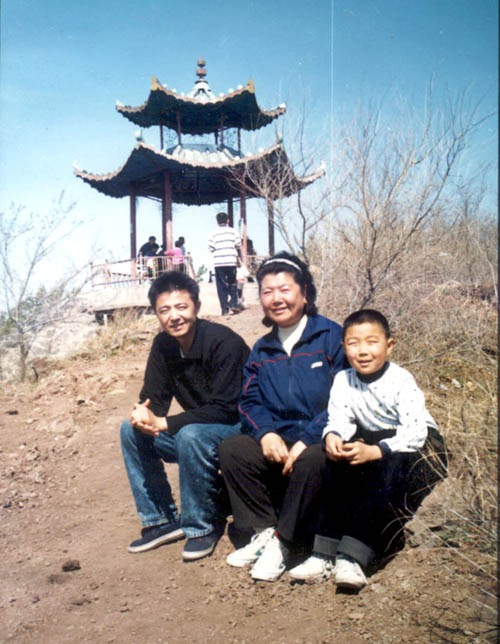 Mr. Wang with his mother and son
Mr. Wang Yongqiang
Mr. Wang Yongqiang, a native of Mudanjiang City, was arrested in Daqing in 2000 while living away from home to avoid persecution. He was given one year at the Daqing Forced Labor Camp, where the guards constantly beat and verbally abused him, as he refused to renounce Falun Gong. He tried to stop guard Wang Xichun from slandering Falun Gong in February 2001, only to see his term extended. A month later, he held a hunger strike to protest the persecution and was tied up in an excruciating position.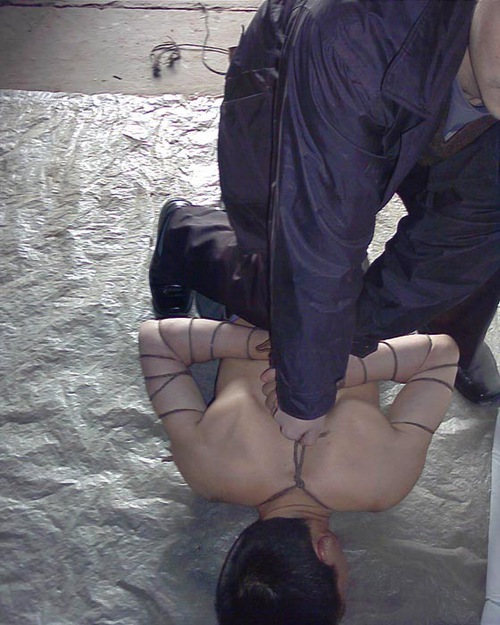 Torture reenactment: tied up in an excruciating position
Mr. Wang returned to Mudanjiang after he was released. In early 2002, the police attempted to arrest him again. To avoid persecution, he moved to Daqing and rented an apartment. He made a living by driving a taxi.
The police located him in October 2002 after interrogating another practitioner in Mudanjiang. They tried to deceive him into going back to Mudanjiang by saying he owed rent to his landlord. Mr. Wang didn't fall for the trick, as he didn't rent any properties in Mudanjiang.
Following his last arrest on November 28, 2002, Li Xuejun of the Mudanjiang Domestic Security Office submitted his case to the procuratorate. Mr. Wang was later sentenced to 15 years and taken to the Jianshanzi Prison in Mudanjiang in 2003. The guards deprived him of all rights and constantly beat him, in order to force him to renounce Falun Gong. When he refused to comply, they deprived him of sleep, force-fed him saline water and taped him up. In the winter, they stripped him of his clothes, poured cold water on him or left him outdoors when the temperature was far below freezing.
Mr. Wang suffered a stroke and died in June 2012. He was in his 60s.
Ms. Dong Shuyan and Ms. "Little Girl"
Ms. Dong and "Little Girl" were also beaten and interrogated after being taken back to Mudanjiang on November 28, 2002. About 5-foot tall, the "Little Girl" was knocked to the ground and unable to get up.
On the evening of November 29, shortly after Ms. Ye was beaten to death, the "Little Girl" was taken to Mudanjiang No.1 Detention Center. She held a hunger strike and was force-fed. The guards placed her on the concrete floor and kicked her. They also shackled her feet to a ring fixed on the ground. She passed out from the torture several times. After eight days at the detention center, she was transferred to the police hospital for 13 days. The 1,000 yuan she had was taken away by the police.
Officer Qiao Ping beat Ms. Dong with a broom and caused her face to twitch and later lose feeling. Her body was covered with injuries as well. After being taken to the Railroad Detention Center, she held a hunger strike to protest the persecution and was beaten and kicked by the police.
Ms. Dong was taken to the Mudanjiang City No.2 Detention Center in early December 2002, where she continued the hunger strike. The guards force-fed her with milk that contained excessive salt. She was also shackled and subjected to interrogation and humiliation every day.
During an interrogation, Wang Wei of the Xi'an Police Station gave Ms. Dong a severe beating. After she passed out, he unbuttoned her clothes and touched her breasts. He returned on the next day to interrogate her. As Ms. Dong's family went to the police station every day to demand her release, Ms. Dong was released on the verge of death in mid-December 2002.
All articles, graphics, and content published on Minghui.org are copyrighted. Non-commercial reproduction is allowed but requires attribution with the article title and a link to the original article.