Two Liaoning Residents, Including a U.S. Resident's Husband, Sentenced to Heavy Terms with Large Fines
(Minghui.org) Mr. Ren Haifei and Ms. Sun Zhongli were sentenced to ten and seven years with 100,000- and 700,000-yuan fines, respectively, on October 14, 2021 for practicing Falun Gong.
Falun Gong, also known as Falun Dafa, is a spiritual discipline that has been persecuted by the Chinese communist regime since 1999.
Both Mr. Ren and Ms. Sun, residents of Dalian City, Liaoning Province, were arrested on June 26, 2020 by officers of the Ganjingzi Police Station and Domestic Security Office. The police confiscated 500,000 yuan in cash and computer supplies worth more than 200,000 yuan from Mr. Ren's apartment. They also located his car and confiscated 50,000 yuan in cash found in the vehicle.
While Ms. Sun was released on the next day due to poor health, Mr. Ren, 46, was hospitalized for 19 days, after he suffered heart and kidney failure due to savage beatings by the police.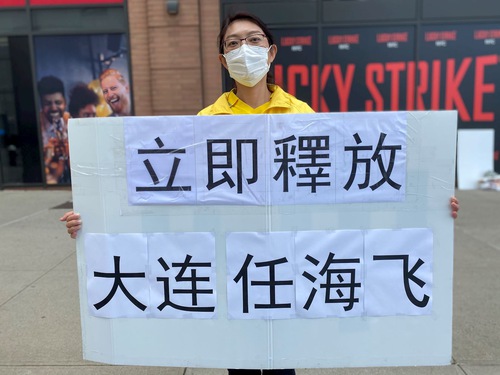 Ms. Wang Jing protesting for the release of her husband
On July 1, 2020, Mr. Ren's wife, Ms. Wang Jing, also a Falun Gong practitioner who is currently living in the U.S., protested in front of the Chinese consulate in New York and demanded her husband's release immediately.
Mr. Ren was later transferred to the Yaojia Detention Center. The once healthy man developed severe diabetes and was forced to take unknown medicine. When his lawyer was finally allowed to visit him after being turned away initially, the lawyer noticed that he was emaciated and haggard.
The police submitted Mr. Ren and Ms. Sun's cases to the Ganjingzi District Procuratorate on September 18. They were indicted in November and had their cases moved to the Ganjingzi District Court.
The court held two joint hearings of the two practitioners' cases, on September 8 and 23, respectively. Their lawyers entered not guilty pleas for them. Ms. Sun maintained that she didn't do anything wrong in practicing Falun Gong and trying to be a good person.
The judge convicted the two practitioners on October 14. They are now appealing the sentences.
Prior to his latest term, Mr. Ren was sentenced to 7.5 years in 2001 for talking to people about Falun Gong. He was severely tortured at Huazi Prison in Liaoyang and then at Dalian Prison. By the time he was released in September 2008, Mr. Ren, then 33, had become so weak and emaciated that his family almost couldn't recognize him. Yet he had to stay away from home to avoid further harassment.
Perpetrators' contact information:
Jin Hua (金华), judge of Ganjingzi District Court: +86-411-82793897, +86-19104113632Yu Zhen (于震), prosecutor of Ganjingzi District Procuratorate: +86-411-86105017Yuan Zhiwei (袁志伟), prosecutor of Ganjingzi District Procuratorate: +86-411-86572014, +86-411-86105065, +86-411-86105024Zhang Zhengze (张正泽), chief of Ganjingzi Police Station: +86-18840835577Huang Qian (黄黔), deputy chief of Ganjingzi Police Station: +86-15724593001Wang Xiaoxu (王晓旭), officer of Ganjingzi Police Station: +86-1869860568
Related report:
Husband in Critical Condition in Detention in China for His Faith, Wife in New York Calls for His Release
All articles, graphics, and content published on Minghui.org are copyrighted. Non-commercial reproduction is allowed but requires attribution with the article title and a link to the original article.