Taiwan: Introducing People to Falun Dafa at Sun Moon Lake
(Minghui.org) Since 2008, Falun Dafa practitioners have held activities to introduce the spiritual discipline near Sun Moon Lake, a famous tourist destination in Taiwan. Every day, rain or shine and despite the pandemic, practitioners can be seen at Itathao Pier telling visitors about the health benefits of the practice and the ongoing persecution of practitioners in China.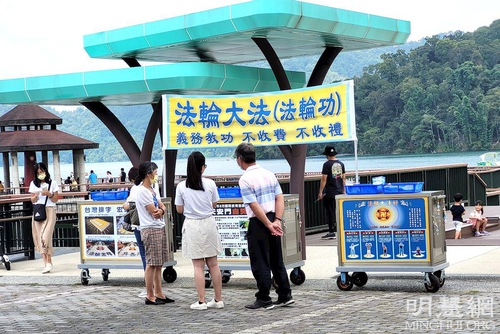 Tourists have read about the persecution of Falun Dafa in China at practitioners' activities at Sun Moon Lake since 2008.
A couple from southern Taiwan visiting Itathao Pier thanked practitioners after being handed fliers. The husband said, "Thank you. I admire your hard work. It's amazing that you've held on to your faith for 22 years despite the persecution."
Organ Harvesting from Living Practitioners "Brutal and Inhumane"
The husband is a physician and the couple often travel to the U.S. to visit relatives. His wife said, "We've traveled to many places in the U.S., both the east and west coasts. Everywhere we went, we saw Falun Dafa practitioners. It's not easy to hold on and continue doing what you do for so many years. You are magnificent.
"One year we saw the 'Real Bodies' exhibit in Las Vegas. I wondered how they made things look so real, but my husband told me that the bodies were all real! I was shocked and disgusted because it was terribly inhumane.
"When the tourists from China come to Taiwan and learn about the organ harvesting from living practitioners incarcerated for their faith, many of them said they felt sick to their stomach. Those who come to my husband's clinic ask if it is true. My husband always tells them that it is."
The couple attended a seminar at a university on how the Chinese Communist Party (CCP) harvested organs from prisoners of conscience while they were still alive. "It was cruel, so cruel," she said. "A Falun Dafa practitioner who was persecuted in China testified at the seminar. He talked about what he saw in prison and how he was tortured and was almost killed for his organs. We realized how evil and cold-blooded the CCP is."
People Interested in Learning the Practice
A woman commented, "You work hard and do a wonderful job!" Shuchen, a practitioner, told the woman how her health improved after she began practicing and why the persecution in China was wrong. The woman said she was interested in learning Falun Dafa. Her employer subscribed to The Epoch Times newspaper and that was how she learned about the CCP's crimes. She thanked practitioners for standing on the front lines for so many years and exposing the CCP's egregious human rights violations.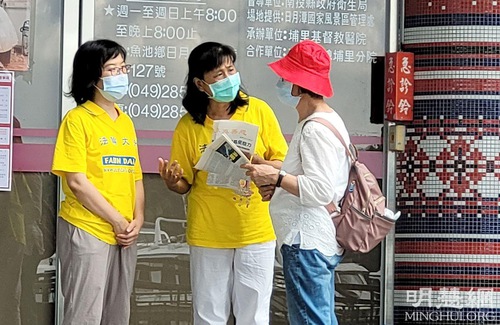 A woman (right) thanks practitioners for their efforts to tell people about the persecution in China.
Shuchen said she meets many people who want to learn Falun Dafa as soon as they hear about it. "A woman who came one day asked where she could buy the yellow shirt with the Falun Dafa logo. She said that the color was dazzling and beautiful." After Shuchen told the woman how the practice improved her health and peace of mind, the woman said that she wanted to learn it. Shuchen helped her contact practitioners who did the exercises regularly near her home.
One family who stopped by told Shuchen that the husband had heard about Falun Dafa while he was in Mississippi in the U.S. Shuchen knew the practitioner in Mississippi and she told the family his story. He'd suffered severe a spinal injury in a car crash but completely recovered after he practiced Falun Dafa.
Shuchen then told them how she was severely injured in a traffic accident. The doctors said that, if she did survive, she would be a vegetable. Her husband played the recordings of Master's lectures for her every day. A few days later she woke up and the doctor couldn't find anything wrong with her brain. Her doctor said it was a miracle.
After listening to Shuchen, the husband saw Falun Dafa in a different light. He said that he would like to practice again and Shuchen suggested that he read the book of the main teachings, Zhuan Falun, carefully.
One time Shuchen met a wheelchair-bound man in his 90s playing an instrument. She applauded his performance and they began to talk. She told him about Falun Dafa and suggested he try it. The man asked her to mail him a copy of Zhuan Falun.
Recently the man called Shuchen and thanked her. He said he had begun to practice Falun Dafa.
All articles, graphics, and content published on Minghui.org are copyrighted. Non-commercial reproduction is allowed but requires attribution with the article title and a link to the original article.