Canada: Young Practitioners' Lives Renewed by Falun Dafa
(Minghui.org) With the slow reopening of many facilities in Toronto after the CCP virus (coronavirus), young Falun Dafa practitioners were seen at more than a dozen group practice sites on the weekends in October. They would either be practicing the Falun Dafa exercises in the park or distributing flyers about the practice and the persecution in China to locals and passersby.
A Chinese Student: From Retreating to Embarking on a Cultivation Path
Xiao Song, a student from Hebei Province in China, came to the group practice site at Earlscourt Park. 
"Many of my family members all cultivated Falun Dafa when I was little," she said. "I'd occasionally read Master's lectures but did not understand the content since I was young, but I knew that Dafa was good. 
"But after the persecution of Falun Dafa started in 1999, I became scared to practice Dafa, because I was afraid that my family members might disappear or have been taken away when I got home one day. Out of fear, I chose to stay away from Dafa. I had severe anxiety and a voice told me that if I really cultivated Falun Dafa, my family would be ruined and destroyed. I would be sentenced and be persecuted to death."
Xiao Song pursued her studies overseas in 2015. "I woke up in the middle of the night to a congested nose, and I could not breathe well. I started to have insomnia. When I called my family back in China, they told me that I should read Master's lectures. However, I was still unable to accept Dafa. 
"My body was in a lot of pain one time and I told myself that I was tired of living. I heard a voice out of nowhere say, 'No one is able to help endure your suffering.' I suddenly realized that not everyone goes to jail and gets persecuted to death for practicing Falun Dafa. Since then, the fear I had about practicing Falun Dafa was gone."
After Xiao Song began practicing Falun Dafa, her body felt very heavy during the first few weeks and it was even hard for her to walk. "Gradually, I felt better and my body felt as light as that of a swallow. My insomnia also disappeared," she recalled. 
Xiao Song also started to study Master's lectures. "I felt that all of my questions were answered in Master's lectures. I am very introverted and always like to shy away from problems. I was also very pessimistic and afraid of things. It felt almost like I had depression. Many of my negative thoughts have gone away after studying the Fa for almost a year. I am able to discern a negative thought once it appears and eliminate it. I am more cheerful now and no longer overly cautious like I used to be. 
Xiao Song comes to the group practice site every weekend. "Another practitioner told me that there will be a Falun Dafa parade in Toronto. I was still scared, but I attended the parade anyway. I wore the Dafa uniform and stood with other practitioners during the parade, and I felt very happy and at ease," she said.
A Young Japanese Couple: Thank You, Dafa, for the Blessings We Have Received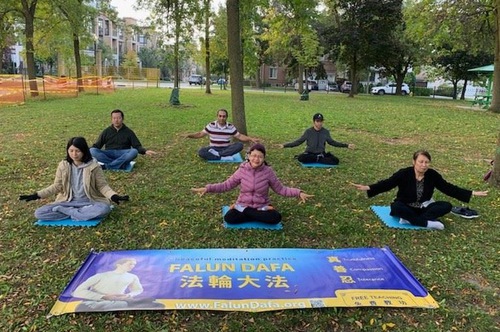 Tiya (first row, first on left) and her husband, Juno (second row, first on left) practice the Falun Dafa meditation exercise at Hendon Park in Toronto, Canada.
Tiya and her husband go to the group practice site at Hendon Park. They immigrated to Canada from Japan a couple of years ago. Tiya was introduced to Falun Dafa by her mother in Japan about four years ago. 
Tiya had been diagnosed with hyperthyroidism and her body was very weak. She was easily agitated and experienced sudden weight gain. None of the medications she was prescribed worked. It was not until she practiced Falun Dafa that all of her symptoms disappeared.
"I attended the group practice site after living in Canada for a year. Before that, I would always do the exercises by myself. But I felt that my postures were incorrect, and after attending the group practice site, I felt very energetic. I'd often feel restless and tired, but after cultivating Dafa, I was full of energy," Tiya said.
"We have many household chores to tend to and pressure at work. There are many challenges we face every day. I would use the book Zhuan Falun to guide me and help me overcome tribulations and challenges. By abiding by the principles of Truthfulness-Compassion-Forbearance, I learned to remain calm amidst adversity and focus on what I need to do and eliminate attachments and notions," Tiya said. 
Tiya reads the Chinese version of Zhuan Falun with other Chinese-speaking practitioners because she studied Chinese when she was in Japan for two years.
Her husband, Juno, is senior executive at a Japanese car company. He had often suffered from insomnia and mental stress because of pressure from work. Both his mind and body changed for the better after he began cultivating Falun Dafa a year ago. 
"Our whole family has received blessings from Dafa. We are very grateful to Master!" Tiya said.
Young Vietnamese Practitioner: Finding the Right Path and Obtaining a Renewed Life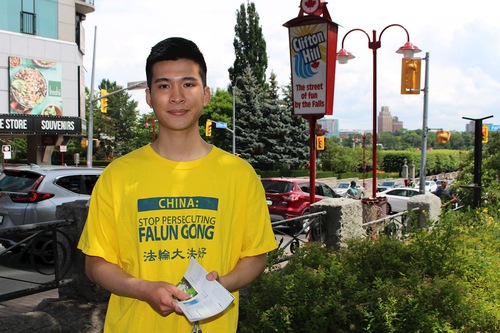 Evan Vu, a Vietnamese student studying in Canada, raises awareness of Falun Dafa at Niagara Falls
Evan Vu is a 23-year-old Vietnamese student who came to Canada three years ago. He is a new practitioner who obtained Dafa almost a year ago and comes to Hendon Park every weekend to clarify the truth and practice the exercises.
Ever since Evan was young, he had always believed in Gods and the divine and wanted to cultivate. He came across Falun Dafa on the internet one day and read about the forced live organ harvesting from Falun Dafa practitioners. He was very shocked to learn that the Chinese Communist Party was committing genocide. He started to research labor camps and many of these camps mentioned Falun Dafa. Evan started to research Falun Dafa and began reading Zhuan Falun. 
"I like doing meditation. It purifies my mind and body," Evan said. "I felt that Dafa unlocked my wisdom after reading Zhuan Falun. I was able to better perceive the world, the universe, and mankind."
"I lived in Haiphong, a city in Vietnam, where everyone only cared about making money. No one cared about the true meaning of life and moral standards. They only wanted to enjoy life," Evan said. 
"I did not have a good temper in the past and also smoked cigarettes and did drugs. I do not want to go back to the way I was living before reading Zhuan Falun," Evan said. 
Evan said that he hopes to bring the wonders and beauty of Falun Dafa to more people.
All articles, graphics, and content published on Minghui.org are copyrighted. Non-commercial reproduction is allowed but requires attribution with the article title and a link to the original article.