Quebec, Canada: Practitioners Hold Activities to Raise Awareness of the Chinese Communist Regime's Persecution
(Minghui.org) Old Quebec is a well-known historic city in Canada and is a World Heritage Site. It attracts countless tourists every year. On October 9, 2021, Falun Dafa practitioners conducted truth-clarification activities there and raised awareness of the Chinese Communist Party's (CCP) persecution of it to tourists from all over the world. 
Practitioners demonstrated the five sets of Falun Dafa exercises, interspersed with the performances by the Tian Guo Marching Band. People stopped to read the materials and the display boards. After learning about Falun Dafa and how the CCP persecutes this spiritual practice, people signed the petition to condemn it.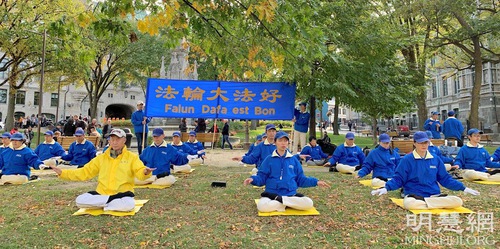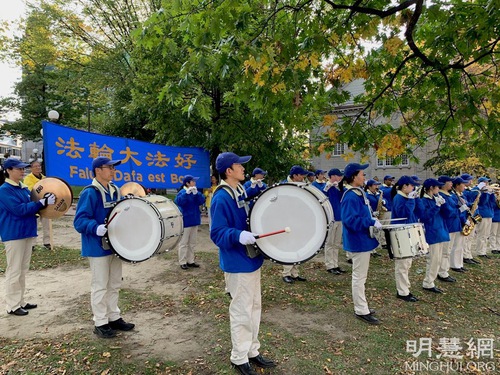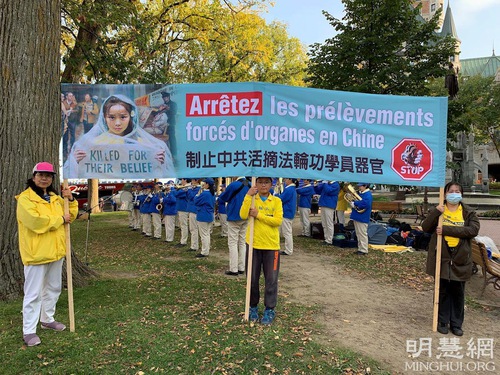 Practitioners held activities in Old Quebec on October 9, 2021 to raise awareness of the CCP's persecution.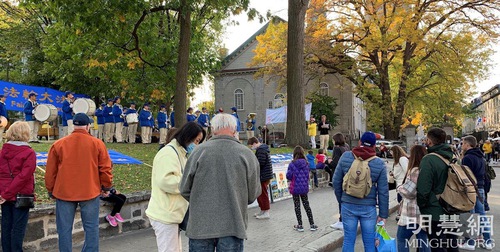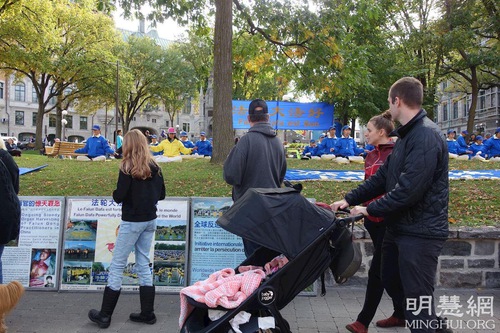 People read fliers and display boards during the event.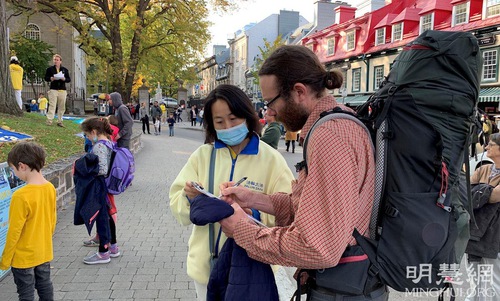 People sign the petition to condemn the persecution. 
Life Coach: I Wish to Join Them
Some people knew about the persecution and told other tourists. Bridgette, a tourist from Vancouver, talked with two young tourists from the U.S. and explained what the CCP's organ harvesting is and how the CCP persecutes Falun Dafa.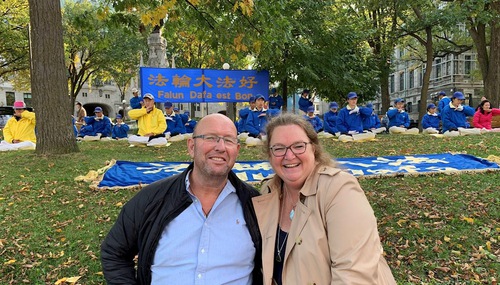 Life coach Bridgette (right) and her husband
Bridgette said she learned about the CCP's persecution of Falun Dafa from a program on social media. She was appalled by the CCP's organ harvesting, "This is killing. Some people are murdered for money or power." 
Bridgette a life coach, was visiting Quebec with her husband and the couple was happy to see the practitioners' event. Bridgette said, "I wish to join them, not only because of meditation but what they do is to draw people's attention to a problem that should have been faced long ago." 
She and her husband were pleased to know there are free online Falun Dafa classes. 
Emilie is a nurse and said the event was meaningful to let people know about the persecution. 
Michel who works in computer programming said that this was the first time he heard about the persecution. He said, "The persecution of people who meditate so peacefully is absurd. It should be exposed to let everybody know."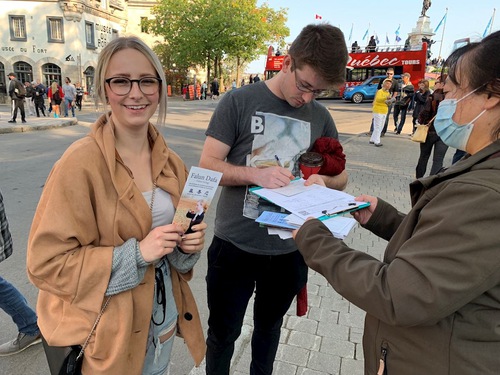 Nurse Emilie and computer programmer Michel sign the petition against the persecution. 
People Are Interested in Falun Dafa 
One elderly woman asked, "How can you calm down and meditate in such a noisy place? You must have inner power." When she was told there were free online classes, she happily took the flyer. 
Elif, a Montreal student who tried Falun Dafa for the first time, said that she felt powerful energy.
Elif (middle), a Montreal student, practices the sitting meditation. 
Elif sat with practitioners and followed their hand movements as they meditated. After the exercise, she said that she felt powerful energy. She practiced meditation before, but said that Falun Dafa was different. "The energy is stronger than anything I have experienced before."
Practicing Falun Dafa Makes Life Better
Practitioners who participated in the activity that day came from several cities in Quebec. Nicole came from Rimouski City, more than 300 kilometers away. She said that practicing Falun Dafa brought positive changes to her life.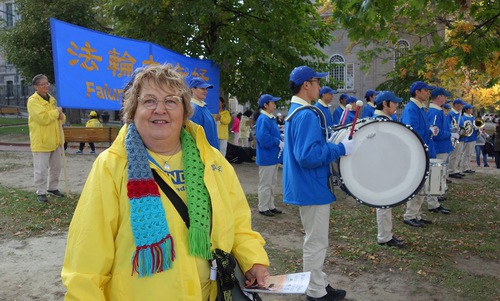 Practitioner Nicole
Before she practiced Falun Dafa, Nicole suffered from rheumatoid arthritis in her back and was treated with a venous infusion. Soon after she began practicing her doctor told her that she needed no more medicine as her back was healed.
Nicole is 69 years old. Practicing makes her full of energy. Along with studying the Fa every morning, she proactively eliminates her attachments and has become more peaceful. Nicole said that all these changes were positive. Wherever she goes she hands out fliers and tells people about Falun Dafa. 
All articles, graphics, and content published on Minghui.org are copyrighted. Non-commercial reproduction is allowed but requires attribution with the article title and a link to the original article.