The Tragedy of a Broken Family: A Young Father Persecuted to Death, His Brother Disabled
Jan. 31, 2021 | By a Minghui correspondent in China
(Minghui.org) Rao Deru was only four when her father was persecuted to death in 2002 for his faith in Falun Gong. Her father was only 34. Over the next few years, the police would continue to harass Deru and her mother until they fled to Thailand in 2005.
Deru's father, Mr. Rao Zhuoyuan, was born in Guangzhou City, Guangdong Province in October 1968. He was a food section supervisor at the Guangzhou City Sanitation and Anti-Epidemic Department. In December 1994, Mr. Rao took up Falun Gong after attending a seminar in Guangzhou.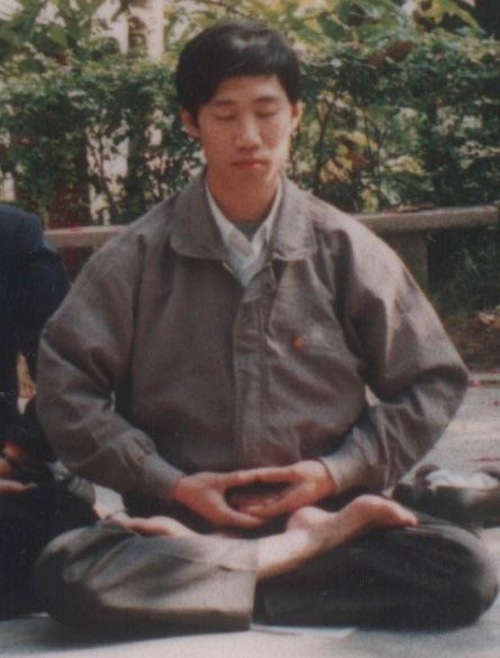 Mr. Rao Zhuoyuan
Falun Gong, also known as Falun Dafa, is an ancient spiritual discipline with the core principles of "Truthfulness, Compassion, Forbearance." It was first introduced to China in 1992 and soon spread throughout the country because of its tremendous health benefits and profound teachings rooted in traditional wisdom.
After a period of practicing Falun Gong, Mr. Rao's chronic rhinitis disappeared. He became energetic and full of hope. He won several awards at his workplace and became well-liked by his coworkers.
Mr. Rao's wife, Ms. Lin Qian, worked at the Guangdong Provincial Stomatological Hospital at the time. She also started to practice Falun Gong after attending the same Falun Gong class in Guangzhou on December 21, 1994. Six months into the practice, her stomach ulcers and pituitary microadenoma disappeared completely.
Ms. Lin said, "It was Falun Dafa that saved me from despair and gave me a new life. My diseases were gone. I became cheerful and everything was going well, including my work and family life. The period of time from when I started the practice in 1994 to July 19, 1999, was the happiest time of my life."
After seeing the positive changes in the young couple, Mr. Rao's parents and elder brother, Mr. Rao Chaoyuan, also took up Falun Gong.
But only one year after the couple welcomed their baby daughter in 1998, the Chinese communist regime ordered a nationwide crackdown on Falun Gong. Because he refused to give up his faith, Mr. Rao was incarcerated in mental health hospitals and labor camps multiple times. He died from the physical abuse he suffered while incarcerated on August 5, 2002.
Ms. Lin was also continuously harassed and threatened. She was detained in a brainwashing center while her husband was on medical parole. The Haizhu District 610 Office had been trying to arrest her since 2005. She and her daughter had no place to hide in China and thus were forced to flee to Thailand to avoid being arrested again.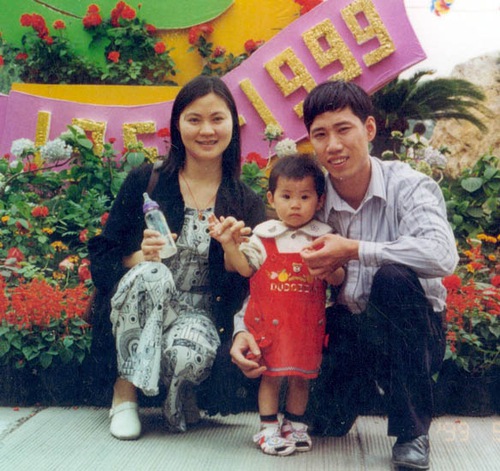 Mr. Rao Zhuoyuan, his wife Ms. Lin Qian and daughter Rao Deru
Mr. Rao's elder brother was arrested in December 2000. He was sentenced to eight years in January 2003 after more than two years of detention. He was tortured in Sihui Prison and became disabled in one of his legs as a result.
Targeted for Appealing for the Right to Practice Falun Gong
On July 20, 1999, the day when the communist regime ordered the persecution, both Mr. Rao and Ms. Lin went to the Guangzhou municipal government and Guangdong provincial government to appeal for the right to practice Falun Gong. For their efforts, Mr. Rao was put on the government's blacklist and Ms. Lin was pressured by her workplace leaders to hand over all of her Falun Gong books.
Mr. Rao was arrested on September 16, 1999, two days after he returned from his appeal in Beijing. He was detained for 15 days at Haizhu District No. 1 Detention Center and then four days at the guest house of the Guangdong Institute of Light Industry.
Ms. Lin said the authorities denied her visitation rights to Mr. Rao and didn't accept the clothes she delivered to him. When she went to pick him up at the end of his 15-day detention, a guard said to her, "We can't release a Falun Gong even when his term is up. If he was arrested for abusing drugs or theft, we can release him, but not a Falun Gong."
On July 3, 2000, Mr. Rao was arrested again and taken from his office to Jiangcun Mental Hospital. There, he was tortured for 54 days. His family was kept in the dark of his whereabouts until he was released on August 25.
Following his arrest and persecution, Mr. Rao was demoted from the food section supervisor position to the supply room to do bottle-washing and other menial chores. His wages were reduced, first to 700 yuan per month and then to 380 yuan a month.
On September 4, 2001, he was taken to the Guangzhou Legal Education School, which is a brainwashing center notorious for the persecution of Falun Gong practitioners. He was detained there for 26 days. His supervisor claimed that the reason she sent him to the brainwashing center was to restore his rank at work.
His wife Ms. Lin Qian recalled, "When we visited my husband, my two-year-old daughter cried to have her father come home with her. But our request was denied. At the same time, the authorities often harassed me at home, which caused my mother to suffer a mental breakdown. Only after I strongly pleaded with the Guangzhou Epidemic Prevention Office and Health Bureau for his release was he finally let out on September 30."
After Mr. Rao returned home, the 610 Office, an extralegal agency created by the central Communist Party leadership to persecute Falun Gong, dispatched people to monitor him. Mr. Rao was forced to displace himself to avoid the harassment.
Ms. Lin said, "He did not dare call home because our phone was tapped. I did not know where he was. On October 26, 2001, a police officer from Xingang Police Station called and told me to go visit my husband. It was only then that I knew he had been arrested again."
Persecuted in the Labor Camp
Mr. Rao was arrested from a rental house by officers from the 610 Office on October 26, 2001. He was first taken to Haizhu District No. 1 Detention Center and then transferred to Huadu No. 1 Labor Camp.
He went on a hunger strike to protest the arbitrary detention. Because of the brutal torture, his weight dropped from 149 to 77 pounds and was unrecognizable by his family.
Mr. Rao was so emaciated that a needle could not be inserted for an intravenous injection. He was taken to the Judicial Hospital in Shijing, Baiyun District for medical treatment in November 2001. Two days later, the doctor forced Mr. Rao's family to sign a guarantee statement renouncing his faith and released him on medical parole.
Ms. Lin recalled, "I had to carry him home because he could not walk. My daughter was scared of him and hid behind me. She could not believe that this person was her father."
Death from Persecution
Mr. Rao was recuperating at home when his wife was arrested from her workplace on January 19, 2002. She recalled, "I was handcuffed to a chair and interrogated by a dozen police officers. I told them I was not a criminal. I was a moral person who always followed the principles of Truthfulness-Compassion-Forbearance. Some officers in plainclothes looked at a photo as if they were verifying something. This reminded me of one incident when about a dozen people arrested me while I was handing out Falun Gong materials and one person scratched me on the right side of my face."
On the following day, she was taken to a brainwashing center, where she was forced to watch slanderous videos demonizing Falun Gong and read derogatory articles. The guards threatened to send her to a labor camp if she refused to be "transformed." She was watched by inmates around the clock and not allowed to leave her room.
Ms. Lin's family endured tremendous pressure during her detention period. Her incapacitated mother was sick at home without any help. Her daughter was not allowed to visit Ms. Lin. Her family was extorted out of 100 yuan every month by the brainwashing center until Ms. Lin was released on June 19, five days after Mr. Rao was arrested again and taken back to a labor camp.
Mr. Rao's mother worried about his situation so much that she went to the labor camp to visit him on June 28, only to be rejected. In fact, two days before she went there, Mr. Rao was taken to Huadu People's Hospital. But to this day, his family still didn't know what happened to him during that time.
On July 1, Ms. Lin was informed by 610 Office agents to meet her husband at the hospital. She felt that something bad must have happened. As she arrived the hospital, a prison guard told her that Mr. Rao had jumped from the stairs on the seventh floor and then stood up and hit his head against a wall. The guard said his fall resulted in a comminuted fracture in the fifth cervical vertebra.
From a medical perspective, a person with a fracture in the fifth cervical vertebra would not be able to stand up and to hit his head on the wall—such a fracture would have rendered the person paralyzed from the waist down. It was obvious that the guard was lying.
According to the doctors, nurses, and two inmates, Mr. Rao was conscious and able to talk when he was taken to the hospital. But the hospital did not inform his wife of this fact until Mr. Rao was unconscious.
Mr. Rao could not talk when Ms. Lin arrived at the hospital. But he kept crying wordlessly. The area around his right ear and neck was bruised and swollen. His hands and feet had signs of blunt force trauma, and his head had a hematoma wound.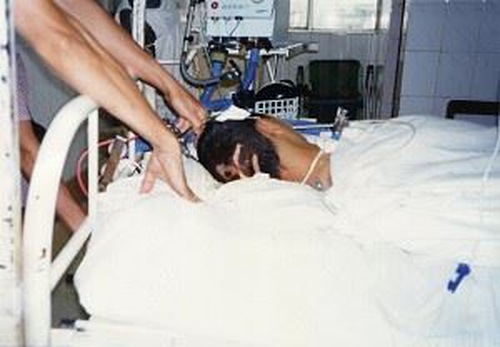 Hematoma wound on the back of Mr. Rao's head
When Ms. Lin asked to see Mr. Rao's medical records, the doctor appeared nervous and rejected her request. They also forbade her from staying at the hospital to take care of him. The doctor insisted that Mr. Rao's medical condition was improving and that he didn't have an infection.
On the evening of August 5, the hospital informed Ms. Lin that Mr. Rao had passed away. She suspected that her husband was starved to death by the hospital.
The hospital not only asked the family to pay 100,000 yuan for medical expenses but also threatened to sue the family when they refused to pay it.
One week later, the 610 Office and hospital leadership sent Mr. Rao's body to the funeral home and had it cremated without the consent of his family.
Fleeing to Thailand
Ms. Lin said that after Mr. Rao died in 2002, Wen Chunlan from Haizhu District 610 Office encouraged her supervisor at work to discriminate against her and insult her. They also spread rumors among her coworkers that her husband had committed suicide and persuaded them to isolate Ms. Lin. She was closely followed and her phones were tapped.
She added, "I submitted my husband's persecution experience to the Minghui website on February 12, 2005. Since April 2005, the 610 Office in Haizhu District of Guangzhou City has made several attempts to arrest me. The Haizhu District Brainwashing Center and the Xiaozhongyu Residential Committee came to threaten me at my workplace. On August 3, two people from the 610 Office wanted to interrogate me. I refused their request in front of my colleagues. I also demanded that they compensate me for the loss of my husband, who was murdered by them."
The intense persecution and repeated mental shocks within such a short period of time caused Ms. Lin's memory to deteriorate. She was unable to work or live a normal life. In December 2005, Ms. Lin and her daughter fled from China to Thailand to avoid further persecution.
Brother Persecuted to Disability
The elder brother of Mr. Rao, Mr. Rao Chaoyuan, was among a group of eight Falun Gong practitioners arrested on December 14, 2000. He was taken to Tianhe District Detention Center and not allowed to be visited by his family. A year later, Mr. Rao appeared in the Tianhe District Court on December 12, 2001.
On January 14, 2003, after another year of detention and four months after his brother was persecuted to death, the older Mr. Rao was sentenced to eight years in prison and transferred to Sihui Prison.
When his family visited him on July 18, 2004, they found that Mr. Rao was disabled in one leg because he was continuously shackled on that leg. Walking had become very difficult for him.
A former Tsinghua University doctoral student Mr. Huang Kui, who was incarcerated in the same ward as Mr. Rao, exposed the abuses that had been carried out in Sihui Prison.
Mr. Huang said, "Squatting was a common torture method used in Sihui Prison. A guard called me to his office one day. He forced me to squat and then started to kick me and scold me for a few hours. I felt my legs were breaking because I was not allowed to straighten up or sit. Later, I was assigned to the kitting workshop. I was forced to squat for three days, from the morning to the evening, because I refused to do unpaid labor. A fellow practitioner refused to squat and went on a hunger strike. He was shackled with big iron fetters weighing a few dozen pounds on both of his feet."
Mr. Huang added, "All prisoners were ordered to squat on the playground at noon on April 21. That practitioner who wore the iron fetters and I were immediately handcuffed with our hands behind our backs. When I refused to kneel down, I was kicked and shocked with dozens of electric batons all over my body, especially on the sensitive parts, such as my palms and ears. It was so painful that my whole body started to convulse.
"To expose the persecution, I had to recall all the suffering I went through," Mr. Huang said. "But words are not enough to describe it. The pain was beyond description. During those miserable moments, every second was hard to endure and every step was hard to take."
Related reports:
About Rao Deru, the Young Daughter of Falun Dafa Practitioner Rao Zhuoyuan from Guangzhou City
How Can Rao Chaoyuan's Parents Deal With the Mental Blow of One Son's Death and the Other Son's Disability from the Persecution?
My Husband and I Have Endured Long-term Persecution by the Vicious CCP; My Husband Was Tortured to Death