After Surviving Multiple Detentions and Two Labor Camp Terms, Sichuan Engineer Is Jailed Again for Her Faith
Jan. 29, 2021 | By a Minghui correspondent in Sichuan Province, China
(Minghui.org) Having endured two decades of repeated arrests, detention, and torture for her faith in Falun Gong, a woman in Chengdu City, Sichuan Province, was sentenced to prison after her latest arrest in a police sweep.
Falun Gong, also known as Falun Dafa, is an ancient spiritual and meditation discipline that has been persecuted by the Chinese communist regime since 1999.
Ms. Guo Lirong
Ms. Guo Lirong was seized by the police in a group arrest of more than 40 practitioners on July 10, 2019. She was detained at Chengdu City Detention Center. She appeared in Chenghua District Court on October 20, 2020, and sentenced to one year and eight months through a video conference. She has appealed the verdict. 
Ms. Guo, a 60-year-old former electronic engineer, took up Falun Gong in 1997. She credits the practice for curing her neck problem that was incurred as a result of work-related accidents. Because of upholding her faith, she has been arrested multiple times, detained in a brainwashing center four times, and served two labor camp terms. 
Arrested for Appealing for Falun Gong
Ms. Guo was arrested on May 20, 2000, and detained for 17 days. The police extorted 5,000 yuan from her. Weeks later, on June 30, she was arrested again and briefly detained.
Ms. Guo went to Beijing to appeal for the right to practice Falun Gong on July 7, 2000, and was arrested at Tiananmen Square. She was taken back to Chengdu and detained for a month. She returned to Beijing in December that year and was arrested again. This time, she was detained for eight days. 
Two Labor Camp Terms
After Ms. Guo escaped from an arrest on February 14, 2001, she was forced into hiding and displacement, only to be arrested eight months later, on October 7, for distributing Falun Gong materials. 
At Pengshan County Police Department, she was interrogated, slapped in the face, shocked by electric batons and tied in a spread-eagle position. The police gave her one year at Nanmusi Women's Forced Labor Camp. She developed pleural effusion in custody and was released on November 2, 2001.
In the same year, the electronic company she worked at fired her. 
Ms. Guo was arrested again on December 12, 2002, after she was found to have mailed letters with information about Falun Gong to Xinjiang Province. The Xinjiang police traveled nearly 2,000 miles to Chengdu to arrest her. She was then brought to Xinjiang and given three years at Urumqi Women's Forced Labor Camp. She was emaciated and unable to walk after a few months of torture and was taken back home on March 19, 2003.
Four Incidences of Brainwashing Center Detention
Ms. Guo's eighth arrest was on September 1, 2005. She was held at the Chenghua District Brainwashing Center and released on the verge of death on September 7.
A year later, on September 8, 2006, the police arrested her again. As she held a hunger strike to protest the persecution, the police brought her to the Qingyang District Hospital, which was designated to detain Falun Gong practitioners. After receiving IV drips, she kept throwing up and had multiple-organ failures. She was then released on October 8.
Ms. Guo was taken to the notorious Xinjin Brainwashing Center following her next arrest on July 31, 2008. She was again tortured to the brink of death. 
She recalled that the brainwashing center's directors, Bao Xiaomu and Yin Shunyao ordered the guards to force-feed her. In the force-feeding session, one person held her head and another pinched her nose. The mouth opener caused enormous pain to her. Yin instructed the guards to feed her with raw eggs or mix large amounts of salt into the food. She felt her chest was burning and she was very thirsty. Then the guards force-fed her with water every hour. She almost suffocated. 
By the time she was released three months later, she had suffered from muscle atrophy and lost the ability to walk. Her digestive system was severely damaged. Her hair turned gray. And her memory declined.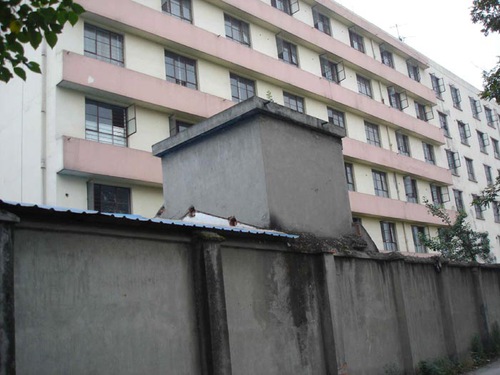 Xinjin Brainwashing Center
In less than a year, the police arrested Ms. Guo again on her way to work on July 18, 2009. She was taken to the Xinjin Brainwashing Center for the third time and held there until August 21, 2009. 
Ms. Guo was arrested one more time on October 30, 2012, and taken to the Xinjin Brainwashing Center for the fourth time. Upon arrival, one staff member kicked her in the head and caused her head to hit the ground. She vomited blood and fainted.
After Ms. Guo held a hunger strike to protest the persecution, she was force-fed again and given unknown drugs. She felt drowsy and her mind was numb every day. She was released on November 21, 2012.
One More Arrest
Ms. Guo was arrested again on September 28, 2014, for submitting her persecution account to an inspection team from the central government. When her sister tried to prevent the police from taking her away, the officers injured her arm and hit her head against the wall. Their elderly father in his 80s was so enraged by her arrest that he fell ill soon after and was hospitalized.
Related reports:
Chengdu City, Sichuan Province: 28 Falun Gong Practitioners Arrested in One Day
Nine Falun Gong Practitioners Arrested on the Same Day Around Chengdu City
Dozens of Falun Gong Practitioners in Sichuan Province Arrested Within a Period of Two Weeks
Chengdu Falun Dafa Practitioner Ms. Guo Lirong Is Being Held at the Urumqi Women's Forced Labor Camp In Xinjiang Province
Falun Dafa Practitioner Ms. Guo Lirong from Chengdu City Persecuted to the Point of Multiple-Organ Failure
Fuqing Road Neighborhood Officials in Chengdu City Arrest and Incarcerate Ms. Guo Lirong in Brainwashing Center
Falun Dafa Practitioner Ms. Guo Lirong in Critical Condition Resulting from Long-term Persecution
Chengdu City Engineer Ms. Guo Lirong Illegally Arrested a Second Time