Coronavirus Cases Increased at Places Where Falun Gong Is Persecuted the Worst
Jan. 20, 2021 | By Shan Yiyang
(Minghui.org) After spreading to nearly 200 countries, the coronavirus pandemic has resulted in over 94 million infection cases globally with a death toll of more than two million. 
With new variants emerging in December and spreading across the continents, the situation has become more serious than before. In Northeastern China, authorities in Shenyang City, Liaoning Province issued a city-wide stay-at-home order on December 31, 2020. The strict lockdown was also imposed in part of the city where no one was allowed to go out. The audio file of a doctor was circulating on the internet, which described the grave situation. "I have to go out four or five times [to treat patients]," he said, "the new virus variant is highly infectious and complicated."
The poor quality of the testing kits makes things more difficult. One officer in Dalian, Liaoning Province, said that one infected case took 11 repeated tests to confirm. Officials in Inner Mongolia also announced recently to build 43 Fangcang makeshift hospitals for urgent use. This indicates that a large number of new cases have probably occurred in the region. 
When looking through hard-hit areas, one may find almost all of them are associated with severe human rights violations, especially the persecution of Falun Gong. This implies that, as described in the Chinese saying, "good is rewarded with good and evil meets evil."
Provinces with Resurging Cases
The Chinese authorities stated that, by June 1, 2020, the pandemic had essentially disappeared in China and only sporadic cases emerged after that. Based on the news, however, several places showed different patterns, including three Northeastern provinces (Heilongjiang, Jilin, Liaoning), Beijing, Shandong Province, and Sichuan Province. 
For example, below are what happened in the three Northeastern provinces:
May 20, 2020: After fresh cases were identified in Shulan City, Jilin Province, the city was put under Wuhan-style lockdown. July 23, 2020: Dalian City, Liaoning Province, entered wartime mode and dense indoor public facilities were closed to reduce cluster infections. December 13, 2020: Suifenhe City, Heilongjiang, was declared a medium-risk area. December 29, 2020: restrictions tightened in Heihe City, Heilongjiang Province. December 30, 2020: the situation worsened in Liaoning Province where 21 regions were declared medium-risk areas. December 31, 2020: conditions deteriorated in Dalian City, Liaoning Province, with 16 medium-risk areas declared in the city alone. Some residential areas were locked down where residents called out in the dark, "we need food and supplies!"
Below are incidents from other areas:
Beijing: Three districts in Beijing (Fengtai, Mentougou, and Daxing) entered wartime mode on June 15, 2020, after cluster infections occurred at Xinfadi wholesale market. Furthermore, certain areas in three other districts of Beijing (Shunyi, Chaoyang, and Xicheng) tightened restrictions. This came from an urgent order and officials were told to keep it confidential.
Hebei Province: Shijiazhuang City entered wartime mode on January 3, 2021. 
Shandong Province: cluster infections occurred in Qingdao City on October 16 where a two-digit number of new cases were identified. 
Sichuan Province: due to the increased number of cases, Sichuan Province entered wartime mode on December 9, 2020. 
According to Chinese authorities, 34 medium-risk areas across the country were declared as of January 1, 2021. Most of them are concentrated in the three Northeastern provinces, Shandong and Beijing, with isolated cases in remote regions such as Yunnan and Xinjiang. 
Brutal Persecution in These Areas
The persecution against Falun Gong has lasted 21 years since 1999 and a large number of cases have been collected by Minghui. When the U.S. Department of State informed religious groups to submit lists of human rights violators, an official encouraged Falun Gong practitioners to provide lists of those who persecuted Falun Gong. The official pointed out Minghui.org is reliable and its information can be cited as a source of information. 
Available statistics showed numerous news agencies and major media have cited information from Minghui, such as AFP (40 news), AP (24), CNA (20), World Journal (16), Reuters (14), and RFA (13). 
Torture and Killing
Minghui.org compiled a report in 2013 titled "An Investigative Report on the CCP's Torture and Killing of Falun Gong Practitioners" (Note: only the Chinese version is available). It collected 3,653 death cases with 3.3 million words of source materials. The information was organized and compiled into a database for detailed analysis. All the data was from Minghui.org.
The study showed that between 1999 and 2013, the following provinces or province-level cities had the worst persecution of Falun Gong as directed by the 610 Office: Heilongjiang, Hebei, Liaoning, Jilin, Shandong, Sichuan, Hubei, Hunan, Henan, and Beijing. The most deaths of Falun Gong practitioners as a result of the persecution occurred in Heilongjiang Province, followed by Hebei Province and Liaoning Province. 
Furthermore, the death cases happened in 273 cities across the country. The worst 12 cities included Harbin (Heilongjiang Province), Changchun (Jilin Province), Weifang (Shandong Province), Beijing, Jilin (Jilin Province), Chongqing, Shenyang (Liaoning Province), Chengdu (Sichuan Province), Shijiazhuang (Hebei Province), Dalian (Liaoning Province), Baoding (Hebei Province), and Yantai (Shandong Province). The three cities with the highest number of deaths were Harbin, Changchun, and Weifang. 
These cases involved 122 prisons in China. Liaoning Women's Prison was associated with the highest number of deaths of female practitioners, while Liaoning Second Prison was associated with the highest number of deaths of male practitioners. 
The same study also reported that the three Northeastern provinces (Heilongjiang, Liaoning, Jilin), as well as Hebei, Shandong, and Sichuan, were also associated with the highest number of persecution cases. According to information received by Minghui.org, at least 499 Falun Gong practitioners in Jilin Province alone have died as a result of the persecution of their faith over the past two decades.
During the coronavirus pandemic, it is these provinces that had the worst situation compared to other places in China. This could be a hint that wherever the persecution of innocent Falun Gong practitioners runs rampant, there may be dire consequences such as a pandemic or other misfortunes. 
Horrifying Tragedies
In the aforementioned report, about 100 types of torture methods were documented including electrical shocking, fire burning, waterboarding, freezing, cuffing, sitting (motionlessly for a long time), starvation, stretching, beating, sexual abuse, psychiatric abuse, forced abortion, organ harvesting, and abuse through animals.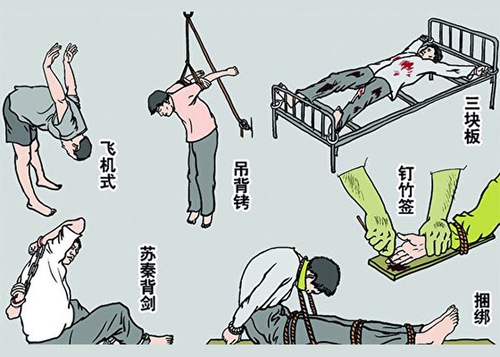 About 100 types of torture have been applied to Falun Gong practitioners during the suppression.
For example, Ms. Gao Rongrong, an employee of Lu Xun Academy of Fine Arts in Shenyang, Liaoning Province, was shocked by police with electrical batons for six hours at Longshan Labor Camp in July 2003. She was disfigured and died miserably at 37 on June 16, 2005.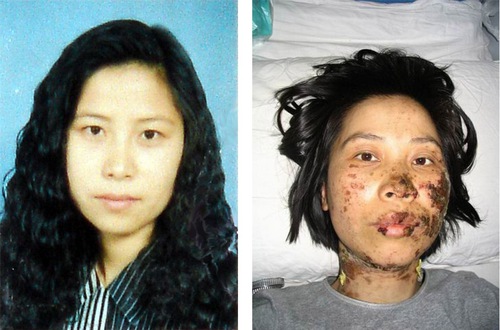 The burning of Ms. Gao Rongrong before (left) and after (right) electric shocking. 
Ms. Wang Yunjie, a practitioner from Liaoning Province, was shocked on the breasts by police with two electrical batons simultaneously for several hours at Masanjia Labor Camp. Her right breast was totally festered and damaged. She died in July 2006. 
Ms. Song Huilan is a practitioner from Xinhua Farm from Hegang City, Heilongjiang Province. Police from Huashan County police department arrested her in December 2010 and kept her at the Tangyuan Detention Center. The guards injected unknown drugs in her, making her lower right leg – including foot and toes – all turning black with necrosis. In the end, her right foot totally fell off on May 25, 2011.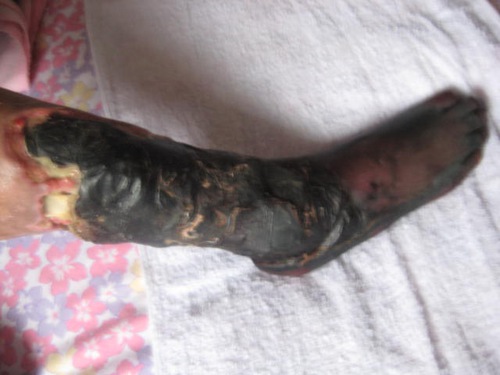 After injection of unknown drugs, Ms. Song Huilan's right leg and foot turned black with festering.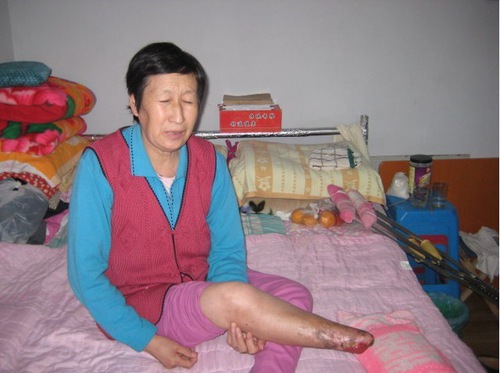 The right foot of Ms. Song fell off in the end and she was disabled. 
Ms. Zhu Xia from Chengdu City, Sichuan Province, was taken to Nanmusi Women's Labor Camp in June 2003. After that, she was kept at three brainwashing sessions, during which guards raped her many times. After returning home on April 2, 2004, Ms. Zhu had a mental disorder. She could not take care of herself or control her own emotions.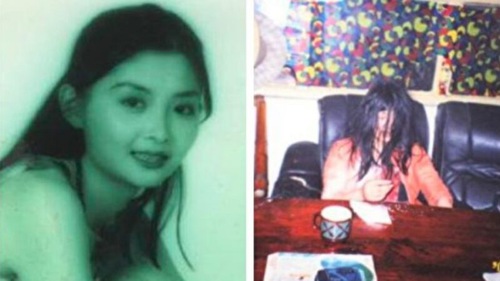 Ms. Zhu Xia (left) was raped many times at three labor camps and she later had mental a disorder (right). 
Ms. Liu Zhimei grew up in a poor family in Laiyang City, Shandong Province. With exceptional academic excellence, she was admitted in 1997 by the Tsinghua University – known as China's MIT. People called her a "golden phoenix flying out of the mountain village." She was sentenced to a 12-year imprisonment in November 2002 and kept at Shandong Women's Prison, she suffered unimaginable psychiatric abuse plus sexual abuse. She had a mental disorder upon returning home and died miserably in February 2015.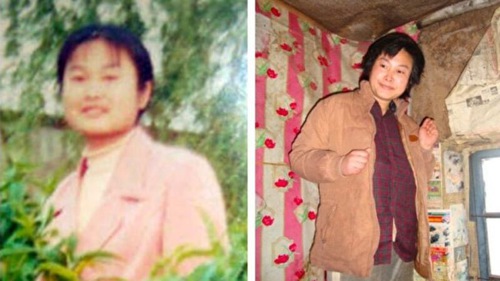 Ms. Liu Zhimei, a promising young college student (left). After having a mental disorder due to psychiatric and sexual abuse, she also avoided people (right). 
Ms. Song Yanqun, was a former English teacher in her 40s from Shulan City, Jilin Province. She was force-fed with unknown drugs in 2012. By the time she returned home on January 20, 2014, she was in a life-threatening condition with a body weight of only 23.5 kilos (or 52 lbs).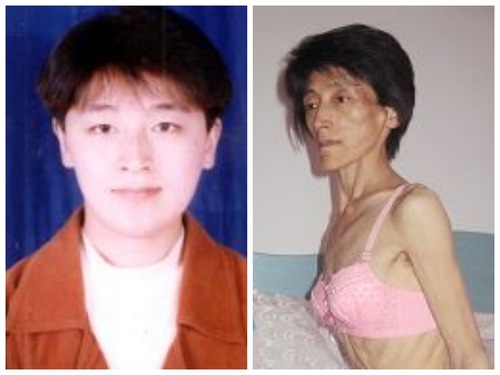 Ms. Song Yanqun (left) was emaciated (right) due to unknown drugs in force-feeding. 
Ms. Zhao Ye, a practitioner from Tangshan City in Hebei Province, was arrested by agents from Huoju Road Police Station on February 25, 2011, and sent to Hebei Women's Labor Camp. The torture inflicted on her destroyed her health making her emaciated. She died at 40 at midnight on December 15, 2012.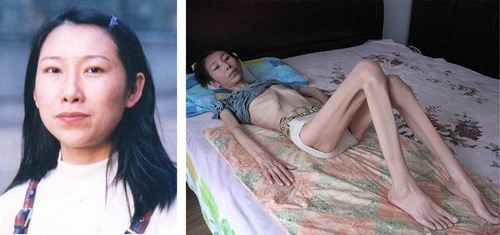 Before (left) and after (right) Ms. Zhao Ye was persecuted for her faith in Falun Gong.
These cases described above are only the tip of the iceberg amidst the massive, nationwide suppression of Falun Gong in the past 21 years. Hundreds of thousands of practitioners have been harassed, arrested, and detained including imprisonment, torture, and brainwashing. Under the censorship and tight information control, a large number of people do not know the atrocities against Falun Gong practitioners. Influenced by the hate propaganda, many of them also discriminated against Falun Gong practitioners and even reported them to officials. 
Religious Persecution and Consequences
Looking back in history, what happens in China is not the first large-scale persecution against spiritual beliefs. In the ancient Roman Empire, for example, Nero was one of the most notorious emperors who suppressed Christians. Similar to the CCP slandering Falun Gong with staged self-immolation, Nero set up the Great Fire of Rome in 64 and blamed Christians for the damage. Many Christians were killed, fed to animals, or burned to death. A plague broke out the next year which killed about 30,000 people.
But the following emperors did not believe in such a cause and effect, and they continued the brutal persecution. Marcus Aurelius Antoninus (in reign 161 – 180), for example, started the fourth round of persecution. He decided to eradicate Christians and issued an order to give Christians' family assets to snitches. Torture, killing, tearing-up by animals in the Colosseums was also a norm. 
"Some of the martyrs were obliged to pass, with their already wounded feet, over thorns, nails, sharp shells, etc. upon their points, others were scourged until their sinews and veins lay bare, and after suffering the most excruciating tortures that could be devised, they were destroyed by the most terrible deaths," wrote Foxe's Book of Martyrs.
Consequences followed not long after that. The Antonine Plague, which lasted between 165 and 180, claimed the lives of about 5 million. The disease wiped out as much as one-third of the population in some areas and significantly weakened the Roman army. Compared to the plague in 65 AD, this disease was more devastating and sometimes killed people as they were walking. Even Marcus and Lucius Verus, another Roman emperor, died of the plague. 
John of Ephesus, bishop and historian, witnessed the Justinian plague and described in Part 2 of Chronicle:
—staging-posts on the roads full of darkness and solitude filling with fright everyone who happened to enter and leave them;—cattle abandoned and roaming scattered over the mountains with nobody to gather them;—flocks of sheep, goats, oxen and pigs which had become like wild animals, having forgotten [life in] a cultivated land and the human voice which used to lead them;—areas that were tilled and full of all kinds of fruits [which] had become overripe and fallen for lack of anyone to gather [them];
From ancient plagues to modern-day disasters, there is a common theme that remaining loyal to our traditional values and faith will bring blessings of health and safety. History often repeats itself and hopefully we'll learn our lessons before it is too late. 
Related Article in Chinese: