Three Years After Husband's Torture Death, Tianjin Woman Still Faces Harassment by Authorities
Jan. 1, 2021
|
By a Minghui correspondent in Tianjin, China
(Minghui.org) Since November 2020, the local police, residential committee staff members and village officials have been harassing Ms. Meng Xianzhen, a resident in Xitianzhuang Village, Wuqing District, Tianjin. They kept knocking on her door or calling her, threatening to take her back into custody if she refused to renounce her faith in Falun Gong, a spiritual and meditation discipline that has been persecuted by the Chinese communist regime since 1999. 
The harassment against Ms. Meng is part of the "Zero-out" campaign ordered by the Political and Legal Affairs Committee, an extra-judiciary agency tasked with persecuting Falun Gong. It's a coordinated effort across China to force all Falun Gong practitioners on the government's blacklists to give up their faith.
In addition to the "Zero-out" campaign, the authorities also targeted Ms. Meng in attempt to prevent her from exposing the torture death of her husband, Mr. Yang Yuyong, who also practiced Falun Gong.
Both Mr. Yang and Ms. Meng were arrested on December 7, 2016 and taken to the Wuqing District Detention Center. Mr. Yang went on a hunger strike and was put on a torture device, all the while being handcuffed and chained with heavy shackles. The guards beat him with bamboo sticks until his buttocks bled. They also ordered the inmates to beat and sexually assault him, including pinching his genitals and biting his nipples. Less than eight months after his arrest, Mr. Yang died in custody on July 11, 2017. His body was black and blue and had traces of bamboo sticks under his toenails.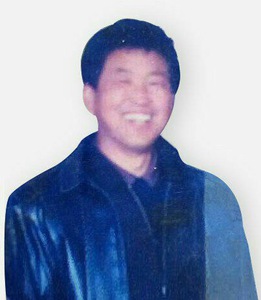 Mr. Yang Yuyong
Ms. Meng was still held in the detention center when she was notified of Mr. Yang's death. She said it was like a lightning strike to her and she almost broke down.
Mr. Yang's daughter, Ms. Yang Guangwei, appealed to the relevant government authorities and staged a demonstration outside of Wuqing District Procuratorate to demand an investigation of her father's death.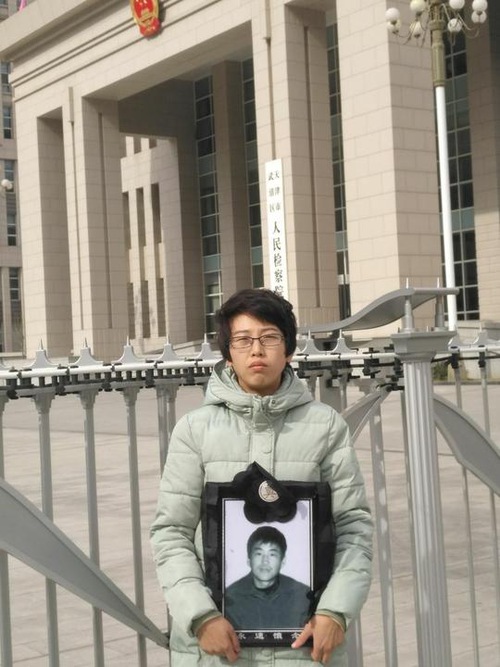 Daughter of Mr. Yang Yuyong in front of the Wuqing District Procuratorate
In retaliation, the authorities threatened to sentence Ms. Meng to six years in prison unless she and her daughter stopped filing a lawsuit against the police. They also threatened to arrest and sentence her daughter on the charges of "colluding with foreign anti-China forces" for doing an interview with overseas media about Mr. Yang's death.
Fearing her daughter being persecuted, Ms. Meng agreed to drop the lawsuit against the police and not contact local Falun Gong practitioners anymore. 
On April 4, 2018, the authorities forcibly cremated Mr. Yang's body. For the nearly 10 miles of major roads between the crematorium and the cemetery, the police checked every passerby and every car, in an attempt to prevent anyone from photographing or videotaping the proceedings. 
In the same month, Ms. Meng was released, only to be soon after sentenced to three years with four years of probation and ordered to report to the local justice bureau every month afterward. The police and residential committee staff members also came back from time to time to harass her. 
Related reports:
U.S. Religious Freedom Report Draws Attention to Persecution of Falun Gong
Daughter Demands Investigation of Father's Murder, Mother Threatened with Prison
Washington DC: Protesting at the Chinese Embassy Over the Death of Falun Gong Practitioner Mr. Yang Yuyong
Father Tortured to Death: Daughter Demands Investigation by National People's Congress
Tianjin Falun Gong Practitioner Mr. Yang Yuyong Tortured to Death in Detention Center
Practitioner Files Lawsuit Against the Head of Wuqing District Detention Center for Torture
Tianjin: 18 Falun Gong Practitioners Arrested in Early December
Related report in Chinese: