Daughter Demands Investigation of Father's Murder, Mother Threatened with Prison
March 01, 2018 | By a Minghui correspondent in Tianjin, China
(Minghui.org) Mr. Yang Yuyong, a Falun Gong practitioner from Wuqing District, was murdered in a detention center seven months ago. His body remains in cold storage at the funeral home.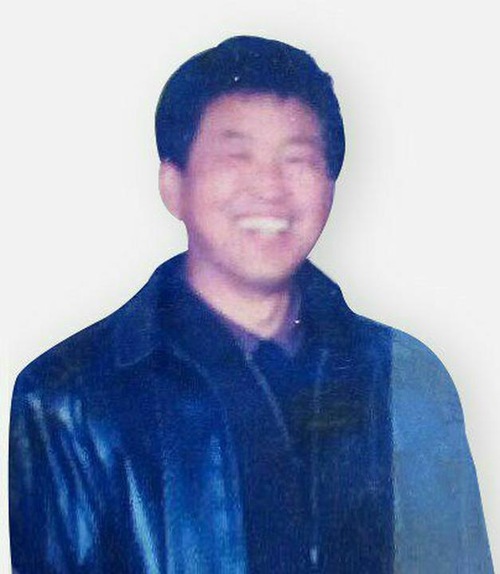 Mr. Yang Yuyong
Prior to the Chinese New Year, his family received notice from the Wuqing District Procuratorate that no case would be opened for an investigation. They were called to the district police department and were told that the autopsy and cremation must be done within two months of death.
Daughter of Mr. Yang Yuyong in front of the Wuqing District Procuratorate, protesting that her father's death is not being investigated.
Mr. Yang's wife, Ms. Meng Xianzhen, is still held in a detention center. Thus, his daughter received the notice that her father's death would not be investigated. To protest the injustice, she is demonstrating by holding a portrait of her father outside the Wuqing District Procuratorate.
Mr. Yang's family filed a complaint concerning the death of Mr. Yang at the detention center over six months ago. However, public security officials in Tianjin and Wuqing District are blocking an investigation into Mr. Yang's death.
Innocent Practitioner Tortured to Death in Detention Center
Mr. Yang Yuyong and his wife Ms. Meng Xianzhen from Xitian Village, Huanghuadian Township, were arrested on December 7, 2016. They were taken to the Wuqing District Detention Center, where guards and head detainees tortured them.
Mr. Yang went on a hunger strike and was put on a torture device as well as handcuffed and chained with heavy shackles.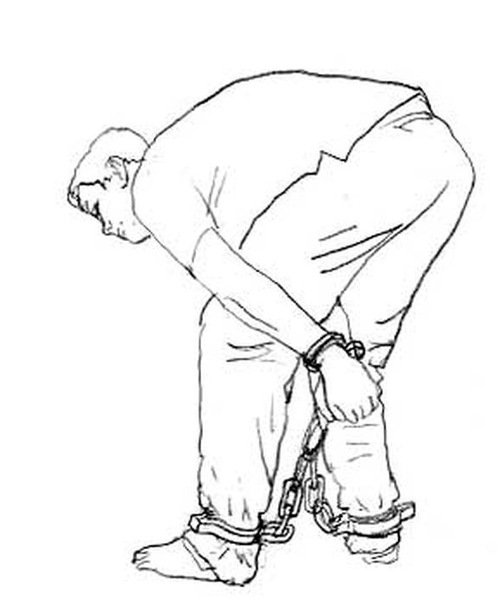 Torture illustration: Chained Handcuff and Shackle
Guard Liu Zhaogang dragged Mr. Yang to an empty room after he had told his defense lawyer about being tortured. Mr. Yang was beaten with a bamboo stick until his buttocks bled. The guard threatened that Mr. Yang would be beaten with a larger tool if he told the lawyer about the beating.
After Mr. Yang's family filed a second complaint with the Wuqing Procuratorate, Liu slapped Mr. Yang's face. Thirteen inmates in the cell were ordered to beat and sexually assault Mr. Yang. Mr. Yang passed out and does not remember how long he was unconscious. There is evidence of an audio recording of the sexual assault.
Mr. Yang described the beatings and shared the names of his assailants with his defense lawyer on June 28, 2017. Mr. Yang died in the detention center on July 11, 2017.
Mr. Yang's two children and relatives saw his body when they arrived at the Wuqing Chinese Medicine Hospital. A large area of his body was covered in wounds and bruises, including his back. There were large wounds on his ears, blood in his eyes, and punctures in his toenails. Neither the Wuqing Police Department nor the detention center would provide the cause of Mr. Yang's death. There were over a hundred police officers guarding the corpse.
Family's Appeal and Complaint Disregarded
Mr. Yang's children appealed to the relevant government authorities. Sun Guangxing, deputy head of the local police department, and police officer Gu Liang threatened the family. They were told not to disclose the reason for Mr. Yang's death online or accept media interviews. His relatives were also pressured by police to remain silent, and lawyers were told not to accept this case.
Mr. Yang's daughter, Ms. Yang Guangwei, delivered an appeal letter to the Tianjin People's Congress after unsuccessful attempts to seek answers for her father's death. After stating the facts and suspicious elements of the case, she said, "There is evidence of Wuqing Detention Center's criminal record and attempts to whitewash criminal activity. Given that a murder has been committed by law enforcement officers, we demand an immediate investigation!"
Mr. Yang's daughter also went to the Tianjin City Police Department's appeals office to file the complaint. She met with officials from the Wuqing District Police Department appeals office, Gu Liang from the law enforcement section of the Wuqing District Police Department, and the head of the Huanghuadian Police Station. Gu asked Ms. Yang about doing an autopsy. He said that the case was being handled by the district police department and the district procuratorate, and he demanded that she stop her appeals.
Mr. Yang's daughter met with Ma Ruhai of the district procuratorate a few days later, who agreed to an autopsy. Mr. Yang's daughter pointed to the numerous wounds on her father's body and that no one had been charged with his death. There were surveillance videos in the cell that could identify those who had beaten her father. Mr. Yang's daughter asked for the autopsy report.
Refusal to Investigate, Threats to Family
Mr. Yang's daughter received notice that her father's death case would not be filed for an investigation before the 2018 Chinese New Year. The official from the procuratorate claimed that an inmate had been charged with assault and battery and that there were no prison guards involved.
When she asked for the identity of those who instigated the beating, the answer was "no one." She was told that the wounds on Mr. Yang's ears "may have been a result of force-feeding." Nothing was said about the wounds on his toenails. When she asked again about the cause of death, she was told: "pneumonia and multiple organ failure, as stated on the hospital record." She was not given a reason for the multiple organ failures.
Guo Liang from the Wuqing District Police Department told Mr. Yang's daughter that an autopsy and cremation would be conducted within two months regardless of whether the family agreed to it, just before the Chinese New Year.
They threatened to sentence Mr. Yang's wife, Ms. Meng Xianzhen, to six years in prison unless they stopped pressing charges against them.
Related Article: Tianjin Falun Gong Practitioner Mr. Yang Yuyong Tortured to Death in Detention Center