Tianjin Falun Gong Practitioner Mr. Yang Yuyong Tortured to Death in Detention Center
July 25, 2017 | By a Minghui correspondent from Tianjin, China
(Minghui.org) Tianjin Falun Gong practitioner Mr. Yang Yuyong and his wife were arrested on December 7, 2016, and later detained in Wuqing District Detention Center in Tianjin. Mr. Yang was tortured to death on July 11, 2017.
Informants said that Mr. Yang was brutally tortured in the detention center. Police officer Liu Jiangang slapped his face and then got 13 inmates to beat him all at once until he passed out. They also sexually abused him, pinching his genitals and biting his nipples.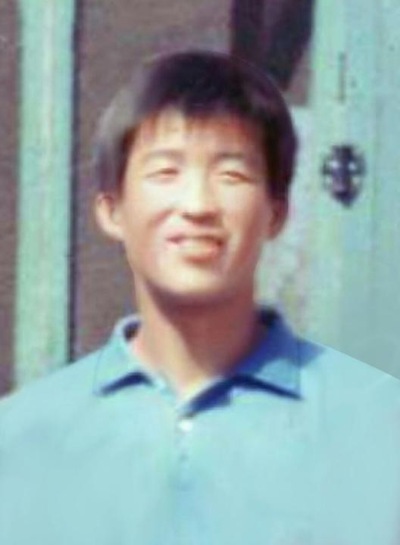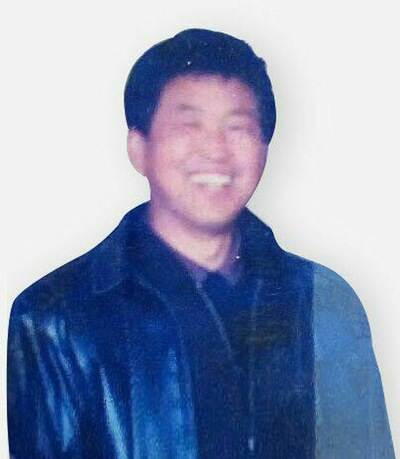 Falun Gong practitioner Mr. Yang Yuyong
By the time police officers delivered Mr. Yang to the hospital at 3:40 p.m. on July 11, doctors said his organs had already failed.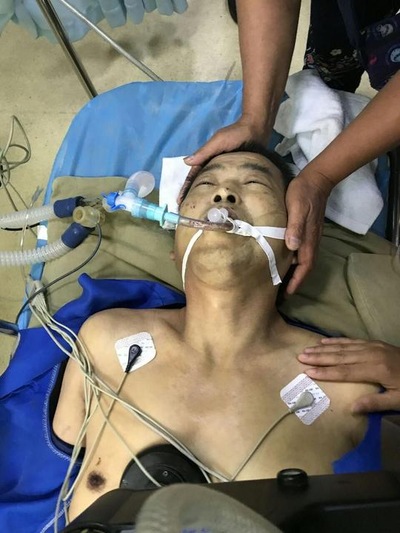 Mr. Yang Yuyong in the Emergency Room of Wuqing Chinese Medicine Hospital
Mr. Yang's family received notice that he was in critical condition from their local police station at about 6:00 p.m. on July 11. When they arrived at Wuqing Chinese Medicine Hospital, they saw police all over the place.
They saw that Mr. Yang was no longer breathing and his body was black and blue. Medical personnel were still doing CPR to try to resuscitate him.
Mr. Yang's daughter and son were sobbing, and more than a hundred friends and relatives were waiting in the hallway outside the emergency room.
According to the doctor who worked on him, Mr. Yang Yuyong's organs had failed by the time he was delivered to the hospital at 3:40 p.m. Nurses also said he was dead upon arrival.
Family's Complaints Ignored
At approximately 11:00 p.m. that night, Mr. Yang's family called the police to file a complaint. Several local officers came but said they couldn't decide anything and had to report to their superiors.
Mr. Yang's daughter then called the police department and the procuratorate and spoke to Wuqing District police and Tianjin City police inspectors, but they were either indifferent or cursed her. One of them said, "No one will respond wherever you go—the police department, Tianjin City, or the Beijing Appeals Office."
Officers in uniform and plainclothes were everywhere inside and outside of the emergency room. Zhao Guoquan, the detention center superintendent showed up and tried to persuade Mr. Yang's family to remove his body, but they refused.
Special Police Seize Mr. Yang's Body
At about 3:30 a.m. on July 12, 14 police cars showed up at the hospital, and special officers in black uniforms got out and more than 100 police officers filled the halls of the hospital.
With electric batons in their hands, they lined up on either side of the hallway from the emergency room to the exit, seized Mr. Yang's lifeless body, and put it in a room on the east side of the hospital. Anyone who wanted to see him had to register and be videotaped. The police threatened, "No Falun Gong practitioners are allowed to visit. If they do, they will be arrested."
One overseas reporter called Zhao Guoquan, the detention center superintendent. Zhao claimed that he did not work there anymore and was on his way to Hong Kong. But informants said Zhao was on site and had demanded that Mr. Yang's family remove his body.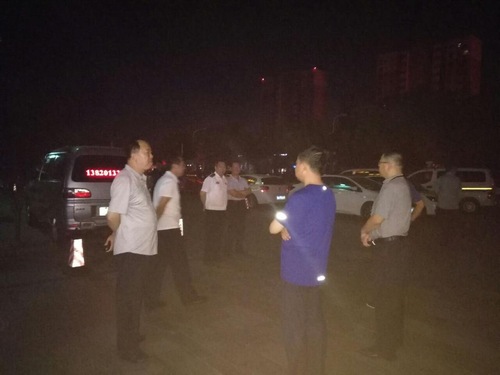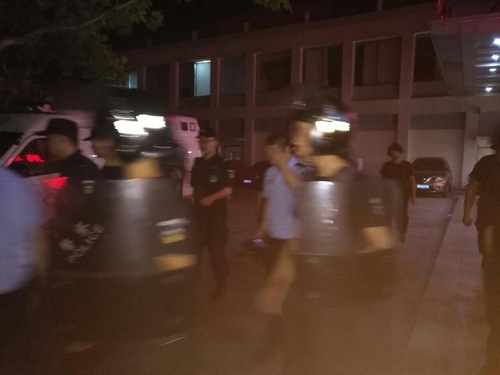 14 police cars showed up at the hospital at about 3 a.m. on July 12. Special police officers in black uniforms re-located Mr. Yang Yuyong's body.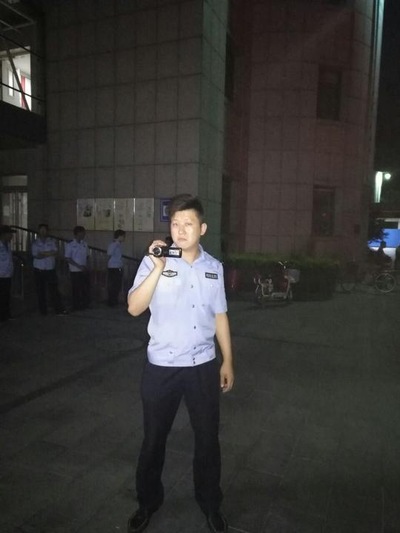 One officer recorded them.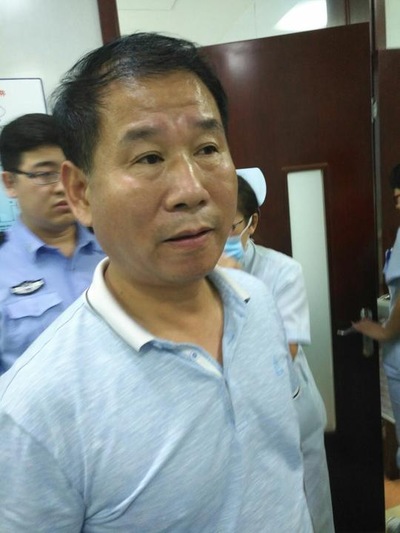 Zhao Guoquan, the Wuqing Detention Center superintendent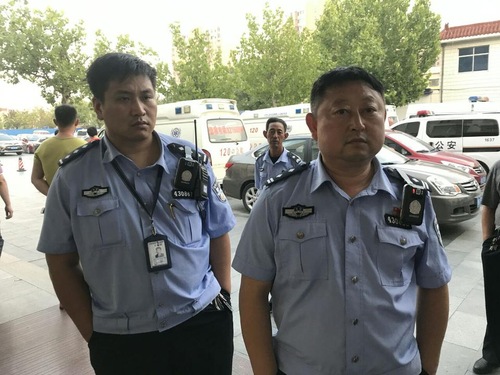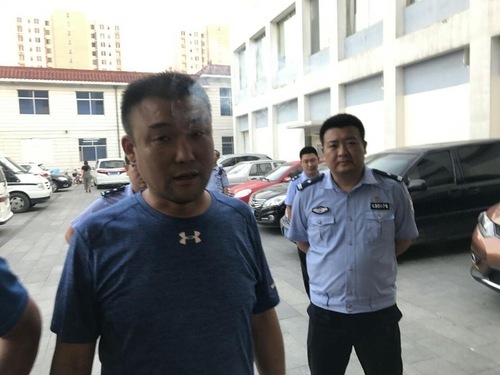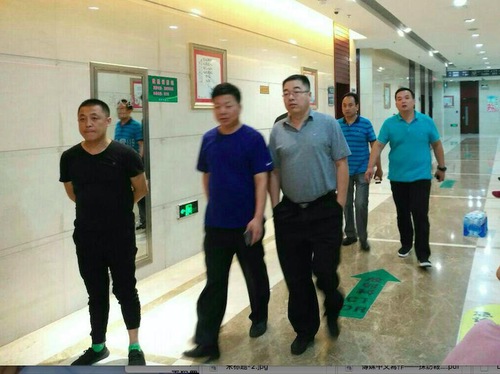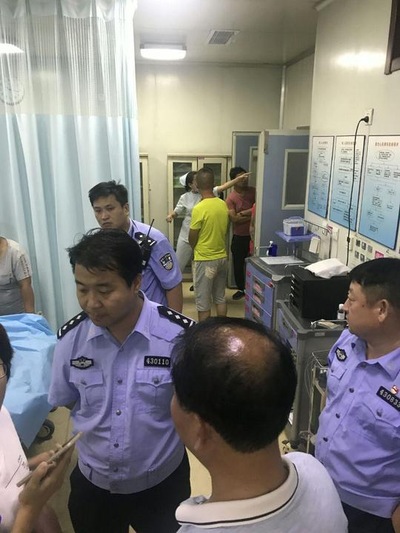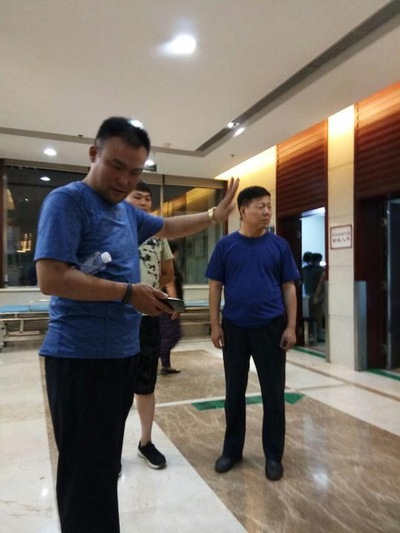 Uniformed and plainclothes officers could be see inside and outside of the emergency room of Wuqing Chinese Medicine Hospital.
Mr. Yang's Relatives and Friends Want Justice
Mr. Yang's relatives and friends were very angry. They said, "Such a strong guy was tortured to death. We called the authorities to demand justice, but they all shirked their responsibility."
Mr. Yang's wife Ms. Meng Xianzhen was arrested with him and was still being held in the detention center. Her relatives and friends asked the officials to release Ms. Meng Xianzhen so that she could see her husband one last time.
At 5:00 p.m. the following evening, police officers from detention center allowed her to see his body for the last time.
They then took Ms. Meng back to the detention center to talk to her about Mr. Yang. Seven relatives and friends were allowed to participate in the meeting. Each showed ID and registered. During the negotiations, Mr. Yang's younger brother demanded justice for his brother and asked for an investigation into the cause of Mr. Yang's death. He refused to compromise with the detention center officials. No agreements were reached.
Who Killed Mr. Yang Yuyong? Many Unanswered Questions
No detention center official has explained to Mr. Yang's family how he died. His family noticed bruises on his neck and most of his body, blood in his ears and eyes, large wounds behind his ears, and traces of bamboo sticks in his toenails.
There are still many unanswered questions surrounding Mr. Yang's death.
First, although he was taken to the hospital at 3:40 p.m., rigor mortis had already set in by the time his family saw him before 7:00 p.m.
Second, when Mr. Yang met his lawyer on June 28, he told his lawyer that 13 inmates beat him until he passed out. He didn't know how long he was unconscious. Therefore, police officers at the detention center would not have taken him to the hospital if he was awake. That means he must have been in a coma for a very long time before he was taken to the hospital.
Third, police officers manipulated doctors to tell lies. Doctors said half of Mr. Yang's lung had deteriorated, which caused him to have a fever of 40 degrees Celsius. However, they didn't report the obvious signs of beatings and torture.
Background
Arrested, Detained, and Tortured
On the morning of December 7, 2016, Chen Dejun, captain of the Wuqing District Domestic Security Division in Tianjin, along with officers from Huanghuadian Police Station and Criminal Investigation Team 3, broke into Mr. Yang Yuyong's home and ransacked it. No search or arrest warrants were ever produced. They took him and his wife out and stuffed Mr. Yang's mouth with a towel. They didn't provide a list of confiscated items.
Liu Lijun, a Huanghuadian Town Police Station officer, prevented Mr. Yang's family from entering the home by using pepper spray, damaging their eyes, throats, and stomachs.
Mr. Yang and his wife Ms. Meng Xianzhen were taken to Wuqing Detention Center. Mr. Yang went on a hunger strike in protest. To force him to give up his hunger strike, Wuqing Detention Center officers handcuffed him, shackled him with heavy chains and two big iron balls and connected the handcuffs and shackles so that he had to remain bent over. They ordered him to sit on a small stool for an extended period of time. They encouraged others in the cell to torture him.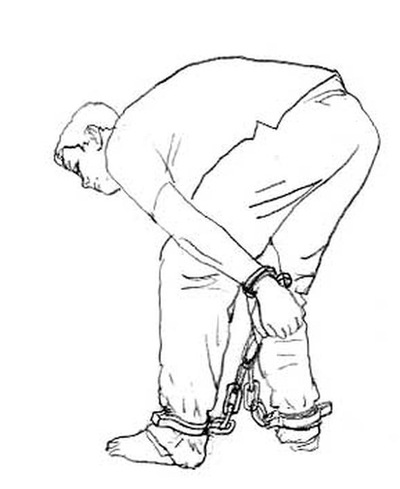 Torture illustration: Handcuffed and shackled
Mr. Yang's son stood in front of Wuqing Police Department every day for more than a month to try to secure the release of his parents. He encouraged captain Chen not to commit crimes.
Complaints Filed Against Officials for Their Misconduct
Mr. Yang's lawyer filed complaints against Wu Chunming and police officer Liu Jiangang for their misconduct and mailed the documents to the Tianjin Procuratorate and Tianjin Police Bureau.
When the Wuqing Detention Center officials heard about the complaints, they retaliated. Officer Liu put Mr. Yang in an unmonitored cell. He struck Mr. Yang with a bamboo flyswatter until it broke. He threatened Mr. Yang that he would use something sturdier to beat him if Mr. Yang told anyone about the beating.
When they met on June 28, Mr. Yang told his lawyer about being tortured by Liu, who slapped his face, and the 13 inmates who beat him until he passed out. They also abused him sexually.
Tianjin Follows Jiang's Orders Closely to Persecute Falun Gong
Since April 25, 1999, Tianjin has been one of the key areas to implement the persecution of Falun Gong. Tianjin's police, procuratorate, courts, and 610 Office have all followed suit, depriving citizens of their constitutional right to freedom of belief and arresting, detaining, torturing, and sentencing them.
In July 2014, when Zhao Fei took office as chief of the Tianjin Police Department, he claimed that "police officers would be awarded 10,000 yuan for arresting even one Falun Gong practitioner." This led to the escalation of the persecution of Falun Gong in Tianjin Detention Center and Tianjin Prison.
Between March 2 and 4, 2015, following orders issued by Zhao Fei, about 200 police officers from Tianjin City Police Department, Tianjin Domestic Security Division, and several police stations arrested several dozen Falun Gong practitioners and relatives from eight districts in Tianjin. Ms. Wang Huizhen from the Binhai New District was tortured to death during that round of arrests.
Between December 7 and 8, 2016, Zhao Fei initiated another round of arrests. More than 20 practitioners were arrested, the oldest 85. Most of the arrested were sentenced to prison terms. Mr. Yang Yuyong was one of them.
Wuqing District Detention Center: +86-2222165836, +86-2282171513Zhao Guoquan, superintendent: +86-2282179218, +86-13820398682Wu Zhenhe, superintendent: +86-2282179218Liu Xiangyang, superintendent: +86-13752196082Li Yanli and her sister Li Yanjun, guards: +86-15022160933
Wuqing District Chinese Medicine Hospital: +86-22-29342090, +86-22-29338843 ext 6653Han Dexin, doctor in the emergency room in charge of treating Mr. Yang Yuyong. Witness saw several plainclothes officers whisper to him several times.
Wuqing District Domestic Security Division: +86-2282167128, +86-2282167129, 86-2282167130Wu Wenshen, captain: +86-13502080378Chen Dejun, deputy captain: 86-13920489757
Wuqing Detention Center: +86-2282124253Wuqing District Police Subbureau, Tianjin City: +86-2282167110, +86-2282167111, +86-2282167103, 86-2282167101, +86-2282167139 (FAX)Email: wqgaj@tjwq.gov.cnWebsite: www.tjwq.gov.cnLi Ming, chief: +86-2282170001(Office), +86-2282179998(Home), +86-13821909699(Cell)