Practicing Falun Gong: Three Melbourne Residents Start Their Lives Anew
Sept. 27, 2020 | By a Minghui correspondent in Melbourne, Australia
(Minghui.org) The principles of Falun Dafa, "Truthfulness, Compassion, Forbearance," have helped practitioners in Melbourne learn the purpose of life and improve their physical and mental fitness during the past 20 years. 
Master Li Hongzhi, the founder of Falun Dafa, said,
"Dafa is being spread far and wide. Those who hear about it are looking for it. Those who have obtained it are delighted with it. The number of cultivators is increasing daily and becoming countless." ("Seeking Discipleship with Teacher" from Essentials for Further Advancement)
The following are the stories of three Melbourne residents who experienced remarkable changes upon taking up the practice of Falun Dafa. 
Family Benefits from the Teachings of Falun Dafa 
Twenty years ago Mr. Li came from Beijing and opened a small business with his wife Jenny. Their children were admitted to the University of Melbourne. His daughter holds a graduate degree in law, and was offered a job after graduation. Mr. Li attributes his blessings to his faith in Falun Dafa.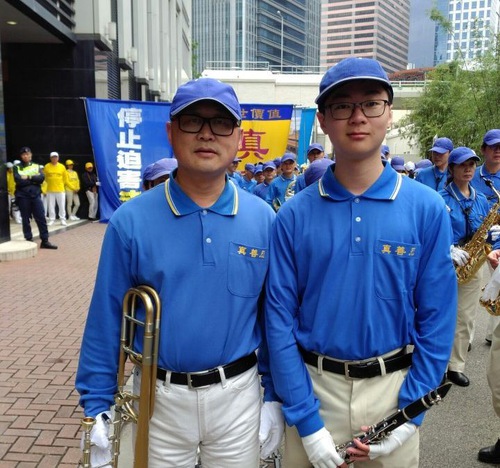 Mr. Li and his son are both members of the Falun Dafa Tian Guo Marching Band. They went to Hong Kong for a rally and parade during the New Year. 
Mr. Li and Jenny witnessed the June 4th student movement and massacre on Tiananmen Square in 1989. The loud gunshots in Beijing woke them up that night. Two years later, in 1999, they emigrated from China to Melbourne, and opened a restaurant selling fish and chips. 
Due to the lack of vitamin D growing up, Mr. Li often had back pain. One time he twisted his back and had problems to stand still or walk. "In a clinic specialized in Chinese medicine," Mr. Li said, "I tried massage, acupuncture, herbal ointment, and other remedies. The entire treatment process lasted for three months and it didn't seem to work. In desperation, I tried western medicine again. Physical therapy and bone-setting massage seemed to work for a short time. However, the problem still lingered."
Most of the work in the restaurant involved heavy labor and it all fell on Jenny's shoulders. Mr. Li said, "Our daughter was little and Jenny was pregnant with our son. I felt hopeless when I saw her constantly worry about our livelihood." "One day my doctor told me that I should not lift anything heavier than 10 pounds. It was like a life sentence and my future was uncertain." 
"I also suffered from frequent severe headaches. Most people's headaches would go away by taking one painkiller. My headache was so bad that I needed to take two pills. I smoked a lot back then to relieve my stress." 
By 2007 Mr. Li began to suffer insomnia because of the heavy smoking, stress and physical pains. "I used to be able to sleep just fine if I took my medicine, but not anymore."
At one point Mr. Li found a copy of Zhuan Falun, the main teaching of Falun Dafa (also called Falun Gong), and started reading it. "I didn't expect it but once I started reading I couldn't put it down. I finished reading it that night. The next day I found a Falun Dafa exercise site." 
"The third day I did the exercises, I felt that my back was punched twice. From then on my back no longer bothered me. A few days later my headache was gone. I was able to stand still, and felt energetic. I worked all day without feeling fatigue and I lifted a 50-pound bag of potatoes effortlessly." 
"How amazing! I was reborn and full of hope. My family couldn't thank Master Li and Falun Dafa enough."
Jenny became a Falun Dafa practitioner 7 years later in 2014, after seeing what a wonderful person her husband had changed into. 
Mr. Li's children grew up watching their parents following the principles of Falun Dafa in the things they did and said. They were both good students and stayed away from video games and other bad habits. The daughter was offered a full scholarship to Melbourne University Law School, and graduated with honors. Their son also was accepted at the same University. 
Now, the son and Mr. Li are members of the Falun Dafa Tian Guo Marching Band. They practiced in their spare time and participated in rallies and parades to spread the good news of Falun Dafa to every corner of the world. 
From the Worst to the Best 
Francisco Lay immigrated to Australia with his Chinese family from East Timor when he was little. He was the youngest of 12 children.
In his 20s Mr. Lay became addicted to gambling and owed massive debts. According to him, "My friends and family hid from me, because they worried that I would borrow money from them." Unable to quit gambling Mr. Lay resorted to heavy smoking and drinking to numb himself. "A friend of mine saw that I was about to ruin my life and introduced me to Falun Dafa. Not having anywhere to turn, I decided to give it a try. It was 1996." 
"To my surprise, the minute I picked up the practice, I didn't feel like gambling. Quitting gambling couldn't have been easier. Soon I quit smoking and drinking. Gradually I lost all my bad habits." 
Mr. Lay became a good and reliable person following the principles of the practice in his daily life. "My parents went from worrying about me the most to trusting me the most."
"I then met my current wife and we have six sons. We teach our children everything based on the principles of Falun Dafa. The children now do very well at school!"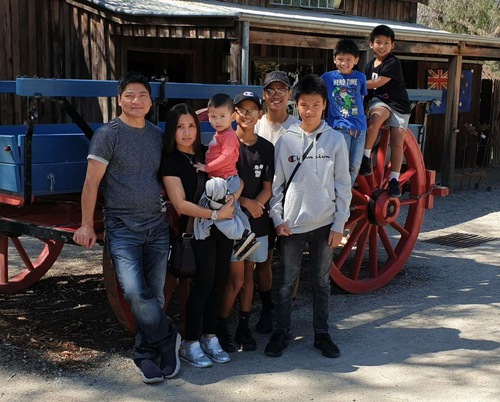 Mr. Lay and his family.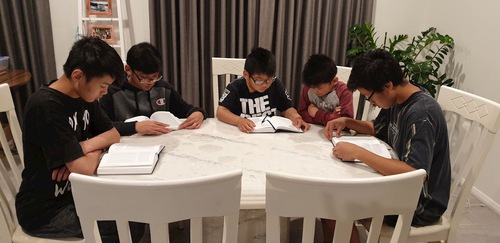 Mr. Lay's sons study Zhuan Falun together. 
"Among the 12 children, my parents like to live with me the most. After my father passed away, my mother lived with me until she passed away. I quit all bad habits after I became a practitioner, and even introduced Dafa to my nephew, who is now a practitioner."
"What is even more amazing is that, although I was born in East Timor during the war times and quit school at a young age, I picked up Chinese very quickly after practicing Falun Dafa. Before reading the book Zhuan Falun, I could not speak or read Chinese. Aside from helping me improve my outlook and rid me of my bad habits, Zhuan Falun also allowed me to speak and read Chinese. This was beyond my expectations!" 
"For me and those around me, it is easy to see that without Falun Dafa, I would not be the same today or enjoy the happiness that my family brings me. I really hope that everyone will also recognize the goodness of Falun Gong." 
Falun Dafa Saves Me and My Family 
When Ms. Chen came to join her daughter in Australia in 2014, she was ready to spend the rest of her life happily with her family. A year later she was diagnosed with lupus after suffering joint pain."
"It was like a ton of bricks just fell on me. My doctor warned me that it was a tough disease. He wanted me to stop working, and stay at home to get some rest. It felt like the end of the world." Her daughter's family also fell into despair. "I didn't want to give up without a fight. I decided to go back to China to find a doctor who could help me." 
She was admitted to a well-known hospital in Beijing and was treated for almost a year. Although her condition was finally under control, she spent all of her family's savings. The doctor told her that the disease could only be controlled but not cured. She was put on a strict diet.
She returned to Australia in 2016 and researched other methods that could help cure lupus. "Luckily I came across reports on how Falun Dafa practitioners miraculously recovered from tough or end-stage illnesses. The reports come with names, and these practitioners include Chinese tenor Guan Guiming and former Harvard scholar and medical doctor Wang Taiyuan from Shanghai." 
Ms. Chen decided that she would give it a try and became a practitioner in August 2017. 
"In less than two months, my condition improved. The redness and cracked skin on my cheeks faded, and I felt energized. I could eat anything I wanted. I could look after my grandson and do the housework, and I didn't feel tired. My seasonal allergy disappeared as well." 
"Without spending a dime, Falun Dafa cured my illnesses, for which I had previously traveled so far and spent so much trying to cure. I have now fully recovered and my entire family is very happy and grateful to Falun Gong." 
After being a practitioner for three years, Ms. Chen saw the wonderful effects the practice had on her life. "After practicing Falun Dafa, I learned to incorporate the principles of Truthfulness, Compassion, and Forbearance into my daily life. I used to argue with my husband, but now I first look at myself instead of complaining and blaming him. I also try to be patient and tolerant at work, and just smile when someone isn't kind to me. My coworkers all saw the good changes in me."