Shanghai Man Sentenced to Two Years, Suffers Hearing Loss in Custody
Sept. 21, 2020 | By a Minghui correspondent in Shanghai, China
(Minghui.org) A Shanghai resident was sentenced to two years in prison on September 9, 2020, for his faith in Falun Gong, a mind-body discipline that has been persecuted by the Chinese communist regime since 1999.
Mr. Nie Guangfeng was arrested on November 13, 2019. The police ransacked his home and confiscated his two computers. He was put on criminal detention at the Minhang Detention Center, but the detention notice given by the police didn't include the time frame of his detention.
Mr. Nie's case was submitted to the Minhang District Procuratorate on February 19, 2020. He was tried by the Fengxian District Court, which has been designated to handle most Falun Gong cases in Shanghai, on September 9, 2020, and sentenced to two years. 
According to Mr. Nie's lawyer who visited him in early 2020, he suffered severe hearing loss in the detention center. His reaction was also slow and he limped while walking. It's not clear whether he was tortured in the detention center.
Mr. Nie used to have high blood pressure, severe stomach problems, and a heart condition, all of which disappeared after he took up Falun Gong.
Because he raised awareness about his faith after the communist regime ordered the persecution, he was arrested in September 2012 and later sentenced to three years in Tilanqiao Prison in Shanghai. 
In order to force him to renounce Falun Gong, the guards forced Mr. Nie and other practitioners to sit on a wire roller of 3.5 inches in diameter (after the top was removed), with their hands chained behind their backs. The inmates beat them if they moved a little. Most practitioners' buttocks festered after a long time of sitting. If they still didn't give up Falun Gong after a period of torture, the guards would change the wire roller to an even smaller one and deprived the practitioners of sleep.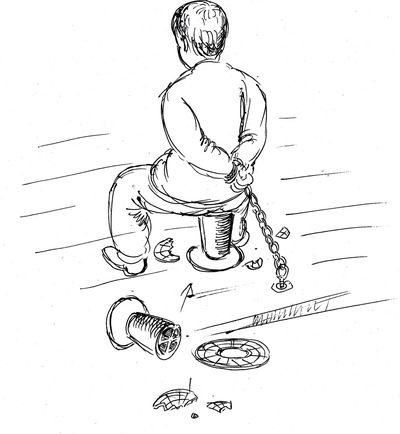 Torture illustration: Sitting on a wire roller with the top removed
Related report:
Mr. Nie Guangfeng's Lawyer Indiscriminately Dismissed at His Trial in Zhabei District Court in Shanghai