Latvia: Residents Learn About Falun Gong at Jūrmala Resorts
Sept. 19, 2020 | By a Falun Dafa practitioner in Latvia
(Minghui.org) Falun Dafa practitioners in Latvia introduced the practice to people in Jūrmala, a coastal resort town about 25 kilometers west of the capital city Riga, on September 5 and 6, 2020.
Many people expressed interest in learning Falun Gong and many also signed a petition opposing the persecution of the practice by the Chinese Communist Party (CCP).
Also called Falun Dafa, Falun Gong is a traditional spiritual cultivation practice from China that was introduced to the public by Master Li Hongzhi in 1992.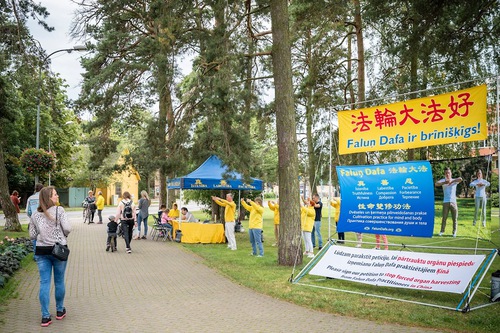 Introducing Falun Gong at Kauguros, Jūrmala, on September 5, 2020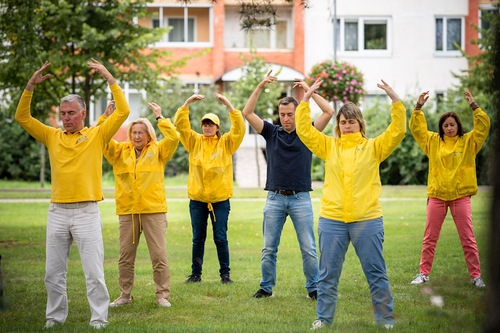 Falun Gong exercise demonstration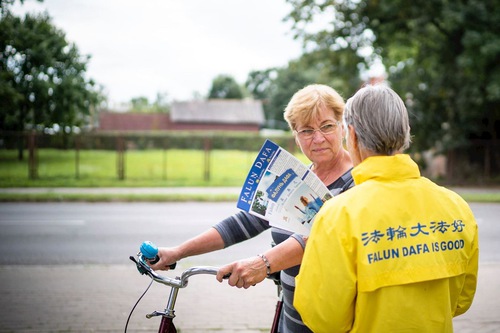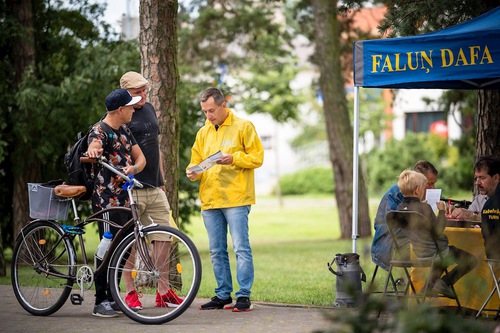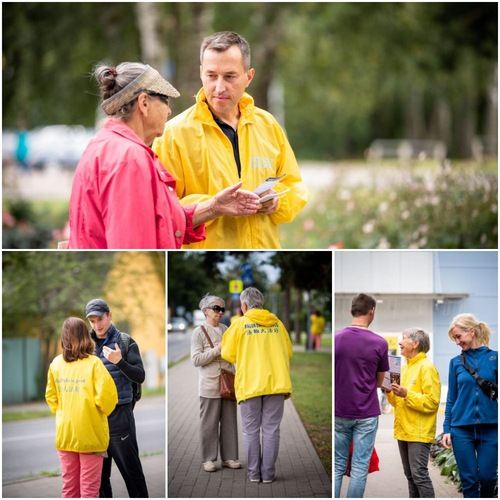 People are interested in learning Falun Gong
A family stopped at the Falun Gong booth in the Dubulti area of Jūrmala and chatted with practitioners. They learned about Falun Gong's tremendous health benefits and worldwide impact, and how the CCP launched the persecution of the practice in 1999. 
A practitioner explained to the family members that they were collecting signatures for a petition, which will be mailed to the Supreme Procuratorate in China. The petition calls for a criminal investigation of Jiang Zemin, the former Communist Party leader who ordered the persecution of Falun Gong.
The family signed the petition, and the husband commented, "Nowadays, evil is eroding the brightness of the world."
In Kauguri, a residential area on the west side of town, a lady signed the petition and then asked a practitioner how she came to learn Falun Gong.
The practitioner told the woman how she used to have severe spinal issues and was about to become entirely dependent on a wheelchair. She happened upon some Falun Gong practitioners while they were holding an activity on Rožu Square in Liepaja. She learned about the benefits of the practice and decided to give it a try.
"Gradually my spine issues disappeared. My vision also improved a lot," the practitioner told the woman. 
The woman said, "If the exercises did all that for you, I believe I will like it, too."
Another woman watched practitioners demonstrate the exercises for a long time. She was surprised that they could stand still for such a long time. She started to chat with a practitioner and decided to join the weekly Wednesday activities in Riga with her son.
Another woman commented that the Falun Gong principles of Truthfulness-Compassion-Forbearance are very good and the world would be a much better place if everyone followed them.