Liaoning Woman Barely Survived 15 Years of Imprisonment and Torture
Sept. 18, 2020 | By a Minghui correspondent in Liaoning Province, China
(Minghui.org) Ms. Hu Zhehui from Panjin City, Liaoning Province, was released on August 2, 2020, after 15 years in prison for practicing Falun Gong, a mind-body discipline that has been persecuted by the Chinese communist regime since 1999. During her incarceration at Liaoning Province Women's Prison, she suffered inhuman treatment and almost died from the torture. Being 5 feet and 4 inches tall, she weighed less than 90 pounds when she was released.
Ms. Hu, 55, used to work at the Lujing Company in Liaohe Petroleum Field. She started to practice Falun Gong in 1996 and credits the practice for curing many of her illnesses, such as heart disease and rheumatoid arthritis. She strove to live by Falun Gong's principles of "Truthfulness-Compassion-Forbearance" and became more considerate and selfless. Her positive transformation was widely recognized by her family, relatives, friends, neighbors, and coworkers.
Arrested Along with Other Practitioners
After the Chinese Communist Party started to persecute Falun Gong in July 1999, she was forced to flee home to avoid harassment by the authorities. When she returned home to visit her daughter on August 3, 2005, she was arrested by the police who had been following her. 
The police beat and tortured her in custody. When she went on a hunger strike to protest the persecution, the police tied her on the death bed for 39 days and force-fed her.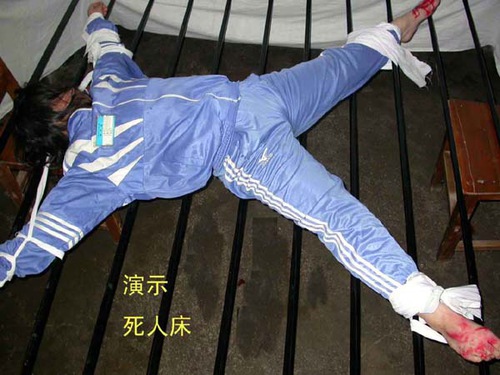 Torture reenactment: death bed
Four other practitioners, including Mr. Xin Minze and his newly married wife Ms. Bao Juncen, Mr. Hou Yunfei, and Mr. Yang Lixin were also arrested on the same day. 
The officers ransacked Mr. Xin's home and confiscated some cash and his brand new furniture. He and his bride were beaten, tied to death beds, and force-fed while being held in Panjin City Detention.
Mr. Yang, who had been previously sentenced to six years but released on medical parole, was taken back to Dabei Prison in Shenyang City, to finish serving his prison term.
Court Trial and Sentencing
Ms. Hu, Mr. Xin, Ms. Bao, and Mr. Hou were put on trial at the Xinglongtai District Court of Panjin City on September 12, 2005. All of them were carried in and out of the courtroom after they became very weak as a result of torture in custody.
Ms. Hu passed out at one point during the trial. After receiving emergency medical treatment, the trial continued. In the end, Ms. Hu was sentenced to 15 years, Mr. Hou to 14 years, and Mr. Xin to 13 years. Ms. Bao was initially sentenced to 12 years in prison, which was later commuted to one year in a labor camp. 
Mr. Xin, who served time in Nanshan Prison of Panjin City, was tortured to death on September 1, 2006, about one year into his term. He was 33.
Routine Torture and Mistreatment
After Ms. Hu was taken to the Liaoning Province Women's Prison, she was force-fed while being tied on the death bed. After her health improved slightly, the guards forced her to undergo brainwashing, kneel every day to watch videos and read pamphlets slandering Falun Gong. She was beaten routinely and not allowed to speak with anyone. The inmates often heard her painful and heart-piercing screaming.
The guards also instigated some inmates to steal the nourishment food sent in by her family. On Chinese New Year's Eve, Ms. Hu was ordered to stand all day long. The guards also took off her clothes and left only her underwear to humiliate her. When she protested the persecution, the inmates assigned to monitor her beat her and stuffed her mouth with socks to prevent her from shouting. As she bled from the beating, the inmates also forced her to wipe clean her blood on the floor.
Some inmates once poured boiling water on her arm. When she reported it to the guard on duty, the guard claimed that her injury was incurred prior to her imprisonment and accused her of framing the inmates. 
When an inmate with a sense of justice provided a witness report that Ms. Hu was beaten by others, the guard slapped the inmate in front of everyone and told her off. The guard was later awarded as a model worker, rewarded by a prize, and promoted to the prison 610 Office (an extralegal agency created to persecute Falun Gong) in charge of the persecution in the prison. 
In December 2010, an inmate faulted Ms. Hu for being slow in washing herself and beat her. Ms. Hu rushed to the hallway and protested by shouting that she was beaten by an inmate. The guards turned a blind eye to it while many inmates did not dare to speak out on her behalf. 
Ms. Hu went on a hunger strike for seven days. The guards carried her to the prison hospital to be force-fed on the eighth day. After six days of force-feeding, one of the inmates who witnessed the process could not hold back her tears when telling others that the force-feeding was a horrifying scene and she screamed constantly. Ms. Hu was carried back from the hospital after a month and she was reduced to a mere skeleton.
The inmates, instigated and protected by the guards and prison authorities, would pour cold water on her and beat her routinely for minor things, such as taking a little longer time in the restroom. As she continued to refuse to give up her practice of Falun Gong, she was not allowed to speak with anyone, slapped and beaten, and often denied meals.