South Korea: New Practitioners Treasure the Opportunity to Learn Falun Gong
Sept. 17, 2020 | By a Falun Gong practitioner in South Korea
(Minghui.org) A nine-day Falun Gong instruction session concluded at the Tianti Bookstore in Seoul, South Korea, on August 26, 2020. New practitioners shared their experiences of learning Falun Gong with each other.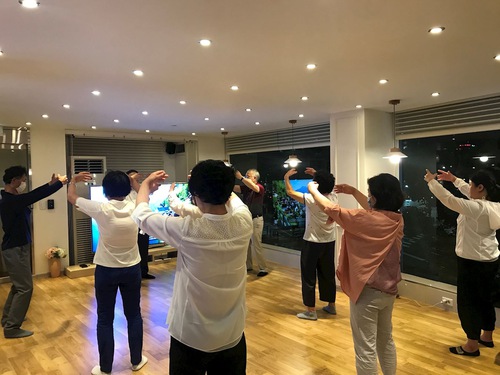 Learning the second Falun Gong exercise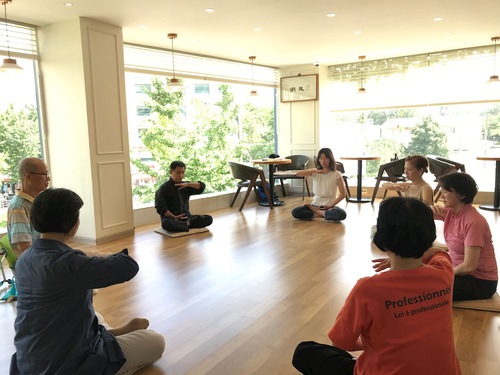 Learning the sitting meditation
A Long-Sought Practice
Lee, 65, received a brochure introducing Falun Gong at a subway station and recalled that he had seen Falun Gong practitioners in Taiwan two years earlier. He said he was appalled to learn that the Chinese Communist Party (CCP) was harvesting organs from living practitioners, but he did not learn much more about Falun Gong when he was in Taiwan.
He read the brochure carefully this time and was determined to try Falun Gong. "Actually, I sought such a practice a long time ago in my heart," Lee said. "Nowadays it is hard for people to have some quiet time to contemplate themselves. Falun Gong is great since it doesn't have the limitations of religions, though it has strict requirements for oneself."
He said the coronavirus pandemic had led to a reduction in social events and affected people's income, but practicing Falun Gong can be done anywhere and at any time, all for free.
Lee has practiced Falun Gong for more than a month. He said he felt some physical benefits already. He used to have to urinate up to three times a night and couldn't sleep soundly, but recently he could sleep through the night.
"It Would Have Been Great to Have Started Practicing Falun Gong Earlier"
Kim, 70, received a flier when he was out for a walk in Seoul. He had seen Falun Gong practitioners protesting the CCP's persecution twice in front of Seoul's City Hall. While waiting for the nine-day Falun Gong instructional workshop, he read Zhuan Falun, the main book of Falun Gong, eight times and listened to recorded lectures. He quit drinking after reading the book. "It would have been great to have started practicing Falun Gong earlier," he said.
"I was truly touched when reading Zhuan Falun," Kim said. "Looking back on my time in the workplace, although I was a role model and earned a lot of bonuses, I felt that I was too harsh on my subordinates.
"It's a blessing to be born in Korea in this era. If you are in China, you will be persecuted. It's a blessing to be able to encounter this destiny in Korea."
Learning Falun Gong after Meditating for 17 Years
Ms. Kim went to the Tianti Bookstore to buy Falun Gong books on the last day of the workshop and joined the experience sharing. She said she started practicing Falun Gong in May this year.
She had practiced other forms of meditation for 17 years and had made little progress, so she became doubtful about it. A friend who had practiced Falun Gong for many years introduced the practice to her three months ago.
Ms. Kim practiced the exercises for ten minutes one day after her friend suggested she give it a try. The same night, she felt that the left side of her body, which normally felt cold, had become warmer. She understood that Falun Gong was not an ordinary school of practice.
"I felt energy when reading Zhuan Falun," she said. "My eye disease also improved. In the past, my eyesight was always blurry. I had a cataract examination, and although the hospital told me there was no problem, I felt very uncomfortable in my eyes. What's amazing is that when I read Zhuan Falun, I saw things becoming clearer. If I did not read this book, my eyes might have gotten worse."
She also shared how she rid herself of the attachment to the sweet and savory foods that she used to like. She wanted to give up this obsession, but it was not easy. But one day after she started practicing Falun Gong, she felt pain on her tongue and could not taste sweet and savory food when she ate it. Her eating habits have changed naturally, she said.
In addition to the physical changes, her mentality also changed. She is less attached to sentimentality, and when she reads ordinary books, her mind remains calm no matter how well the sentences are written.
Some of the new practitioners who joined the nine-day workshop were in their 70s, while others were young. They told the organizers that they treasured the opportunity to practice Falun Gong.
To help people learn Falun Gong, the Tianti Bookstore in Seoul holds a free instructional workshop each month. The classes are held on consecutive days with two choices of class times, one in the morning (9:30 a.m. to 12 p.m.) and the other in the evening (7:15 p.m. to 9:30 p.m.). The next session will be held from September 15 to 23. The bookstore can be reached at 02-504-0860.