Elderly Woman Imprisoned for Her Faith and Held Incommunicado for Over a Year
Sept. 16, 2020 | By a Minghui correspondent in Hebei Province, China
(Minghui.org) A 70-year-old woman in Qianxi County, Hebei Province, was sentenced to a year and a half in prison following her tenth arrest for practicing Falun Gong, a health-improving discipline guided by spiritual teachings that has been persecuted in China since 1999.
Ms. Chai Shuzhen's family found out in July 2020 that she had been secretly sent to Hebei Province Women's Prison. The prison authorities refused to confirm her presence over the phone but promised the family that she would be treated well.
Having been denied visits with Ms. Chai since her latest arrest on July 12, 2019, her family is now very worried about her well-being, knowing that many Falun Gong practitioners are being tortured in prison for refusing to renounce their faith.
Seeing the Light at a Most Desperate Time
After her father died when she was 15 and her mother remarried, Ms. Chai had to live with different relatives and had a miserable childhood. She eventually married and had two daughters and a son. Her daughters were both hospitalized after they contracted measles. Her younger daughter, who was 9 at the time, died the next day. The older one died three days later at the age of 12.
Ms. Chai tried to commit suicide but gave up, knowing that she had a son to take care of. The agonizing mental stress weighed on her heavily. Gradually she developed chest pain, bronchitis, psoriasis, high blood pressure, and vertigo.
In March 1997 Ms. Chai saw Falun Gong practitioners doing the exercises and decided to read the teachings of the practice. She couldn't have been more excited after reading Zhuan Falun. She cried as she held it, saying, "Finally, I've found the truth." Soon after she took up the practice, her ailments disappeared and she started to smile again. Her husband said that she was like a different person.
Frequent Arrests, Incarcerations, Torture, and Harassment
In her previous arrests and the subsequent incarcerations, Ms. Chai was often tortured during interrogation. She refused to cooperate and had to wear handcuffs at all times, was given little food, and was denied family visits.
One time, she was hung up from a window frame with all her weight on her wrists. The pain was excruciating. It was bitterly cold and the window was left open as she hung from it for three hours in the middle of the night.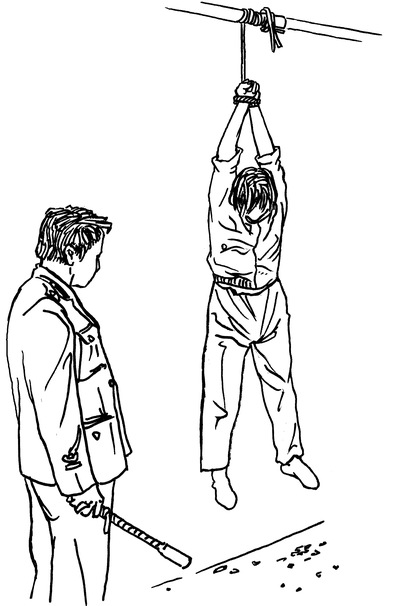 Torture illustration: Hung up
She was also shocked with electric batons, beaten, force-fed with unknown drugs, and tightly tied up.
In addition, the police ransacked her residence following several of her ten arrests, but they never showed any search warrants.
The following is a summary of her ten arrests.
First Arrest in 2001 Leads to 18 Months of Detention
The police broke into Ms. Chai's home and arrested her on January 11, 2001. Because she refused to write a statement to renounce Falun Gong, she and other Falun Gong practitioners were paraded through the streets with their handcuffs on to humiliate them. The police then took them to a public plaza and announced that they'd been detained as criminals.
Ms. Chai was arbitrarily given 18 months in a detention center, where she was force-fed with unknown powder through her nostrils while handcuffed to a chair. The guards said that the powder was a drug to cure her ailments. Since then, Ms. Chai has had stomach issues.
During the 18 months she was detained, Ms. Chai was subjected to intensive brainwashing for two months.
A guard once struck her with a broomstick until it broke and then beat her with his shoe after he saw Ms. Chai doing the Falun Gong exercises in the detention center. She wasn't allowed to go outside for breaks or family visits because she refused to wear the prisoners' uniform or acknowledge that she was a criminal.
While Ms. Chai was detained, the domestic security officers arrested her husband after someone accused him of practicing Falun Gong. To rescue him, his family bribed the officers with a meal and 2,000 yuan in cash, but he was still detained for two weeks.
Detained 20 Days after Second Arrest in 2003
Minjing Police Station officers arrested Ms. Chai when she visited family members in Zhaoyuan County, Heilongjiang Province, on September 10, 2003. Five days later, she was transferred back to Qianxi County and detained for an additional 15 days.
Third Arrest in 2004
A Domestic Security Office agent arrested Ms. Chai after seeing her talking to someone about Falun Gong in front of a department store in June 2004. She was detained for 15 days.
Fourth Arrest in 2008 During the Olympics
After her husband died of an accident in 2007, Ms. Chai rented a place to live by herself. But she ended up moving four times in two years because her landlords were afraid of being implicated for renting to a Falun Gong practitioner.
Even as she moved from place to place, the police never stopped monitoring her. They arrested Ms. Chai and confiscated her Falun Gong literature on July 21, 2008. They arbitrarily decided to put Ms. Chai in Kaiping Forced Labor Camp for two years. But Ms. Chai was refused admission when she failed the physical exam. She was released five days later, after paying a fine.
Fifth Arrest in 2009
Four officers from the Qianxi Domestic Security office followed Ms. Chai to a temple fair on March 14, 2009. They arrested her and held her in Qianxi Detention Center for a month. She was released on April 12.
Sixth Arrest in 2010 Leads to Forced Labor
Someone reported Ms. Chai on April 6, 2010, for telling people about the persecution of Falun Gong. Domestic security office agents in Qianxi County arrested her and took her to Kaiping Forced Labor Camp. After the camp authorities rejected her because of her irregular heartbeat, the officers warned her not to tell anyone about the incident before releasing her.
Seventh Arrest in 2011 Results in Two Months of Detention
Ms. Chai was chatting with someone in a shopping mall on June 6, 2011, when a dozen officers in a police vehicle showed up. She was held in Qianxi Detention Center for two months.
Eighth Arrest in 2014
Domestic security officers arrested Ms. Chai on a major street while she was clarifying the facts about the persecution to people on February 14, 2014. She was released that same day.
Ninth Arrest in 2017
For telling people about Falun Gong in a market in Saheqiao Town on December 28, 2017, the local police arrested Ms. Chai and took her to Qianxi Detention Center. The detention center authorities refused to admit her because of her age and poor health. She was released that day.
Tenth Arrest in 2019
Ms. Chai's tenth arrest took place on July 12, 2019, after she was reported for talking to people about Falun Gong at a farmers' market. She was sentenced on November 15, 2019, in the Zunhua City Court. She appealed the verdict but later withdrew her appeal after a staff member from Tangshan City Intermediate Court pressured her.
Tangshan City No.1 Detention Center didn't inform her family of her case status and imprisonment until July 2020.
Related reports:
Woman Given 1.5 Years for Her Faith in Falun Gong, Never-before-mentioned Witness Included in Judgment of Conviction
Hebei Woman, in Her 70s, Appears in Court Again for Her Faith
Woman in Her Seventies Tried for Her Faith
Hebei Woman, in Her 70s, Faces Trial for Her Faith
Ms. Chai Shuzhen Arrested Again for Telling People about the Persecution of Falun Gong