Taiwan: Falun Dafa Youth Camp Attendees Reflect on Their Spiritual Cultivation
Aug. 29, 2020 | By a Minghui correspondent in Yunlin
(Minghui.org) The 2020 Taiwan Falun Dafa Youth Camp took place at TransWorld University in Yunlin County between August 22 – 24, 2020. Over 100 young practitioners attended the event and they discussed how to improve according to the principles of Truthfulness-Compassion-Forbearance. They discussed how they remained diligent in cultivation practice, and what they did to save people.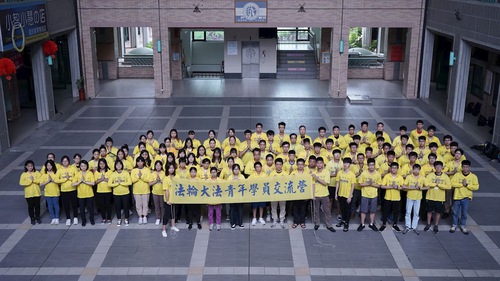 The 2020 Taiwan Falun Dafa Youth Camp in Yunlin County, August 22 - 24, 2020.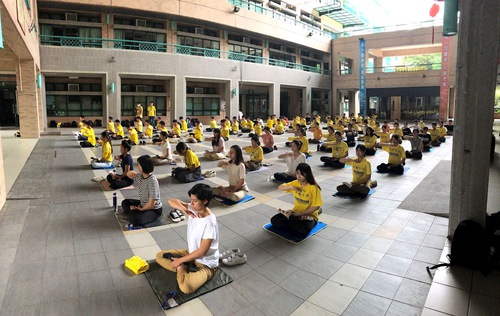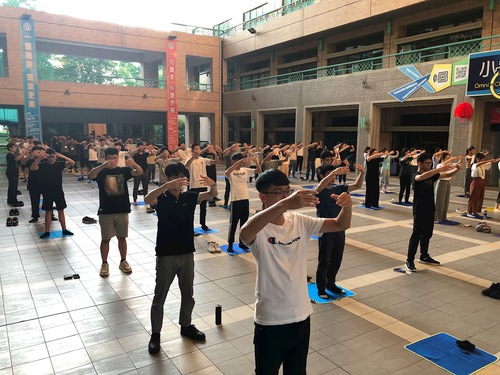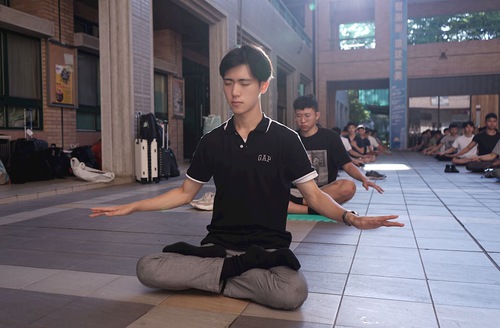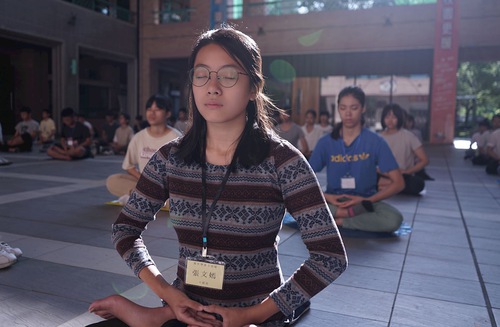 Young practitioners do the exercises as a group.
Remaining Diligent
College freshman Wu said he learned a lot from the discussions. By listening to the others, he saw where he could improve in cultivation. He also realized the importance of Fa study. 
In the beginning, Wu could not understand why one needed to look inward during conflicts. He later realized that by examining oneself one can better align with the principles of Truthfulness-Compassion-Forbearance. 
Another issue Wu said he always had was time management. He said he wasted hours browsing online while other practitioners were able to make the best use of their time and stay diligent. Although the camp only lasted three days, he felt he greatly benefited – learning how to let go of ill thoughts and rectify himself based on the Fa's principles. 
Yingyu, a graduate from the National Taiwan University of Arts, teaches performing arts. She was deeply touched seeing so many young practitioners talking about their experiences. She said she felt inspired and began to reflect on her own cultivation. 
Because she practiced with her parents from a young age, Yingyu found it easy and natural. Facing so many challenges after she graduated, Yingyu said she began to think about cultivation seriously. "No matter whether we deal with basic moral issues or stress, the teachings of Falun Dafa are always the best guide for us," she said. 
She always felt she was a plain person with little talent and had low self-esteem. After realizing the importance of cultivation, however, she was able to be strict with herself. Within one year, she said her appearance and performing skills improved significantly. "I know all these came from Falun Dafa. Master's arrangement is the best," she said. 
Yuqin, a sophomore at Niaosongyishu High School, shared his story. From the Falun Dafa teachings, he learned one should not only do well during conflicts with others, but also look within when witnessing arguments between other people. He no longer argues with his mother and his family is much happier. 
Saving People
Xu, a fine art student from Taipei, also began to practice Falun Dafa when he was a child. He heard how other young practitioners were talking to people about Falun Dafa, and he realized producing traditional artwork gives him opportunities to tell people about traditional fine arts and righteous values. 
Lin Jinhao graduated from Niaosongyishu High School and is currently a college student majoring in fine art. Because he studied traditional artworks he always disliked modern art. He later realized that as he read the Falun Dafa teachings he was aligning with the Fa's principles and was also able to help others. "If I have negative feelings about people, there is no way I can help them," he said. 
He became very respectful of the artists who pursued realism. "In such a chaotic society in which many people are promoting abstract and atypical art forms, these artists are determined to uphold the traditional forms." 
Lin is also deeply impressed by the profound Falun Dafa teachings as well as guidance of Mr. Li Hongzhi, founder of Falun Dafa. He has been able to maintain a clear mind and remember why he came to this world. "There are many tribulations on the cultivation path. Only by letting go of various attachments and human notions can we be clear on our responsibilities and fulfill them well," he shared.
Huang Yujun, a college freshman, has been helping edit video programs that raise awareness of the persecution. But, he did not do well in cultivation and could not calm down when he read the teachings. He also found himself attached to watching movies on television and often spent two or three hours each day on this. Each time, he regretted it, but the same thing happened again and again. 
At camp, through studying Falun Dafa's teachings and discussing with other practitioners, Huang realized it was interference from the old forces. "Those thoughts that want to watch the movie are not my true self," he explained. "Now I understand this issue more clearly and I know it involves my attachment to comfort."
The Importance of a Peaceful Mind
Guo Jiaming graduated from the National Taiwan University of Science and Technology with a major in electrical engineering. He is currently studying for a graduate degree.
While attending college he became the president of the Falun Dafa Association. At that time, he was also running for the student council and faced a major discussion that divided the students. Realizing the situation was related to his cultivation, Guo looked inward and decided both the election and the conflict were related to his cultivation. 
During this process, he also came to understand the importance of maintaining a peaceful mind. "People know that I'm a practitioner and are watching my behavior and words, which will affect their attitude towards Falun Dafa. I always remind myself to do well as a practitioner and leave people with a positive impression." In the end, his team won the election. 
From this experience, he also learned the importance of maintaining a peaceful and compassionate mind. "The path is already there and, as Dafa disciples, we have to walk it well and help people to understand the importance of Truthfulness-Compassion-Forbearance," he said.