Germany: People in Würzburg Support Practitioners' Efforts to Expose the Persecution of Falun Gong in China
Aug. 24, 2020 | By a Falun Gong practitioner in Germany
(Minghui.org) Falun Gong practitioners held activities in Würzburg on Saturday, August 15, 2020, to tell people about Falun Gong and how the Chinese Communist Party (CCP) has brutally persecuted the spiritual practice for two decades.
Located in northern Bavaria, Würzburg is a popular tourist destination. Famous for its art and culture, the historic city is richly decorated with ornate Baroque-style architecture. The local universities attract international students, including many from China.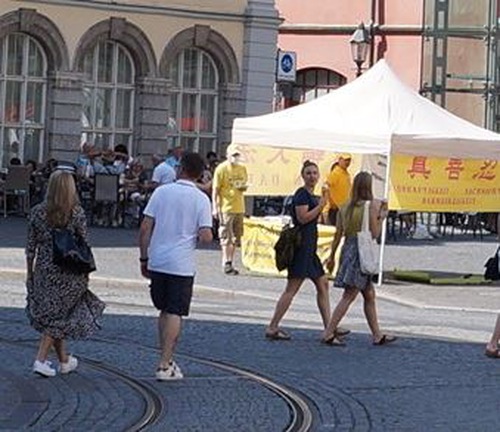 Practitioners hold activities in Würzburg, Germany on Saturday, August 15, 2020.
Residents and tourists signed the petition to call for an end to the persecution at practitioners' event in Würzburg's city center.
This was the second consecutive Saturday that local practitioners held events at Vierröhrenbrunnen, located in the city center. They set up tents, put up banners, demonstrated the exercises, and talked to passersby.
A Chinese German told practitioners she grew up in Thailand but her parents were Chinese. She was interested in self-cultivation and talked with the practitioners for a long time. She wished to learn the exercises and left her contact information. Soon after she left, she returned and took a photo of the event.
Some people came straight to the practitioners' tent and signed a petition to condemn the persecution. They explained that they already knew about the persecution and happened to pass by on that day. A young Austrian man saw the banner calling for an end to the CCP's killing of practitioners for organs and walked straight to the desk to sign the petition.
A middle-aged man walking by with his bicycle stopped and said, "I would like to sign." He also wished practitioners success in their effort to stop the persecution.
An African German woman signed the petition and said she hoped China would soon become a country not ruled by the Communist Party, adding that she strongly resented communism.