New Jersey: Somerset County Issues Proclamation for Falun Dafa
Aug. 22, 2020 | By a Minghui correspondent in New Jersey
(Minghui.org) The Board of Chosen Freeholders of Somerset County in New Jersey issued a proclamation for Falun Dafa on August 11, 2020, recognizing 21 years of peaceful resistance to the Chinese Communist Party's (CCP) persecution.
Download pdf file of the proclamation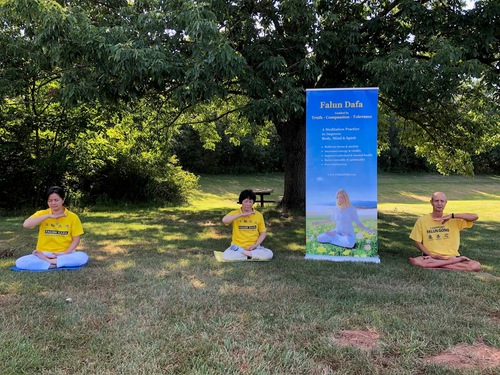 Falun Dafa practitioners in Somerset County do the exercises as a group.
The proclamation states:
WHEREAS, Falun Dafa, also called Falun Gong, is a peaceful spiritual practice rooted in Chinese Culture and consisting of meditation, five gentle sets of exercise and a philosophy centered on the values of truth, compassion and tolerance which practitioners use as a guide to their daily lives; and
WHEREAS, Falun Dafa was first introduced to the general public in 1992 by Mr. Li Hongzhi, a man nominated by some thirty professors and government officials around the world for the Nobel Peace Prize in recognition of his teachings and their power to change; and
WHEREAS, over one hundred million people worldwide have become healthier, happier and more altruistic through their practice of Falun Dafa; and
WHEREAS, on July 18, 2020, Falun Dafa practitioners gathered in Taipei City and held several activities to raise awareness of the ongoing persecution of Falun Dafa in China.
NOW, THEREFORE, BE IT PROCLAIMED that the Board of Chosen Freeholders of the County of Somerset, does hereby recognize the twenty first anniversary of the peaceful resistance of Falun Dafa practitioners, stands with numerous Human Rights Groups against the illegal persecution against Falun Dafa, and encourages all county residents to find out more about the benefits of Falun Dafa, a system that many say can have a positive effect on our quality of life.
Shanel Robinson, Freeholder DirectorSara Sooy, Freeholder DeputyBrian D. Levine, FreeholderBrian G. Gallagher, FreeholderMalonie Marano, Freeholder