Once Incarcerated and Tortured 13 Years for His Faith, Chongqing Man Arrested Again
Aug. 16, 2020 | By a Minghui correspondent in Chongqing, China
(Minghui.org) A Chongqing resident was arrested on May 15, 2020 for practicing Falun Gong, a mind-body discipline that has been persecuted by the Chinese communist regime since 1999.
Mr. Yuan Zhiqiang, who has been detained at Sanxikou Detention Center, is now facing prosecution after the police submitted his case to the Jiangbei District Procuratorate. 
Mr. Yuan's latest detention was preceded by multiple previous arrests and over 13 years of incarceration for his faith. He was first arrested on December 26, 1999 when he went to Beijing to appeal for the right to practice Falun Gong. The police sent him back to Chongqing on January 2, 2000. He was held at the Beibei District Detention Center for 52 days. 
On February 24, 2000, the police gave Mr. Yuan a two-year term at the Xishanping Forced Labor Camp. After his term expired, Mr. Yuan was transferred to a brainwashing center on April 28, 2002 and detained there for another 40 days. 
Mr. Yuan was arrested again on May 5, 2003. He was later sentenced to nine years and transferred from Langshan Detention Center to Yudu Prison on October 20, 2004. 
Mr. Yuan was subjected to various forms of torture in the prison for upholding his faith. The guards put him in heavy shackles and handcuffs and forced him to do intensive unpaid labor or hard physical training while he was starved. They also deprived him of sleep, exposed him to long hours under the scorching sun, and subjected him to verbal and physical abuse. Brutal force feedings caused severe damage to his lungs and he began to cough up blood. 
In addition to the physical tortures, the guards didn't allow Mr. Yuan to talk to others, held him in solitary confinement, and restricted his contact with his family, including visitation and correspondence.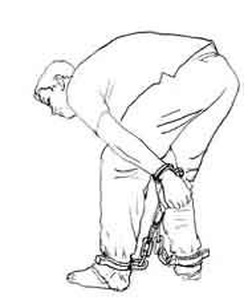 Torture illustration: hands and feet cuffed together
Many other Falun Gong practitioners imprisoned at Yudu Prison were also subjected to barbaric tortures. During his nine years there, Mr. Yuan witnessed two practitioners, including Mr. Li Zetao and Mr. Li Hongfu, being tortured to death; and nineteen others becoming disabled from beatings, including Mr. Wang Guanglin, Mr. Meng Xuetao, Mr. Wu Qun, Mr. Kang Hong, Mr. Tian Yicheng, Mr. Li Xiangdong, Mr. Li Jibing, Mr. Bai Tianshi, Mr. Zhang Hongxu, Mr. Zhang Quanliang, Mr. Zhang Quanmin, Mr. Wang Zhengrong, Mr. Wang Xian'an, Mr. Huang Guangming, Mr. Cao Xianlu, Mr. Zhou Jian, Mr. Lu Zhen, Mr. Lin Zhencai, and Mr. Luo Xianliang..
Three years after Mr. Yuan was released on January 5, 2012, he was arrested one more time on November 19, 2015. He was first held at the Jiangbei District Detention Center and then transferred to the Geleshan Brainwashing Center. On December 17, he was taken back to the detention center. 
The Jiangbei District Court sentenced him to 2.5 years in August 2016. Mr. Yuan was first sent to the Yongchuan Prison on November 8 and then transferred to Yudu Prison on December 21. 
Because Mr. Yuan refused to write thought reports, the guards forced him to stand or stay under the scorching sun for long hours each day. Between April 2 and 10, 2018, the guards forced him to stand from 7:30 a.m. to 11:00 p.m. for the first seven days, and then stand almost around the clock the last two days.
The inmates were also instigated by the guards to beat and verbally abuse Mr. Yuan. Sometimes they poured cold water into his clothes in the winter or spread potent essential oils on his face.
Mr. Yuan was released on June 16, 2018.
Related report:
Jiangjin City Court in Chongqing Sentences Three Dafa Practitioners