Germany: Falun Dafa Practitioners Hold Activities in Nuremberg
Aug. 11, 2020 | By Falun Dafa practitioners in Germany
(Minghui.org) Falun Dafa practitioners braved the scorching summer heat to hold activities at Nuremberg, the city of human rights, on August 1, 2020.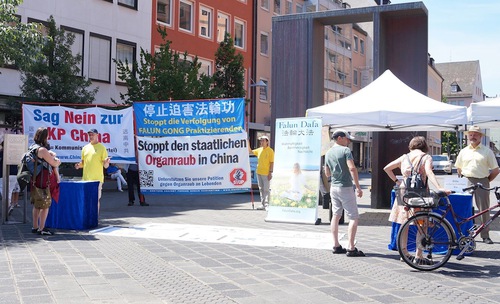 Falun Dafa practitioners hold activities at Hallplatz Square in Nuremberg on August 1, 2020.
Germany still requires people maintain social distancing measures to slow the spread of the Wuhan coronavirus. During outdoor gatherings like this, participants are not allowed to approach the public to hand them information. They must instead wait for members of the public to approach them. With these barriers in place, practitioners used a loudspeaker to spread the word about the brutal persecution.
A practitioner explained through the speaker, "Twenty-one years ago on July 20, 1999, Jiang Zemin, the then-head of the Chinese Communist Party (CCP) in China, initiated a nationwide brutal crackdown on adherents of Falun Dafa, also known as Falun Gong. Many practitioners were arrested in all parts of the country, countless families were broken up, children were forcibly separated from their parents."
Practitioners used the speaker to explain the atrocities that have been going on for 21 years in China and how the CCP has attempted to justify its suppression by fabricating lies and slander about the practice. Practitioners also spoke about the tremendous harm the Chinese regime has brought to humanity by its coverup of the coronavirus outbreak.
Many people who were passing by, stopped to listen and came over to take information from the practitioners and show their support. A woman in her 70s told practitioners that she knew about the heinous crimes committed by the CCP during its numerous political revolutions, because she had worked in China as a nurse in the 1980s. She had heard about the persecution of Falun Gong and wanted to sign the petition calling on the German government to help end the atrocities.
Another elderly German woman stopped in her tracks and stared at the giant banner. She was very shocked by the words "organ harvesting" and asked what it meant. A practitioner explained that the CCP takes organs from practitioners and sells them for profit. The woman asked sincerely what she could do to help. Practitioners told her she could sign the petition. The woman signed the petition and then took many materials to read.