Italy: Elected Officials Condemn CCP's Ongoing Persecution and Commend Practitioners
July 28, 2020 | By a Falun Gong practitioner in Italy
(Minghui.org) Twenty-one years ago, on July 20, 1999, the CCP (Chinese Communist Party) initiated the persecution of Falun Gong, a peaceful self-cultivation practice. Practitioners around the world hold events every year to commemorate their fellow practitioners who've died due to this persecution. 
Falun Gong practitioners held a rally in front of the Chinese Embassy in Rome on July 20, 2020, to demand that the CCP immediately end the persecution. They did the exercises, distributed fliers, and told passersby about the persecution.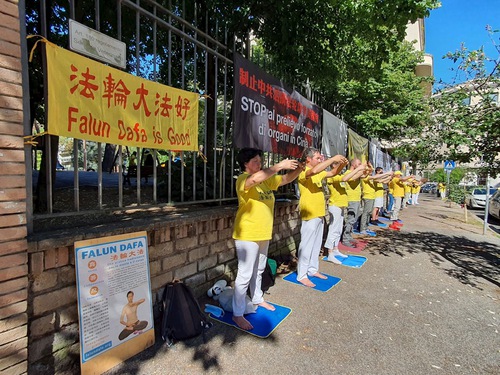 Group practice in front of the Chinese Embassy
The practitioners held a candlelight vigil at Villa Borghess Park in Rome to commemorate fellow practitioners who have died as a result of being persecuted. 
Candlelight vigil at Villa Borghess Park in Rome
They held an "Ending the 21-year-long persecution" rally on Montecitorioin Square in front of the Parliament building on July 21.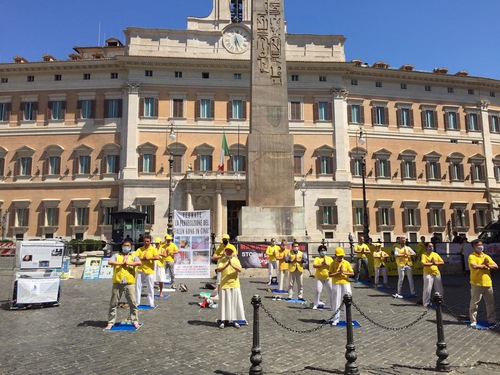 Group exercises in front of the Italian Parliament on July 21
Several Members of Parliament who spoke during the rally commended Falun Gong practitioners for their courage and perseverance and called on the Italian government to help stop the CCP's persecution and state-sanctioned live organ harvesting. 
Senator Lucio Malan, Chair of the Inter-Parliamentary Alliance on China (IPAC), spoke out against the persecution in the rally. 
"Thank you for your testimony, your perseverance," Senator Malan said. "We must continue to implement Falun Dafa's beautiful and good principles of Truthfulness, Compassion, and Forbearance. It is the truth. 
"People need to know what happens, such as the forced harvesting of organs from Falun Gong practitioners. Some people think this is fabricated. Unfortunately, it is a fact. We must be aware of this and require governments to take a stand. Governments should no longer remain silent. We should be united against the persecution."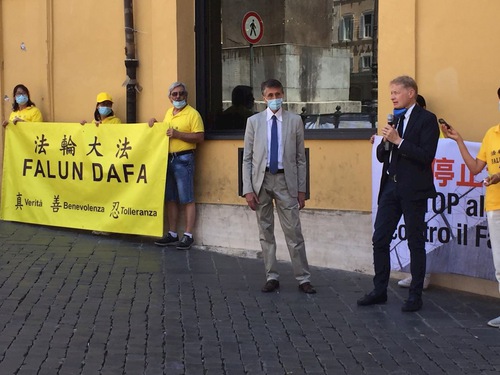 In his address at the rally, Senator Lucio Malan said, "Governments should no longer remain silent."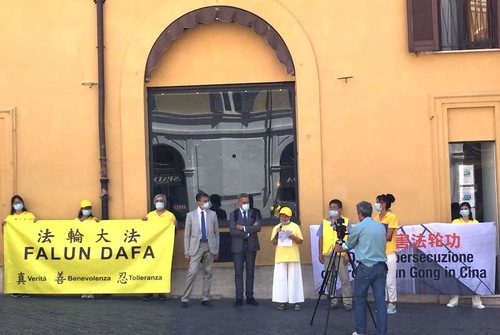 Lino Pettazzi, Member of the Italian Chamber of Deputies, attended the rally and listened as practitioners recounted the abuse they suffered during the persecution. 
Elisabetta Zamparutti, former Member of the Italian Chamber of Deputies, said Falun Gong practitioners are the best people on this planet. She has supported their efforts to end the persecution for many years. 
"It is our responsibility to support you," said Vito Comencini, Member of the Chamber of Deputies. "This is the responsibility of all of us. Everyone in government agencies should ask themselves why they've turned a blind eye to the tragedy that is happening in China. I am on your side." 
Two Chinese practitioners talked about their personal experiences of being persecuted. 
Zhao Lili, a Falun Gong practitioner from Shenzhen, recalled that, on the evening of June 30, 2000, she was at home alone when a police officer in uniform and seven other men broke into her home without showing any documents. 
She was arrested and detained in the Shenzhen Shekou Detention Center. To protest the persecution, she and several other Falun Gong practitioners detained there held a hunger strike. 
Six guards handcuffed her to a metal frame bed: two held her arms, two held her legs, and two used rubber hoses to force-feed her. The other practitioners who were on hunger strikes were forced to watch.
Li Shuqiang, a Falun Gong practitioner from Shenzhen, said that he was illegally detained in the Dongcheng District Detention Center after he appealed for the right to practice Falun Gong on Tiananmen Square on Christmas Day in 2000. 
He and other practitioners held a hunger strike to protest the persecution. When one of them refused to be force-fed, he was tied to a metal frame bed and shocked with an electric baton.