Canada: Elected Officials Call for Sanctions on Human Rights Perpetrators as Persecution of Falun Gong Enters 21st Year (2)
July 27, 2020 | By a Minghui correspondent in Canada
(Minghui.org)  July 20, 2020, marks 21 years that the Chinese Communist Party (CCP) has persecuted Falun Gong, a peaceful spiritual practice. On July 20, 2020, elected officials including Members of Parliament (MP) issued video statements supporting practitioners' peaceful protest and to call for sanctioning human rights perpetrators. 
Premier Kenney of Alberta Admires Practitioners' Courage
Jason Kenney, Premier of Alberta Province, sent a statement to the Falun Dafa Association of Canada to express his support of practitioners. 
"Today marks the 21st anniversary of the Communist Party of China's violent repression of the spiritual cultivation practice of Falun Gong.
"Before July 20, 1999, the Communist Party of China tolerated and even encouraged the practice of Falun Gong, but since then it has persecuted adherents and detained them without due process. Credible reports describe the torture of many Falun Gong practitioners in detention, up to and including death.
"On this sad and solemn anniversary, we remember these martyrs to freedom of conscience and religion and we admire and applaud the strength and courage of the millions of Falun Gong practitioners still suffering persecution under a campaign of fear and intimidation that extends beyond the borders of the People's Republic of China."
He also posted the statement on his social media page, including a photo of his speech in celebration of the 2014 World Falun Dafa Day. His page has 200,000 followers.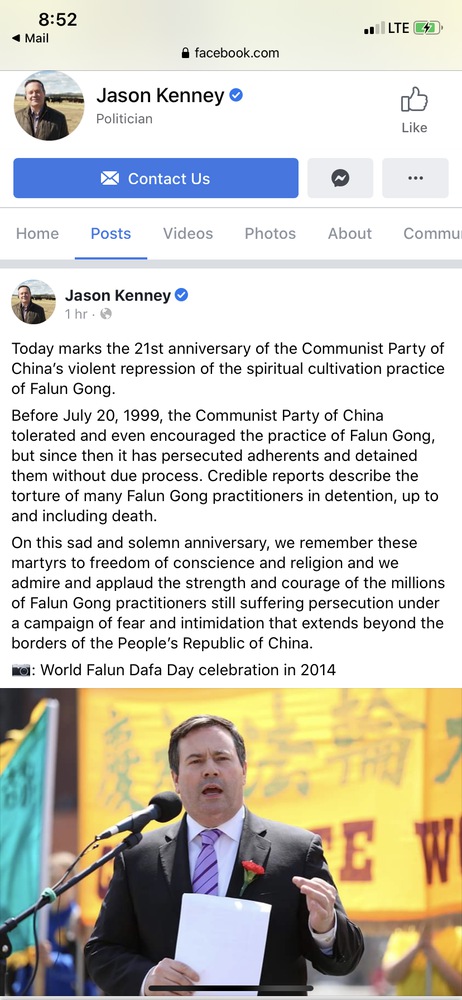 Premier Kenney of Alberta 
Liberal MP Commends Falun Gong Practitioners
Video statement from MP Judy Sgro
Liberal MP Judy Sgro, Former Minister of Citizenship and Immigration, and joint Chair of Parliamentary Friends of Falun Gong, called for an end to the persecution. 
"The importance of July 20 is well known to all, as 21 years ago as my colleague the honorable Irwin Cotler mentioned, a campaign of persecution, brutality, and intimidation was launched against the Falun Gong," MP Sgro said.
"Twenty-one years on, we still see these peaceful, loving, spiritual people persecuted by a repressive government.
"So we gather on the 20th of July annually to make clear our intentions to campaign for liberty and tolerance together, and to stand in solidarity with the Falun Gong practitioners.
"In the face of totalitarianism, the Falun Gong have been steadfast in their beliefs, and I commend all Falun Gong practitioners for their unwavering commitment to safeguard the universal principles of truthfulness, compassion, forbearance. Three words that I believe the entire world should use, as their basis for their principles to ensure safety and good health for everyone.
"I'm proud to be a member of the government that has continually stood for the protection of human rights and the advancement of democratic values across the world.
"I hope the day is not far off when Falun Gong practitioners around the world are free to practice their faith without fear, but until that day arrives, I will continue along with my many colleagues, and many people around the world, to stand up, to speak loudly, on behalf of those who cannot."
Human Rights Specialist Urges Justice 
Video statement from Irwin Cotler, former Minister of Justice and well-known international human rights lawyer
Irwin Cotler, former Minister of Justice, said, "Falun Gong practitioners, where the Falun Gong have been subjected for 21 years now, to persecution and prosecution, to extrajudicial executions and torture."
"In a word, what we have been witnessing has been the criminalization of freedom of religion and belief. The criminalization of innocence where the Falun Gong are persecuted and prosecuted - prosecuted, not for anything they do, but for who they are. 
"On this 21st anniversary, we have to make justice for the Falun Gong, and accountability for their human rights violators. A priority as a matter of principle and policy for the international human rights movement for parliamentarians, and I'm delighted that the inter-parliamentary Alliance on China which I'm one of the co-chairs for Canada has made this a priority already. And has issued a statement just today signed by over 500 parliamentarians calling for justice and accountability.
"And where we must now with regard to the Falun Gong at this point, number one, sanction the senior Chinese officials under global justice for Sergei Magnitsky legislation for their involvement in the organization, planning and execution of these widespread and systematic attacks very often amounting to crimes against humanity. 
"And the Canadian Falun Gong Association has submitted a detailed and documented record of 14 such senior officials to the Canadian government to act in this regard, fulfilling all the requirements under the justice for Sergei Magnitsky legislation.
"Number two, we need to call out and hereto sanction those that have been involved in the illegal forced harvesting, the pillaging of organs, and my colleague, David Matas appearing here has been a world leader in not only unmasking and exposing these crimes against humanity, but in his writings and in his advocacy for the necessary calls to action in this regard. 
"And finally, we need to call upon the Chinese government to cease and desist from this eradication campaign. To release all Falun Gong prisoners of conscience. To cease and desist from the illegal organ harvesting. And we here must continue always to express our solidarity with the Falun Gong, with those imprisoned and brutalized, and say that we will not relent until justice is done and accountability is served." 
MP Bezan Calls for Sanction of CCP Officials Who Trample Human Rights
Video statement from MP James Bezan
"The principles that you stand for - Truthfulness, Compassion, Tolerance - are ideals that each and every one of us should live a life towards," MP James Bezan said in the virtual rally. 
"And yet the peaceful followers and practitioners of Falun Dafa are denied the basic human rights that we take for granted here in Canada: freedom of religion, freedom of assembly, freedom of association, freedom of speech. 
"And it just disgusting to see how the Communist Party of China treats Falun Gong practitioners on the mainland. Torture, organ harvesting as were already talked about by both Irwin and Judy, and the great work that's been done by David Kilgour and Matas on identifying those individuals who have committed these gross human rights violations.
"I'm proud to have sponsored in the house of Commons the Sergei Magnitsky law. And to be able to now have the tools to go out there and hold to account those individuals who are profiteering from the disgusting practice of organ harvesting. Denying these basic human rights and committing torture that they should be imprisoned for. 
"But at the very least, Canada and so many of our allies, can now use Sergei Magnitsky sanctions as a way to ensure that those gross human rights violators, those corrupt foreign officials, are held to account. 
"And that they cannot use Canada as a safe haven, a place to hide their family, a place to hide their wealth. And more importantly it's about naming and shaming them. But I don't think any of us will ever rest until they are held to true account for their crimes against humanity. That they appear in front of the Hague and actually have to deal with the international criminal court."
"So let's call on not only the government of Canada, but the entire Western world, to adopt a policy of diplomatic isolation of the Communist Party leadership in China. Let's not appease them anymore. 
"And to continue to drive home that first and foremost, until China is prepared to act like a trusted friend in the global world order and follow the norms of international law, that they will be held to account. And the first thing that they can do to set themselves on a path of being someone that we can trust and work with is to stop - immediately stop - the persecution of Falun Dafa practitioners."