Atlanta, USA: Falun Gong Practitioners Hold Activities to Raise Awareness of the CCP's Persecution
July 26, 2020 | By a Falun Gong practitioner in Atlanta
(Minghui.org) Falun Gong practitioners in Atlanta gathered in front of the Suwanee Town Center on July 18, 2020, to raise awareness of the CCP's (Chinese Communist Party) persecution of Falun Gong. They collected signatures to condemn the persecution. That evening, they held a candlelight vigil to mourn fellow practitioners who have lost their lives to the persecution for adhering to their spiritual belief throughout the past 21 years.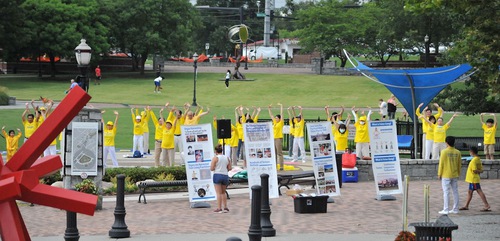 Practitioners from Atlanta demonstrate the exercises in front of the Suwanee Town Center on July 18, 2020.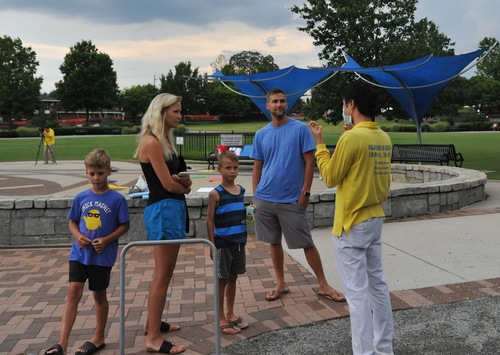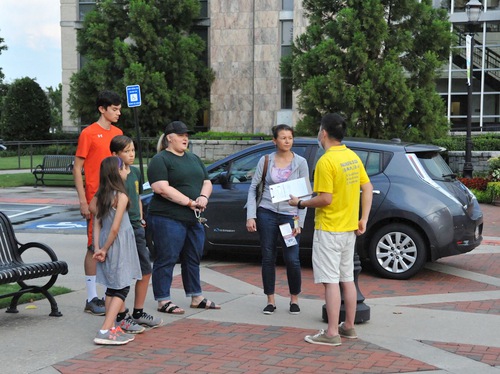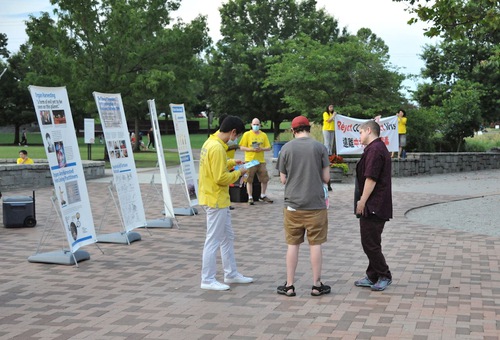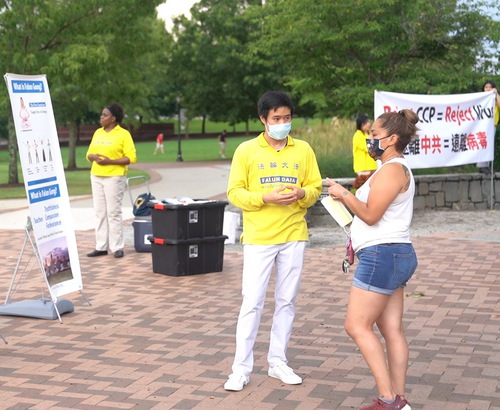 Attracted by the activities, several people signed the petition.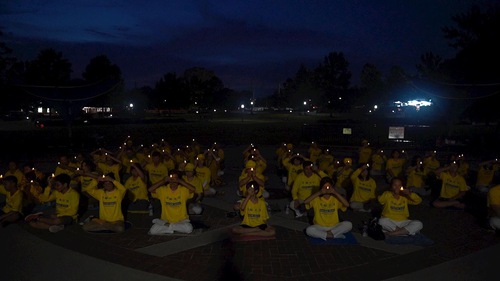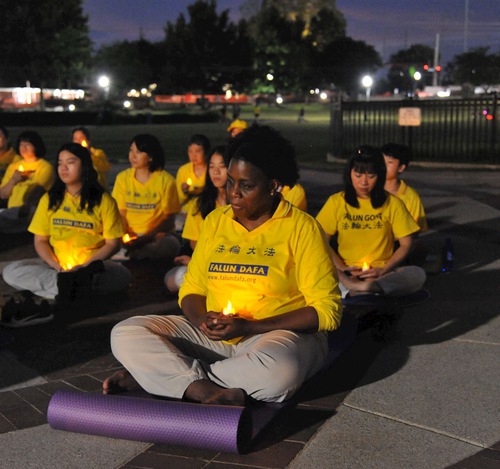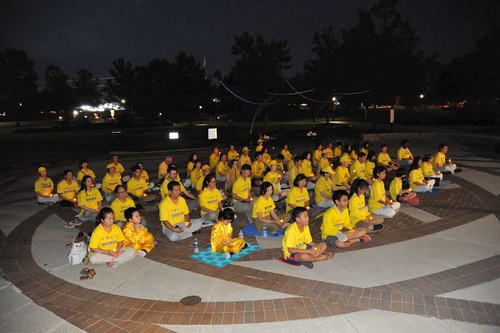 Practitioners hold a candlelight vigil to mourn fellow practitioners who lost their lives due to the persecution in China.
Governments Should Cherish Practitioners
"If people pursue Truthfulness-Compassion-Forbearance, the government should cherish rather than persecute them," said Brenda Baldwin from Atlanta. "Falun Gong seems to bring people health and vitality. Any form of persecution is wrong. When people care about each other and a group of people or a regime think it is wrong, what good is the group or the regime?" she asked.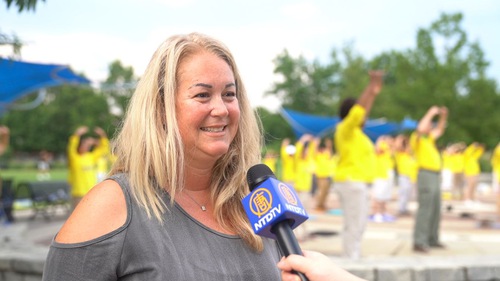 Brenda Baldwin said that people who practice Truthfulness-Compassion-Forbearance should be cherished by any government.
Philip Hurley quietly watched the rally until it ended. He said, "I feel sorry to see how Chinese people are persecuted by the CCP. I will pray for the persecution to end."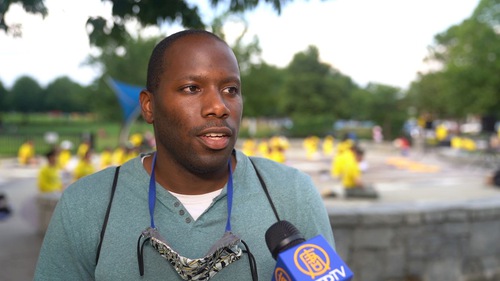 Philip Hurley said he prays the persecution ends soon.
Pandemic Highlights CCP's True Nature
Rally organizer Mr. Sun said, "More than three hundred million people have quit the CCP and its affiliated organizations. But the persecution has not stopped. As long as it continues, we will continue our efforts to tell people the facts. This is why we decided to hold our candlelight vigil here. We want to remind people that millions of people are being persecuted just for cultivating Truthfulness-Compassion-Forbearance in China."
Mr. Sun said that the coronavirus pandemic has helped many people see the true nature of the CCP. He said, "One man told me his neighbors are Russian and Vietnamese. These former residents of Communist countries have told him many things they witnessed while living under the Communist regime. So he know very well why Falun Gong is persecuted in China."
Mr. Sun added, "I am very moved to see how kind and righteous people are in the United States. I believe that as more people see the facts and see the true nature of the CCP, the regime will soon collapse."
Ms. Jia Yahui, who was tortured in Masanjia Forced Labor Camp, talked about her experience. She said, "I was arrested and detained for a year in 2008. It was because China was holding the Olympics – that was the reason they gave me for my detention." 
She was put in a dark room for thirty days. She was hung up by her hands, and shocked with electric batons all over her body. "I came to the U.S. in 2010. I was finally able to talk about my experiences. I did not want to even think about it for a long time," she said.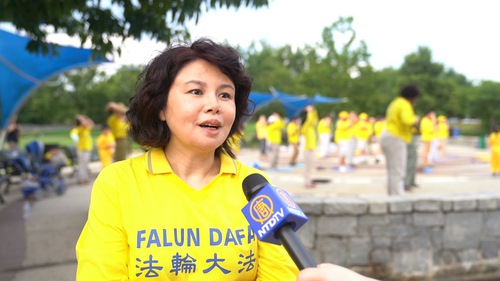 Ms. Jia Yahui was tortured in Masanjia Forced Labor Camp.
Qui Ho from Atlanta began practicing in 2017 and said, "One of my family members was sick. A friend told me about Falun Gong. My mother had a bad liver, diabetes, and hypertension. She was hospitalized in the ICU for two months. Six months after we began practicing, everyone in our family became healthy."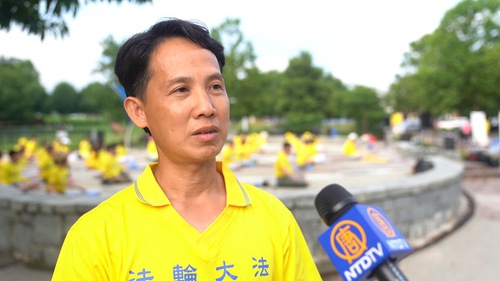 Qui Ho said his entire family became healthy after practicing Falun Gong for only six months. 
Chloe Phong said, "I was a high school student when I started practicing Falun Gong. I have benefited so much! I'm a better person; more compassionate and kinder. Through the teachings I learned that one should be a good person wherever one is. I know that as a student one must study well. So I work extra hard in my studies," she added. 
Young practitioner Chloe Phong