Calgary, Canada: Rally Protesting the 21-Year-Long Persecution
July 25, 2020 | By a Falun Gong practitioner in Calgary
(Minghui.org) Falun Gong practitioners held a rally in front of the Chinese Consulate to mark the 21st anniversary of protesting the persecution on July 17, 2020. They wore yellow T-shirts, held up large banners, and lined up on both sides of the street.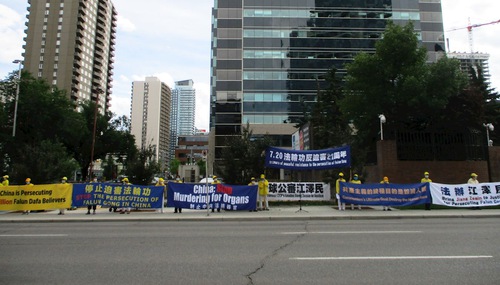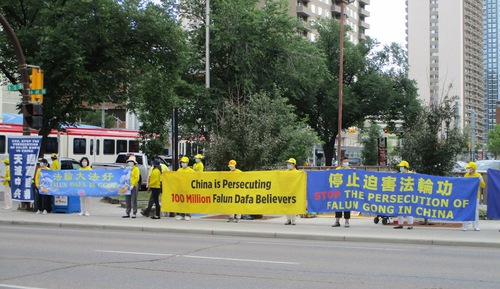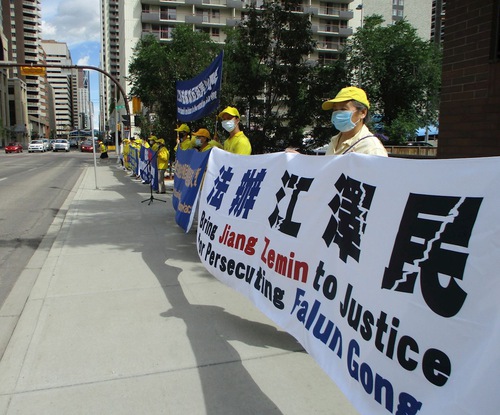 Falun Gong practitioners hold a rally in front of the Chinese Consulate to protest the 21-year-long persecution on July 17.
Several practitioners spoke at the rally and called for an end of the Chinese Communist Party's (CCP) persecution.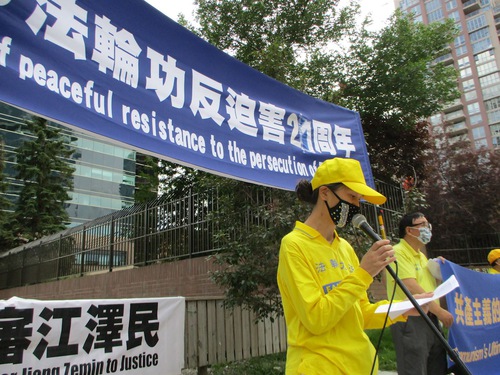 Practitioner Yinghua Chen, who fled China to Canada last October, condemns the persecution.
Practitioner Yinghua Chen was arrested three times and imprisoned for four years. She was forced to flee her home for six-and-a-half years to avoid persecution. She held a series of hunger strikes for more than 200 days.
Chen and her niece went to the No. 4 Prison of Shijiazhuang to visit her cousin, who was imprisoned there on March 31, 2014, but they were turned away. Her niece unfurled a banner that read, "I want to see my father." Security personnel cursed at her. Chen recorded the incident and posted it online.
Chen and her niece were arrested the next day. Chen was sentenced to prison for four years.
"I held a hunger strike to protest the persecution," Chen said. "Prison guards tied me to a metal chair and force-fed me. I coughed, vomited, and almost choked. I was force-fed three times a day. Each time lasted one to two hours."
Chen's lawyer, Wang Yu, was harassed by the CCP. His request to visit Chen and check her files was denied; he was also arrested in 2015.
Chen's husband left China for the United States and called for help to rescue her.
"The CCP asked pro-CCP businessman to intimidate him. He even had a strange accident and was hit by a car," according to Chen.
Because of the persecution, she hasn't seen her son since he was two years old. Her son was asked to report and attack her in school, otherwise he'd be expelled.
Chen said the CCP must be brought to justice for the crimes it has committed against her.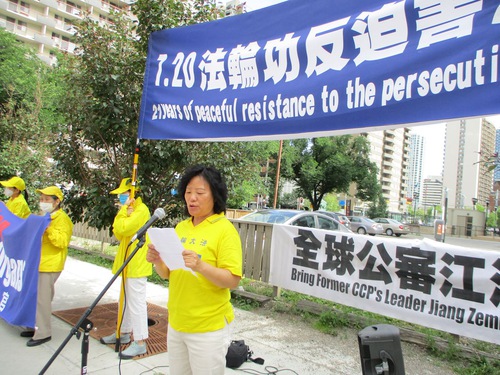 Practitioner Ping Zhang describes her suffering in the persecution.
Practitioner Ping Zhang was incarcerated for two years at a forced labor camp, where she was tortured mentally and physically.
The poor conditions and torture there caused her to develop heart disease and high blood pressure. She was injected with unknown drugs, leading to memory loss and poor eyesight. Zhang called for sanctions against the human rights perpetrators.
Calgary Falun Dafa Association spokesperson Jiefu Yang said that the persecution has led to immense suffering for Falun Gong practitioners over the past 21 years. He said the world must not turn a blind eye to the tyranny of the CCP and its crimes.
"We commemorate those Falun Gong practitioners who died in the persecution. We hope that more people will learn about the grace of Falun Gong and choose kindness over evil."