Toronto: 21 Years of Persistence Exemplified with "Great Wall of Truth"
July 23, 2020 | By a Minghui correspondent in Toronto
(Minghui.org) Falun Dafa practitioners held activities to raise awareness in the greater Toronto area on the afternoon of July 17, 2020. They formed a great wall of truth by holding banners at more than 40 busy intersections in downtown Toronto, Mississauga, Scarborough, and Markham. They let people know about the 21-year-long persecution in China, and called on the Canadian government to help end it.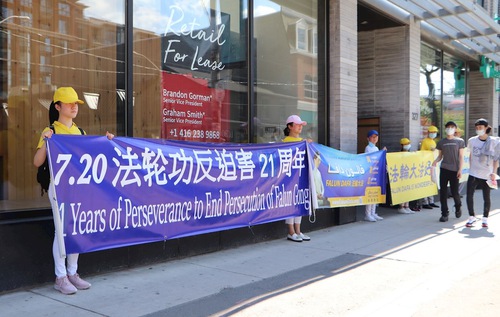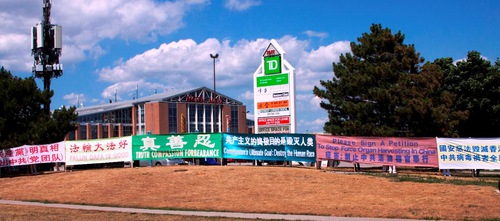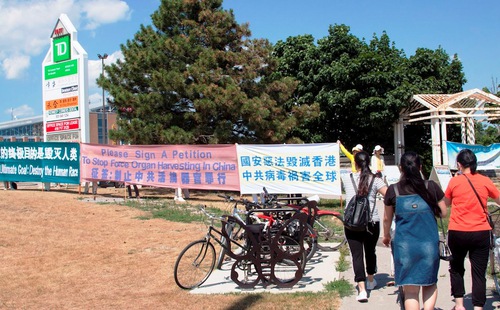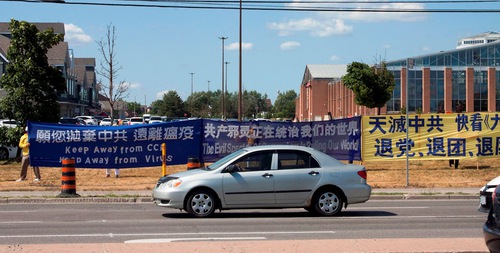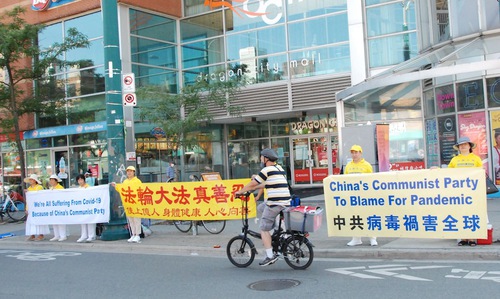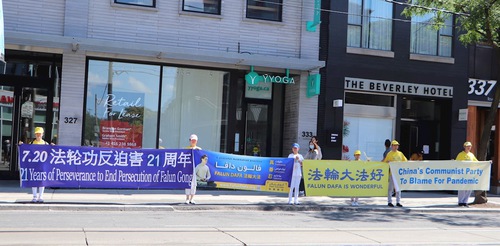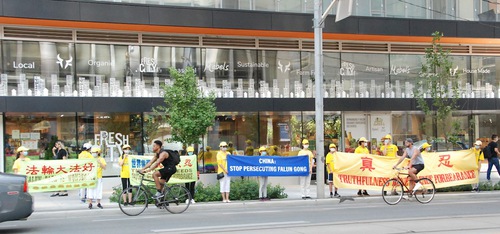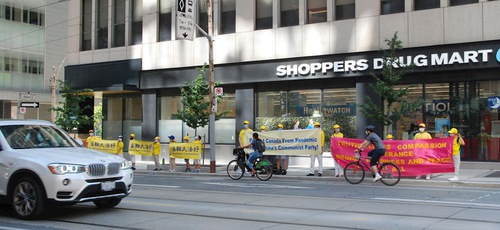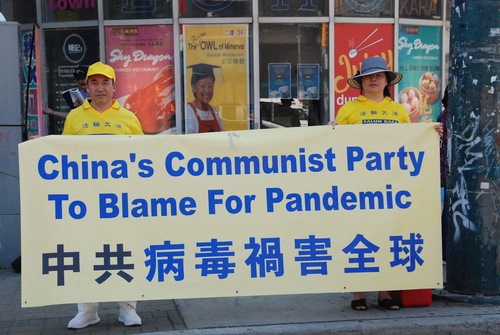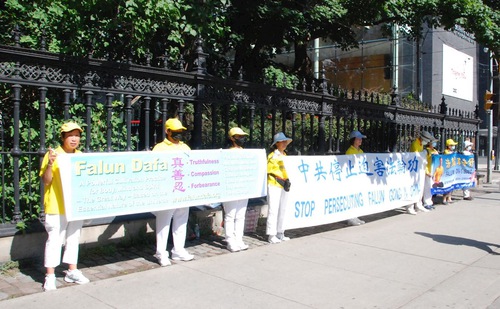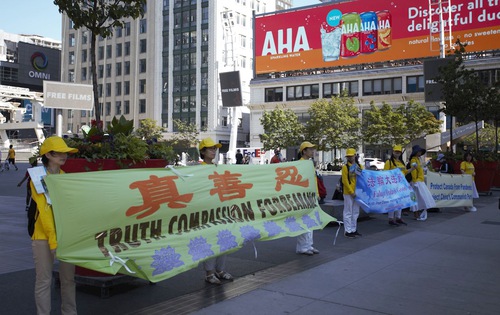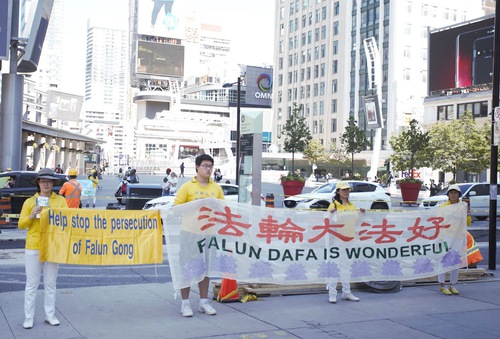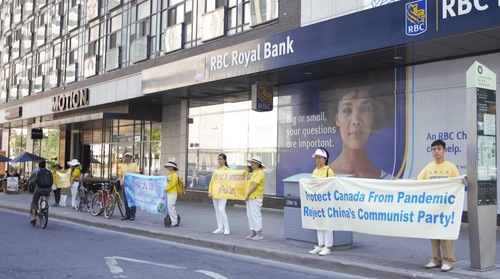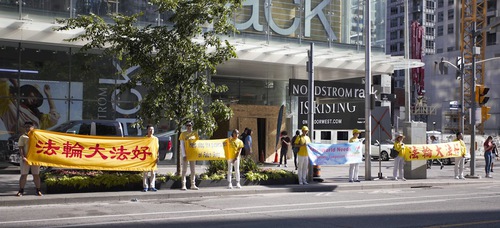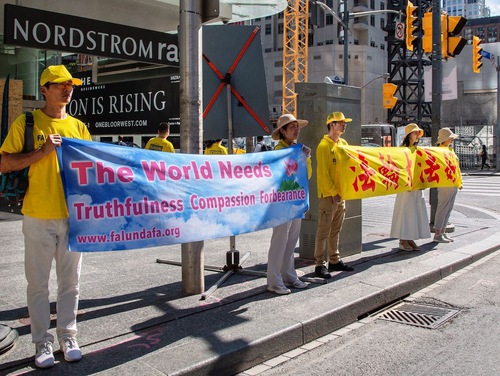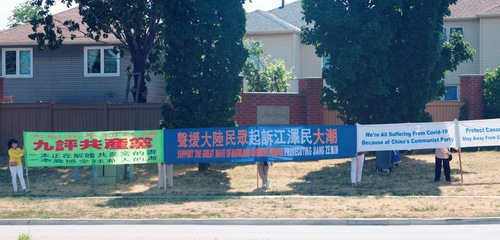 Falun Dafa practitioners held activities in the Greater Toronto Area on July 17, 2020.
Rescuing Persecuted Family Members in China
Mr. Lin Shenli held up banners in Scarborough, Toronto. He called on the Canadian government to help rescue his sister who is being persecuted in Shanghai, China.
Mr. Lin Shenli from Toronto participated in the day's events and called on the Canadian government to help rescue his sister, who is being persecuted in China. The police kidnapped his sister, Falun Dafa practitioner Ms. Lin Qiupeng, in Changning District, Shanghai, on May 29, 2020. She is being illegally detained in the Changning District Detention Center. Mr. Lin said, "Eight police officers broke into my sister's home. They used a photo of my sister distributing a brochure as evidence to kidnap her and ransack her home."
Mr. Lin pointed out that those who arrest practitioners are the ones breaking the law in China. He said, "There is no legal basis to arrest Falun Dafa practitioners in China. First, no clause of any law in China says that practicing Falun Dafa is against the law. Second, Falun Dafa is not listed in any of the definitions of illegal organizations in China. Police officers in China can arrest people at will."
Mr. Lin added, "We have been holding banners at parks for years. We want to let people know about this persecution, including Chinese tourists who visit Canada. The CCP's propaganda has deceived many Chinese people. They misunderstand Falun Gong and even participate in the persecution. We want all people to know the truth."
"This Persecution is Crazy!"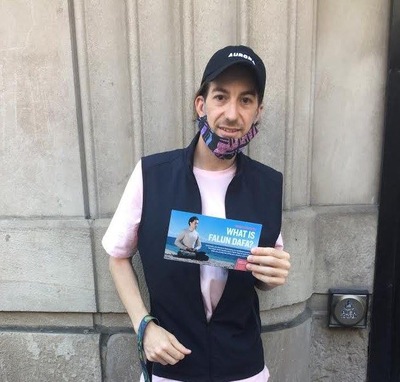 Chris condemned the persecution of Falun Dafa.
Strolling through downtown Toronto, Chris happily accepted a brochure about Falun Dafa. He said that a friend told him about the practice, and he often sees practitioners peacefully doing the exercises in the local park.
He said that he knew Falun Dafa was banned in China, but he did not know the details. After listening carefully about the persecution, he said, "This is unbelievable. This persecution is crazy! I understand the Chinese communist government maintains strict control over people."
The CCP Controls People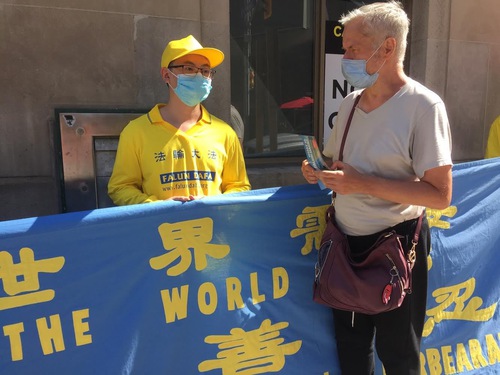 Toronto resident Michael came up to learn more facts of Falun Gong.
When Michael saw the banner, he took a brochure. He said, "The CCP is just like Hitler's government during World War II. They control people with totalitarian power."
A gentleman from Japan stopped and read the message on the banners. He talked with Falun Gong practitioners for a long time. After learning the truth, he said, "I am shocked that this is still happening in China today." He also expressed his concern about his friends' safety in Hong Kong.
Immigrant from Hong Kong: The CCP Has No Credibility
Mr. Wu immigrated to Canada from Hong Kong many years ago. As a loyal reader of the Epoch Times newspaper, he said he knew about the persecution, and he supports Falun Dafa. Mr. Wu said that many high-ranking officials and their family members practiced Falun Dafa before the persecution. He added, "The CCP has no credibility. Everyone knows they lie."
Young Practitioner: Dafa Made Me the Best Version of Myself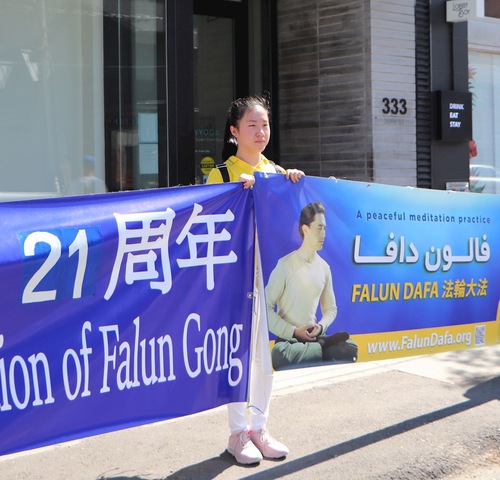 Xuan Xuan, a 17-year-old practitioner, hopes young practitioners in China can remain strong despite the persecution.
Xuan Xuan, a 17-year-old practitioner, participated in the Great Wall's anti-persecution activity. She has been participating in similar activities with her mother since she was born. She wants to help stop the persecution in China. She also hopes that young practitioners remain strong.
She said, "Falun Dafa makes me a better person, and the best version of myself. I often remind myself that I am a Falun Dafa practitioner and must think of others first. I hope I can spread the wonderfulness of Dafa to more people in the world."
Persecution Survivor: The CCP Will Soon End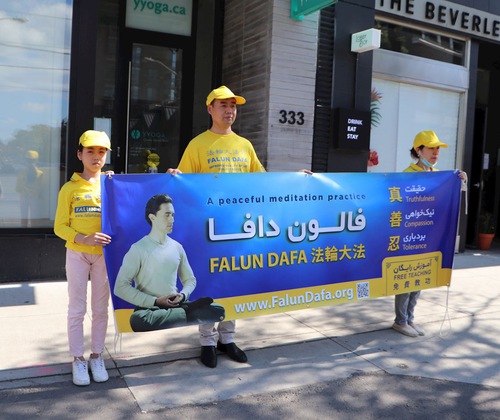 Mr. Pang Guangwen: "I survived, but my friend was tortured to death in one and a half months."
Pang Guangwen, who arrived in Toronto from China this year, and his 11-year-old daughter also participated in the event.
Mr. Pang Guangwen was the manager of a logistics company in Shanghai. On the evening of April 27, 2012, he and Mr. Zhao Bin were taken and sentenced to five years in prison simply because they practice Falun Dafa. He was brutally tortured. A police officer pressed down on the shackles with his hands and feet to intensify the pain. He went on a hunger strike to protest the torture. On May 27, he was transferred to the Shanghai General Prison Hospital. They tied his hands and feet firmly to the bed and forcibly injected him with four or five bottles of saltwater mixed with unknown drugs.
He survived, but within six weeks, Mr. Zhao Bin was tortured to death.
Mr. Pang said, "The CCP's evil nature has been exposed to the world. It deprives Chinese people of their freedom, but it will not last long."
Practitioners held a candlelight vigil in front of the Chinese Consulate in Toronto to mourn fellow practitioners who were persecuted to death by the CCP in China.