Germany: Elected Officials Call for an End to the Persecution
July 20, 2020 | By a Falun Gong practitioner in Germany
(Minghui.org) Hesse is the most populous and wealthiest state in Germany. To mark 21 years of the on-going persecution, and encourage Falun Gong practitioners' persistence in exposing it, seven members of the Hessian State Parliament (MSP) wrote letters of support and condemned the Chinese Communist Party's (CCP) persecution. 
MSP Dirk Bamberger: Do My Best to Protect Falun Gong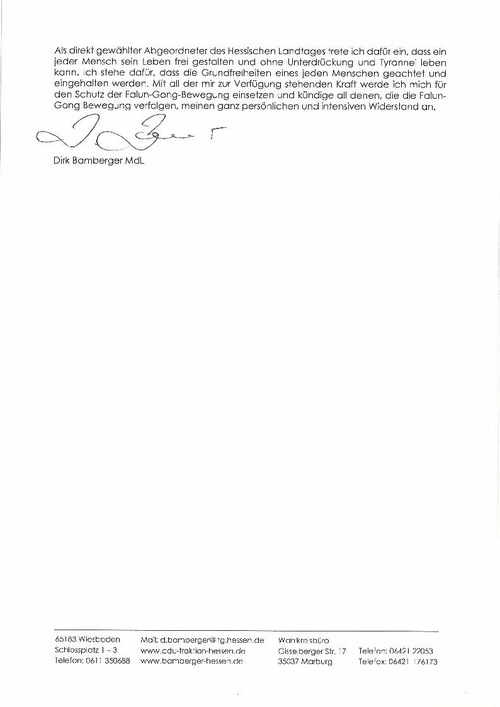 Letter from Dirk Bamberger, Member of Hessian State Parliament. 
MSP Dirk Bamberger of the Christian Democratic Union (CDU) of Germany wrote a letter without hesitation. He expressed his support of Falun Gong practitioners' pursuit of justice, recognition and tolerance. 
He stated that during the Third Reich period, the persecution of Jews reached an ugly and outrageous peak against humanity during the Holocaust. Afterwards, the universal human rights declaration was born, including the right to religious freedom. 
"As a directly elected parliamentarian in Hesse, I support everyone to be free from oppression and tyranny, and to be able to plan their lives freely," MSP Bamberger stated in his letter. 
"I will do everything I can to protect Falun Gong. For those involved in the persecution of the Falun Gong movement, I strongly protest."
MSP Heiko Kasseckert: Speak out Against the Persecution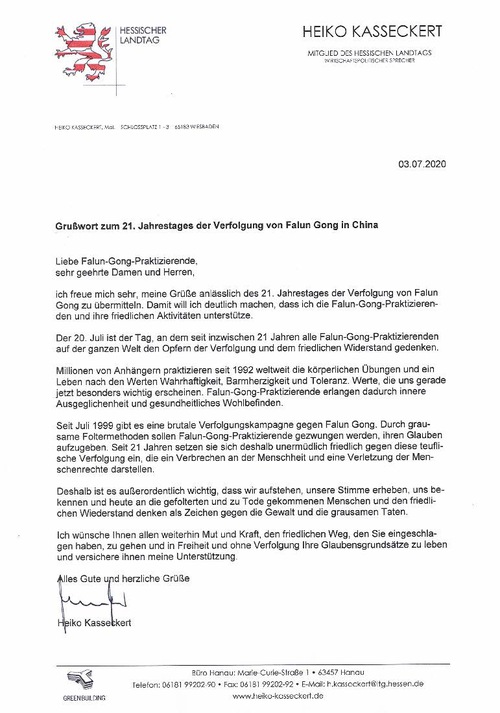 Letter from MSP Heiko Kasseckert of CDU
MSP Heiko Kasseckert of CDU wrote that he expressed his support for Falun Gong practitioners and their peaceful event. He stated that the practitioners have continued to peacefully protest the brutal and inhumane persecution for 21 years. 
He stated that we stood up to speak out and commemorate those who died in the persecution. He indicated that expression protesting against the violent persecution was important. He encouraged the practitioners to continue their courage and strength on the peaceful protesting journey. 
International Community Must Condemn the Crimes
Letter from MSP Oliver Stirboeck of FDP
MSP Oliver Stirboeck of the Free Democratic Party (FDP) wrote that Falun Gong cannot be freely practiced in China during the past 21 years. Practitioners risked losing their lives. 
He condemned the CCP's persecution and called on the international community to condemn these crimes. 
Letter from Karin Mueller, Martina Feldmayer and Miriam Dahlke, MSPs of the Green Party
MSP Karin Mueller, Martina Feldmayer and Miriam Dahlke of the Green Party stated that July 20 was a sad day to commemorate. They hope that China will become a nation that protects human rights. They hope that practitioners keep up their courage in peacefully protesting the atrocities.