Taiwan: Government Officials Attend Candlelight Vigil Held in Pingtung
July 19, 2020 | By a Minghui Correspondent in Pingtung, Taiwan
(Minghui.org) Falun Gong practitioners in Pingtung marked the 21st anniversary of resisting the Chinese Communist Party's (CCP) persecution with a candlelight vigil in Qianxi Park on July 21, 2020. Practitioners mourned those who have lost their lives in the persecution and protested the CCP's torture and killing of Falun Gong practitioners for their faith.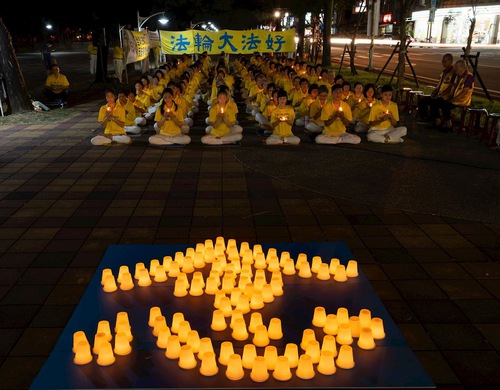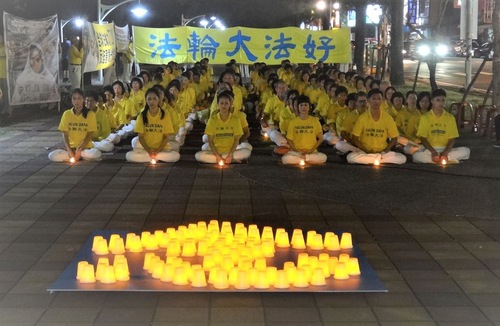 Candlelight vigil in Pingtung, Taiwan on July 11, 2020
The practitioners' call to end the persecution received support from all circles of society. Mr. Hsieh Chieh-huang, Director of Legislator Chung Chia-pin's Office in Pingtung; Mr. Hong Ming-jiang, Pingtung County Councilor; Mr. Lee Shih-pin, Pingtung County Councilor; Ms. Li Yi-zhen, Director of the Lions Club; and several club members attended the vigil.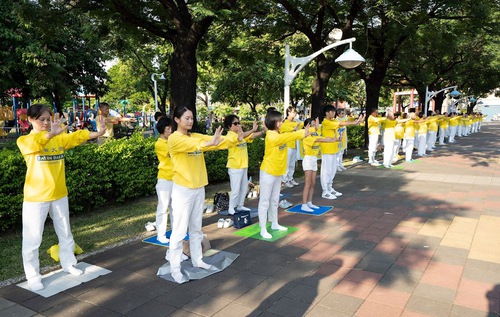 Practitioners in Pingtung demonstrate the Falun Gong exercises.
As beautiful Erhu music played, practitioners held up their candles in silent mourning. The atmosphere was peaceful and solemn. To date, Minghui.org has confirmed the deaths of more than 4,500 practitioners in the 21 years of persecution persecution, and many more are suspected to have been killed for their organs.
According to the Taiwan Falun Dafa Association, administrative and legislative offices as well as non-government organizations in Taiwan have passed more than 60 human rights resolutions, calling for the release of Falun Gong practitioners, an end to the organ harvesting atrocity, and the barring of organ tourism to China. CCP officials who have persecuted Falun Gong are barred from entering Taiwan.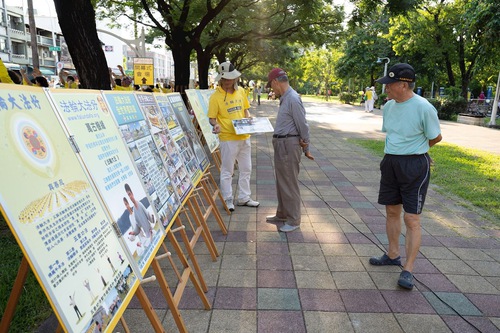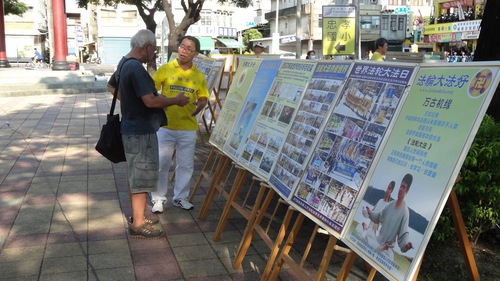 Falun Gong practitioners tell passersby about the persecution.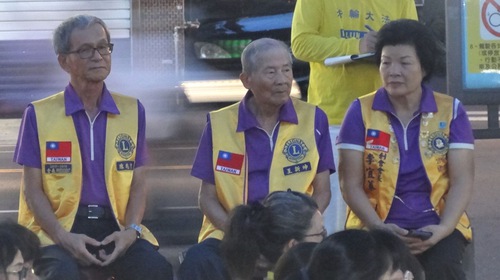 Ms. Li Yi-zhen (right), Director of Lions Club, and club members attended the solemn candlelight vigil to show their support.
Mr. Hsieh Chieh-huang attended the vigil on behalf of Legislator Chung Chia-pin. He said that the Anti-Extradition Law Amendment Bill Movement and the CCP's forcing of the National Security Law on Hong Kong has shattered any illusions people held about the totalitarian regime. "The Chinese Communist Party is not the Chinese people," he emphasized. Mr. Hsieh said that the Chinese people have suffered under CCP's rule and that no one is safe under a power that doesn't respect democracy or rule of law.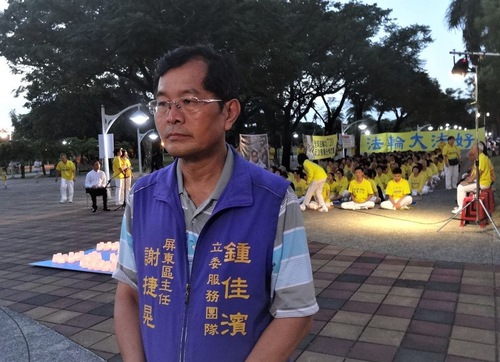 Mr. Hsieh Chieh-huang came to support Falun Gong practitioners during the vigil on behalf of Legislator Chung Chia-pin.
Mr. Hong Ming-jiang, Councilor of Pingtung County, said, "Falun Gong is great! I always stand together with Falun Gong practitioners. They follow Truthfulness-Compassion-Forbearance and are a great group! The CCP's dictatorship can't stand people who pursue the truth. I admire Falun Gong practitioners for facing this dictatorship with their principles and standing firm on Compassion. I believe the day of their victory will come!"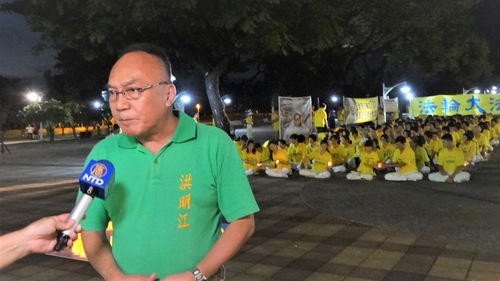 Councilor Hong Ming-jiang attended the vigil and said, "Falun Gong is great!"
Pingtung County Councilor Mr. Lee Shih-pin said, "Falun Gong practitioners have persistently worked to end the persecution for the past 21 years. They are truly admirable! They have safeguarded their belief with their lives. I believe more and more people will step forward to support them."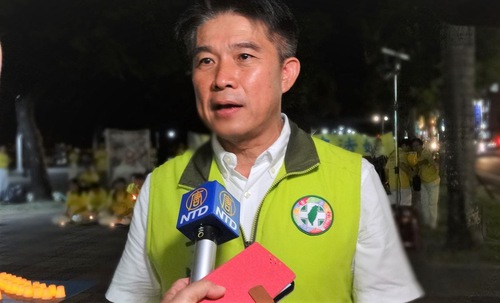 Pingtung County Councilor Mr. Lee Shih-pin said Falun Gong practitioners are "admirable."