Legal Professional: From Worries and Unhappiness to a Renewed Life
July 19, 2020 | By a Minghui correspondent in Taiwan
(Minghui.org) Everyone who knew her said that Xie Huiru was a lucky person. Always a good student in school, she graduated from National Chung Cheng University with a financial major and then obtained a law degree from the National Taipei University. She furthered her expertise while working at a renowned international bank in Taipei as well as a district court. 
Her mother, a college teacher, used to take Huiru and her sister to church every Sunday. But uncertainties in life bothered Huiru. "I felt like duckweed—floating in water without roots," she recalled. "Although I was unclear about the purpose of life, I hoped one day a true teacher would answer all my questions and provide guidance."
As an adult, with the pressures of work and family life, coupled with serious health problems, Xie Huiru became depressed.
Everything changed eight years ago when Huiru and her husband, a medical doctor, began to practice Falun Dafa. "My worries were gone and I became very happy. Everything looked fresh and new."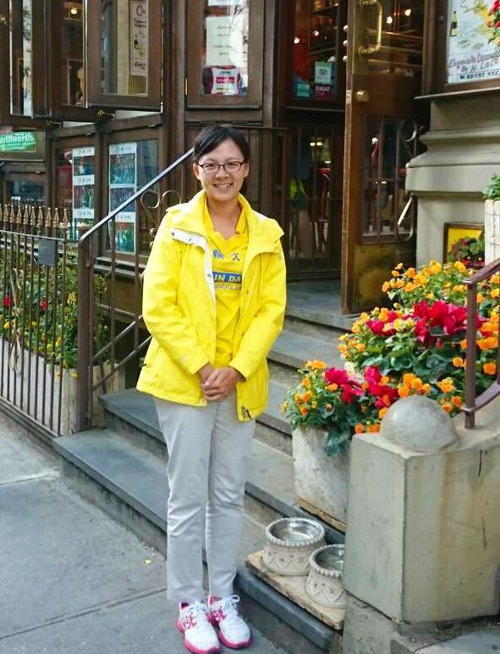 Xie Huiru says that practicing Falun Dafa is the happiest thing in her life.
Constant Family Arguments
Xie Huiru had poor health since birth. When she was 2, she developed a fever that lasted over a month. Her mother had to drive her at midnight over 120 miles away to the emergency room at Chang Gung Hospital, a specialized medical facility in Taoyuan. All through elementary school, she had to skip outdoor activities and hiking due to her chronic asthma. Her middle school and high school years were plagued with bouts of the flu and migraine headaches. 
After getting married, Huiru had four children. Having four boys left her constantly exhausted, which, coupled with chronic lack of sleep, caused her health to deteriorate even more. As a doctor, her husband often left at 6:30 in the morning and did not come home until 11:30 p.m. at night. This made their relationship very tense. 
To make things worse, the couple had different understandings on many issues, from child education to household cleaning. Although both are highly educated intellectuals, Huiru's legal training gave her an unfair advantage in family debates, frequently leaving her husband speechless. Even as her husband quietly organized or did household chores after work, Huiru was still unhappy, believing that her husband thought she hadn't done a good enough job. 
Noticing Huiru's depression, her husband suggested she try yoga. They found an instructor with a good reputation and they began to learn the exercises as well as the Tibetan language. After some time, however, Huiru's husband noted that neither the instructor nor the teachings offered spiritual guidance. Huiru felt the same way and the couple stopped the yoga lessons. 
In late 2011, Xie Huiru's asthma broke out again and she was hospitalized. At that time, she was still breastfeeding her youngest child. With no choice but to undergo steroid injections every day to relieve the pain, she wondered when her physical and mental suffering would end. 
A Miraculous Book
On the first day of Chinese New Year in 2012, a friend came to visit the couple and told them about Falun Dafa. He said it was better than anything he had tried previously and all his illnesses had been resolved within a year. 
The friend left them a copy of Zhuan Falun, the main teachings of Falun Dafa. After reading it for an hour, Huiru's husband was very excited. "This is a great book!" he said. "I've been looking for this!" Surprised and curious, Huiru asked to take a look. But her husband refused to give it up and kept on reading. 
Huiru did not want to wait, so she purchased a copy from a nearby bookstore. Although the text seemed simple and easy to understand, somehow she had difficulty understanding what was discussed in the book. But seeing how happy her husband was with it, she didn't give up and kept reading. "By the time I'd read the seventh lecture, however, I was able to understand," she recalled. 
Profound Teachings
The changes were dramatic. The day after she began to read Zhuan Falun, Huiru discarded the steroids since she no longer needed them. Her asthma never returned. 
The spiritual enlightenment was even more profound. "I learned a lot as I read Zhuan Falun. Many things seemed new to me, so I felt my wisdom expanding," she shared. "My questions were all answered and I felt like a new person."
Huiru and her husband purchased all the other Falun Dafa books, and read them one by one. "The language looks simple on the surface, but the principles are very profound. They are so special," she remarked.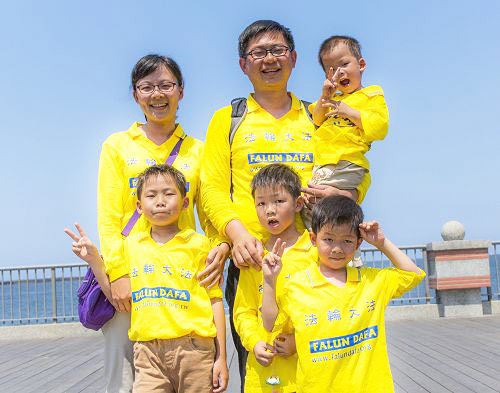 A happy couple and their four children.
A Happy Family
By following Falun Dafa's principles of Truthfulness-Compassion-Forbearance, Huiru said she no longer complains about others as she used to. "I have learned that problems happen for a reason. Only by looking within and continually improving ourselves can we truly resolve issues," she said. As the couple continued to apply the teachings in their daily lives, their relationship became more and more harmonious. Their family has never been happier. 
Her mother also noticed the changes. "Huiru used to be spoiled and needed extra attention," she said. "But now, she is healthy, happy, and relaxed. I am really glad to see that." Huiru's mother was inspired to start practicing Falun Dafa herself. Huiru also reads Zhuan Falun to her children. The boys are well-behaved both at school and at home. 
"Falun Dafa has given me health, energy, and a sense of safety," Xie Huiru said. "I cannot imagine what my life would be without Dafa. I am so grateful to Master Li [the founder] for introducing Falun Dafa to the world."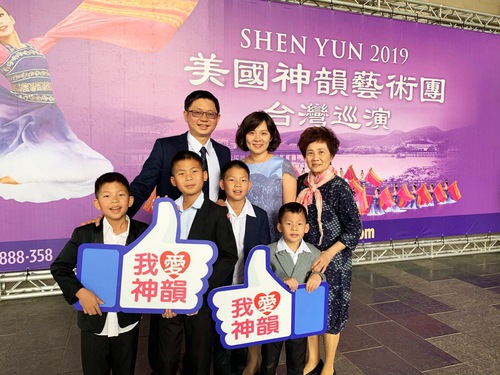 Xie Huiru's family and her mother at the 2019 Shen Yun performance in Taiwan.