A Season of Reflection and Gratitude
May 18, 2020 | By Zhen Yan
(Minghui.org) For approximately 100 million Falun Dafa practitioners around the world, May is a special time, a season of gratitude.
Twenty-eight years ago, Mr. Li Hongzhi introduced Falun Dafa to the public in Changchun, China. In addition to health improvement through physical exercises, practitioners have been inspired by Dafa's principles of Truthfulness-Compassion-Forbearance to be caring family members, responsible colleagues at work, and good citizens.
Since July 1999, the Chinese Communist Party (CCP) has carried out a brutal persecution supported by statewide propaganda against Falun Dafa. Practitioners have persevered in their faith while clarifying the truth, speaking up for Falun Dafa and raising awareness about the persecution. As an increasing number of people have personally witnessed the CCP's brutality and lies during the current coronavirus pandemic, many have been grateful to Falun Dafa for their amazing experiences.
Falun Dafa Brings Safety and Happiness
Tzu-Yun Su, a division director at the Institute for National Defense and Security Research in Taiwan, said the principles of Truthfulness-Compassion-Forbearance are important for mankind. "No matter whether it's China or Western society, without spiritual guidance, morality will degenerate as we have seen today," he said. "Falun Dafa practitioners, on the other hand, are considerate of others and look within to improve themselves. Thus they help stabilize society."
When he travels to other regions and sees people from different cultures practicing Falun Dafa, Mr. Su said he feels safe and happy.
Besides China, where Falun Dafa is being persecuted, Taiwan has the largest number of practitioners. Such a huge group of cultivators has had a positive impact on the country. For many years, Taiwanese officials have been distancing themselves from the CCP regime. As a result, citizens are blessed with health and safety while other regions of the world are suffering during the coronavirus pandemic.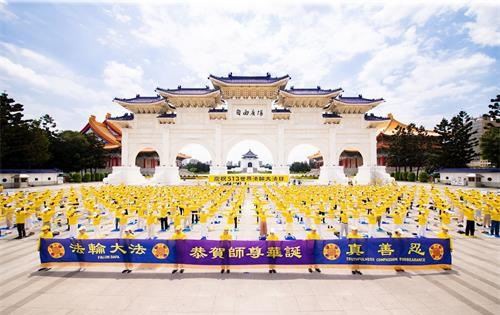 Practitioners do the exercises at Liberty Square in Taipei on May 9, 2020, to celebrate World Falun Dafa Day and wish the founder, Mr. Li Hongzhi, a happy birthday.
Recovery During Pandemic
As World Falun Dafa Day (May 13) is widely celebrated throughout the world, Minghui.org has received many messages and greetings from around the globe, including many from mainland China.
A resident of Changchun City said he developed a fever on April 23 and his entire body shook. Due to the pandemic situation, he could not go to the hospital and had no medicine. Following his wife's advice he repeated the phrases "Falun Dafa is good" and "Truthfulness-Compassion-Forbearance is good."
"I recovered in less than half an hour. I am so thankful to Falun Dafa!" he wrote in his greeting.
A man from Tangshan City, Hebei Province, wrote, "In the past several months, I have seen how the CCP deceived Chinese people as well as the world by hiding the facts [about the coronavirus]. The CCP is harming people, while Falun Dafa tells people how to be good and is saving people." He wanted to thank Master Li and Dafa for all his blessings.
A practitioner in Hong Kong said that she and her family went to China for vacation around Chinese New Year in January. They did not know the coronavirus had spread to so many provinces. On the morning of Chinese New Year, her daughter suddenly developed a fever and her face turned red. By then, the city they were in had many coronavirus cases; no face masks or pain relievers were available anywhere.
"My daughter's fever lasted for four days and I also began coughing," the practitioner wrote. "But I wasn't nervous and we both kept saying 'Falun Dafa is good' and 'Truthfulness-Compassion-Forbearance is good.' Not only did both of us recover well, but my other two family members who had fevers were also fine."
A resident of Harbin City, Heilongjiang Province, said that his extended family of over 30 people lives in a number of different cities. After hearing how the CCP persecutes Falun Dafa practitioners, his entire family renounced their memberships of the CCP organizations they'd joined. "During this coronavirus pandemic, we aren't nervous and none of us has been infected," he wrote. "We want to say: Thank you, Master Li!"
Protected from Danger
Besides the coronavirus pandemic, many people said they were blessed by Falun Dafa in other ways. Zhang from Beijing said that he and his wife were driving two years ago. When they were close to their destination, there was a sharp turn followed by a downhill road. Just as he was turning, the brakes failed and the car sped towards a big crowd of people.
"At that moment my wife remembered a little Falun Dafa keepsake a practitioner had given her. She quickly said, 'Falun Dafa is good' and 'Truthfulness-Compassion-Forbearance is good.' The car immediately slowed down and then stopped on a grassy area as the frightened crowd watched. We were so happy and grateful that no one was hurt," he wrote.
A young woman from Zhaoyuan City, Shandong Province, works in the gold industry. Because of chronic headaches she went for a physical examination and was diagnosed with a brain stem tumor. "You definitely need surgery," the doctor said. "But if the operation fails you'll be in a vegetative state for the rest of your life."
Following her Dafa practitioner aunt's suggestion, her entire family began saying "Falun Dafa is good" and "Truthfulness-Compassion-Forbearance is good." "The surgery went really well and there were no complications—the doctors were very surprised," she wrote in her greetings. "But we know it all went well because of Master Li and we are so grateful."
Support at the Parliamentary Level
In a recent letter to Falun Dafa practitioners, Canadian Member of Parliament James Bezan reviewed the brutal persecution against practitioners in China. Besides sponsoring Canada's Magnitsky Act to place economic sanctions against human rights violators, he has also supported other efforts calling to end the suppression in China.
"On this auspicious day, Canadians stand with you in your struggle against tyranny, oppression, and dictatorship," Mr. Bezan wrote in his letter of congratulations for World Falun Dafa Day.