Falun Gong Practitioners in Hsinchu Celebrate World Falun Dafa Day
May 17, 2020 | By Song Xinming, Minghui Correspondent in Taiwan
(Minghui.org) Falun Gong practitioners in Hsinchu, Taiwan, celebrated World Falun Dafa Day and Master Li Hongzhi's birthday with group exercises and an experience sharing session on May 2, 2020.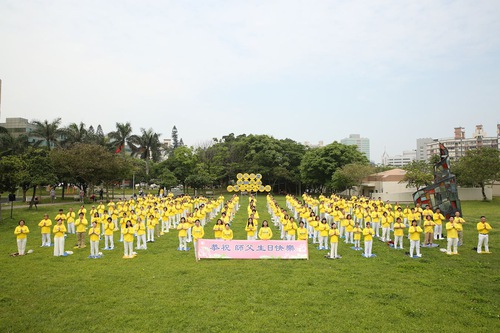 Falun Gong practitioners wish Master Li Hongzhi a happy birthday.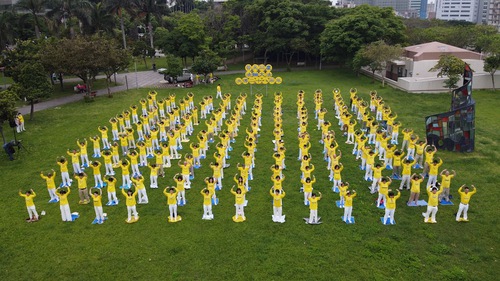 Group exercises in Hsinchu's Chituqi Park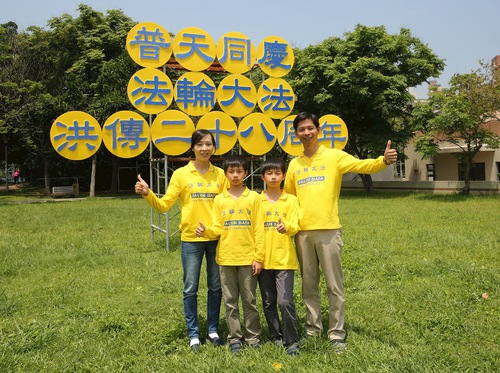 Falun Gong practitioners Mr. Zheng Shunren and his family
The activities were held prior to World Falun Dafa Day, which falls on May 13. Practitioners in Hsinchu took the opportunity to recall how Falun Dafa had improved their health and lives, and to thank Master Li for all he has done for them. 
Mr. Zheng said he had studied many religions and cultivation practices before coming across Falun Dafa. He happened to hear about the book Zhuan Falun from a colleague. After reading the book, he was amazed by how great it was and how many of his life long questions the book had answered. Deeply touched by the principles of Falun Dafa, he made up his mind to cultivate himself according to Falun Dafa.
Mr. Zheng said, "I had been smoking for 20 years, but I truly quit smoking after I started cultivating. My energy and strength improved quickly. After witnessing my huge changes, my family joined me in cultivation."
Mr. Zheng's older son Songyi said, "When I was upset, I used to think I was right no matter what others had told me. After cultivating, I learned to look within to see if I made any mistakes that triggered others' mistakes. Repeating 'Falun Dafa is good and Truthfulness-Compassion-Forbearance is good' helps me calm down."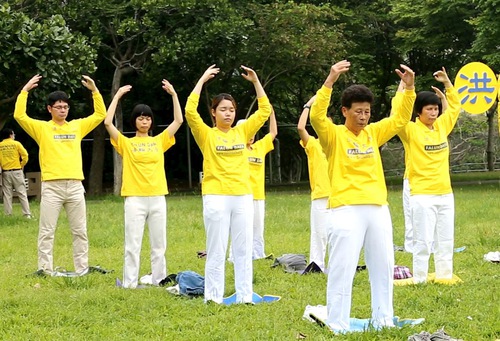 Ms. Huang Xiuchun (front) does the Falun Gong exercises with the group.
Ms. Huang Xiuchun, 72, has been practicing Falun Gong for five years. 
"I used to have health problems all over and looked bony," she said. "After practicing Falun Gong, my gynecological diseases, liver, stomach, and bone problems all disappeared. and I gained some weight. My doctor told me that I no longer needed to see her!"
Ms. Huang's entire family started practicing Falun Gong when they saw how much her health improved.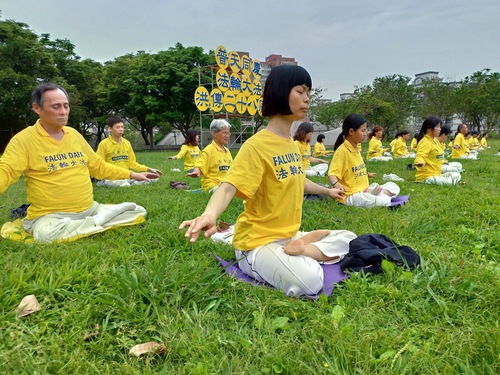 Ms. Cai Xinye (front) meditating during the group exercises.
Ms. Cai Xinye has been practicing for Falun Dafa for 16 years. She said, "My whole life improved after I started my cultivation. Things turned in a better direction in every aspect of my life." 
"Cultivation has not only improved my health, but also my personality. I used to be short-tempered and complained a lot. After I learned how to look inward by applying the Dafa principles, my family told me they noticed I had changed. Even my tone when speaking has become gentle. I enjoy more harmonious relationships with others," she said.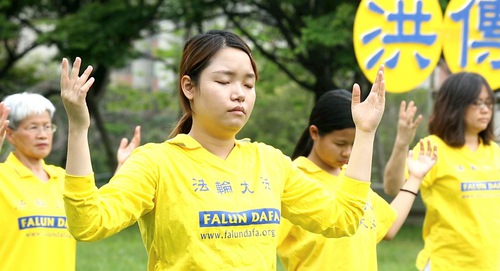 Dong Dailing, a visual artist, feels less stressed from her job after practicing Falun Gong.
Practitioners also collected signatures from the public to support lawsuits against Jiang Zemin, the former head of the Chinese Communist Party (CCP), who launched the persecution of Falun Gong. Many people stopped to sign and express their support for Falun Gong. People praised the Falun Gong principles of Truthfulness-Compassion-Forbearance and condemned the CCP's persecution.