Kaohsiung, Taiwan: Practitioners Celebrate World Falun Dafa Day
(Minghui.org) May 13, 2020, is the 28th anniversary of Falun Gong (also known as Falun Dafa)'s public introduction, the 21st "World Falun Dafa Day", and the 69th birthday of the founder of Falun Gong, Mr. Li Hongzhi. Every year, Falun Gong practitioners from all over Taiwan celebrate this day by doing group exercises, hold gatherings, and express their veneration and infinite gratitude to Master.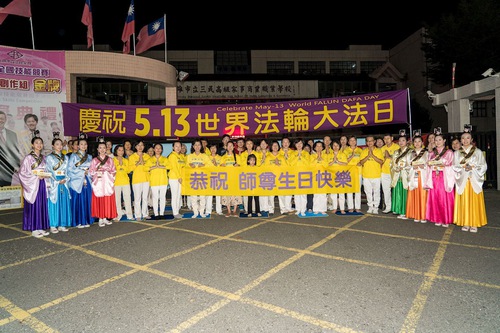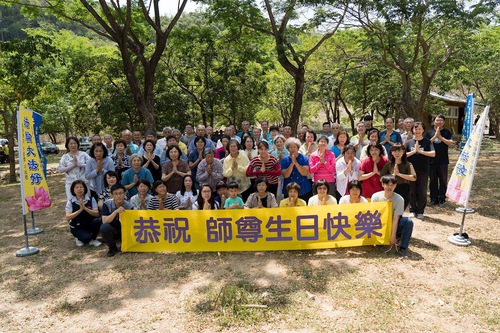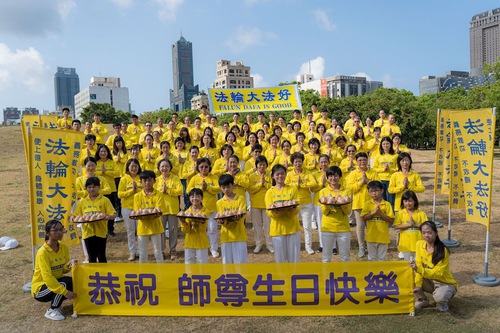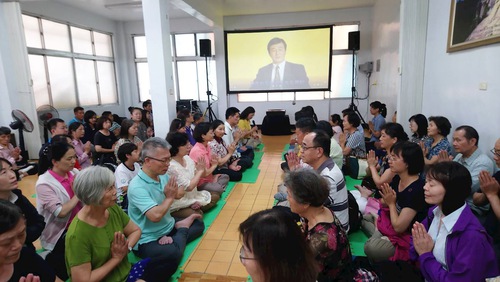 Kaohsiung Falun Gong practitioners celebrate "World Falun Dafa Day" at the tourist spots of Ruifeng Night Market, Dagangshan Natural Ecological Park, Central Park, and the fourth floor of Taiwanese houses, on May 9 and 10, and wish Master a happy birthday.
To stay in line with the Kaohsiung government 's epidemic prevention policy of reducing crowd sizes, Kaohsiung Falun Gong practitioners organized activities on two consecutive weekends in May. 
Continuing last weekend's celebration, practitioners did exercises and truth-clarification activities at the Ruifeng Night Market, Dagangshan Natural Ecological Park, Central Park and other places on May 9 and 10, followed by group pictures and shouting in unison, with their hands in Heshi, "Wishing Master a Happy Birthday!"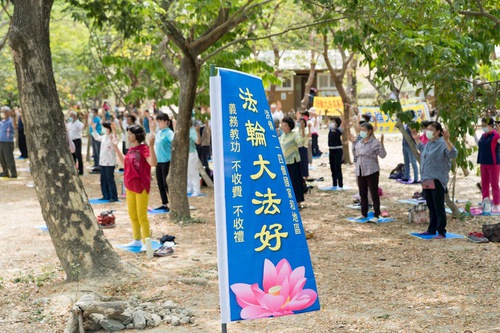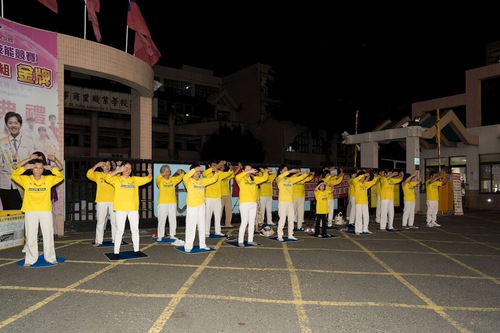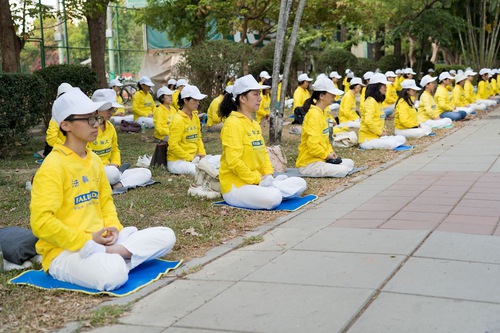 Kaohsiung Falun Gong practitioners did the exercises and truth-clarification activities at Dagangshan Natural Ecological Park, Ruifeng Night Market, Central Park, and other places on May 9 and 10 to celebrate World Falun Dafa Day.
Retired Teacher: Practicing Dafa, I Became More Energetic with Age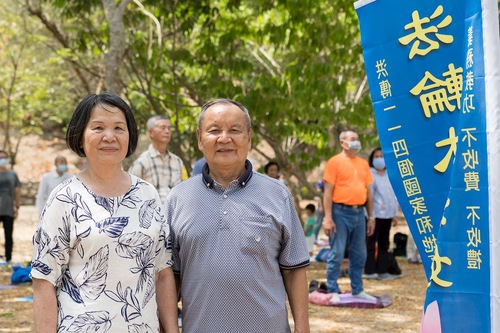 77-year-old Lin Bozhi thanks Master and Dafa for becoming more energetic with age.
Lin Bozhi is a retired teacher from the Mechanical Department of a college. Before retirement, many friends advised him to find something to do after retirement, helping him to age slower. 
As soon as Lin Bozhi retired, his sister-in-law told him: "After I practiced Falun Gong, my heart disease was gone! There is a week-long 'Falun Gong Body and Mind Research Camp for Teachers' at the Mingzheng Elementary School. Hurry up and sign up! It is a rare opportunity." 
Lin Bozhi signed up and traveled from Okayama to Kaohsiung to attend a two-hour class every day. He attended Master's nine-day seminar video and learned the five exercises. He felt very good and decided to practice Falun Dafa. He also asked his wife to come with him to the camp. 
After the teacher's research camp concluded, the couple studied the Fa teachings and practiced the exercises at home together, but they knew their movements were not all correct, so a month later they went to Okayama to a practice site. The coordinator corrected their movements with great patience. From then on, they participated in the morning exercises every day, rain or shine.
"When I practice," said Lin Bozhi, "I often feel strong energy penetrating my whole body. After I began practicing for a week or two, I felt as if I was getting a severe cold, and my wife had diarrhea for several days. Later on, we realized that Master was purifying our bodies. Upon that realization, all symptoms were gone."
Before practicing Falun Gong, Lin Bozhi had sciatica and urinary calculi. His feet were often number and hurt, he was miserable, and he woke up at night because of the pain. These problems went away after he began practicing Falun Dafa. 
One day, a symptom reoccurred, but Lin Bozhi was confident that it was not real and continued to attend the group practice every day. When he couldn't hold the standing stance position while standing, he sat down holding them. He didn't miss a single day. A couple of months later, all the symptoms were gone without any treatment. 
After 20 years of practice, Lin Bozhi is in good health and has a lot of strength. Sometimes former colleagues invite him for a game of tennis. His friends say, "Your physical stamina is amazingly good, even better than many young people." Lin Bozhi, 77, thanks Master and Dafa for becoming more energetic with age. 
Senior Carpenter: Thank You, Master, for Teaching Me to Be a Good Person of Noble Character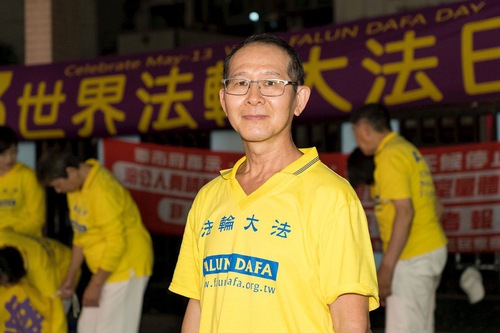 Chen Jiazhong, a carpenter with decades of experience in his trade, is always in tears when he thinks of Master 's teachings. 
Chen Jiazhong came to Taiwan from Penghu at a young age. He put what he learned to good use and became very successful. He has decades of rich decorating experience and has learned exquisite techniques. 
Taking an opportunity to work in the United States 15 years ago, he developed a serious nasal allergy, in the new environment, and nothing helped after his return to Taiwan. 
The building manager at his apartment taught him a qigong that he didn't know the name of. Before long, his allergy was completely gone. Later on, he found out what he had learned was the famous "Falun Dafa" that had spread to more than 100 countries.
Chen bought the book Zhuan Falun and learned Falun Gong's profound principles. He found out that this cultivation practice could not only restore good health and help people keep fit, but also cultivate one's heart toward goodness, as well as guide practitioners toward high levels. 
He felt he has found a treasure and cherished the book tremendously. He was very grateful and resolved to be diligent in the practice so as to repay Master.
Before cultivation, Chen was the head of a group of carpenters. He was very aggressive and spoke to them loudly and forcefully. In his mind they had to listen to him for he was paying their salaries. After practicing Dafa and learning Master 's teaching of "Truthfulness-Compassion-Forbearance," he felt he couldn't treat his staff like that anymore. He became very polite and took the gain of projects lightly. 
Several carpenters felt the preciousness of Dafa, and also began to practice it. Chen Jiazhong knew Dafa was the truth of the universe. Such an opportunity only happens once in a lifetime, so he introduced it to his wife. The couple advanced diligently and improved themselves following the Dafa principles. Their family's attitude became pleasant and harmonious.
Chen felt extremely lucky to obtain Dafa. He said: "I am a rough carpenter. I will make time to listen to Master's lectures every day, so I can have a deeper understanding and firm up my cultivation."
During this occasion when heaven and earth are both celebrating "World Falun Dafa Day," Chen Jiazhong said with gratitude: "I am poorly educated, and do not have beautiful words to express my gratitude to Master. Whenever I think of Master's teachings, tears burst into my eyes and my gratitude is beyond words."
Hospital Supervisor: Studying and Exercising Stopped My Fatigue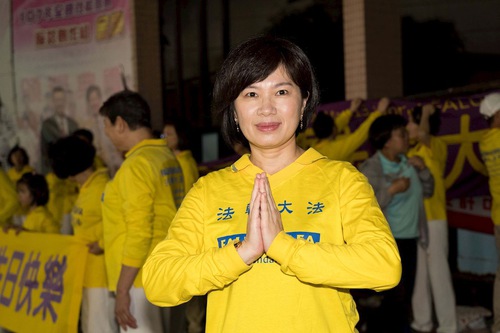 Xiao Fen, a hospital human resource worker, has different tests every day and her work is complicated. After studying the Fa and exercising at home, she no longer feels fatigued.
Xiao Fen, who works as a supervisor in the nursing department of a hospital, was gifted a copy of Zhuan Falun by a coworker more than 10 years ago. At that time, she left the book on her bookshelf because of her busy schedule. 
A year later, the hospital sent her to Sun Yat-sen University for training. Professor Yang Shuoying introduced in the class that meditation could improve energy, and especially recommended the precious book. Thus, Xiao decided to read the entire book as soon as possible.
Later on, due to work pressure, she failed to keep up with the practice. Sometimes she was extremely busy in the hospital, but as long as she read a few pages of Zhuan Falun, she would feel comfortable and relaxed for the day. 
Later on, her colleagues took her to the nine-day Falun Gong seminar at the Okayama Civic Academy. Xiaofen recalled, "I suddenly thought, how can I spend one day fishing and three days drying nets, how could I make progress? I should find a practice site near my house as soon as possible."
When Xiaofen searched for a practice site, she had no luck after walking the entire circle of the big Metropolitan Park. When she was about to give up, she walked a little further, and saw a group of practitioners doing the second exercise!
Xiaofen said: "I was so touched; it felt like I found company to go home with." Now Xiaofen does the five sets of exercises and persists in Fa reading every day. 
As soon as she wanted to be diligent, family tests followed. As soon as Xiaofen began the exercises, her husband wanted a divorce. Xiaofen persisted in practicing daily, maintained her xinxing, and treated her husband with kindness, and her husband couldn't start a fight anymore. 
Xiaofen said: "Now my husband is very supportive of my cultivation and reminds me to be more conscientious, for example, he reminds me when it is time to send forth righteous thoughts. Sometimes I am too lazy to go to the practice site, he will say 'If you skip practice, your Master will be disappointed.'"
Xiaofen's job is to manage the human resources for the hospital. She deals with people and runs into different xinxing tests every day. The work is complicated, and the pressure is great. Fortunately as soon as she studies the Fa and does the exercises, her problems are dissolved.
Her coworkers also noticed that she had endless energy, smiles a lot, and has great patience. They had very positive impressions of Falun Gong. Xiao Fen also introduces Dafa to patients and tells them about the preciousness of cultivation.
Graduate Student: Cultivation Helps Me Think Clearly and Learn Things Easily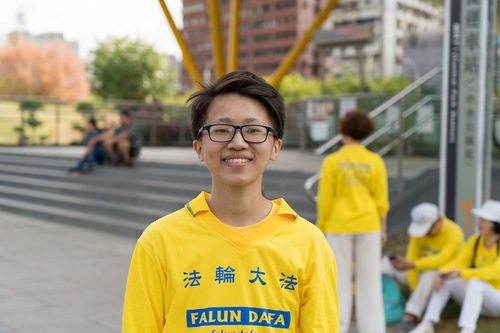 Ming Hua, a graduate student at the Institute of Electrical Machinery, who has cultivated for four years.
Ming Hua, who is currently studying at the Institute of Electrical Machinery, had a roommate who practiced Falun Dafa since childhood. Ming Hua felt her roommate was very different from others in that she was pure-minded and treated others with sincerity and kindness. 
Ming often heard her roommates whisper reading Zhuan Falun and doing meditation and exercising. Gradually, Ming Hua felt Zhuan Falun was so good and made a lot of sense. She wanted to practice Falun Dafa too. 
She began practicing Dafa as a junior in college. She and her roommate often met at the Xiziwan tourist spot next to the school to do the exercises and promote Dafa. They also often participated in Falun Dafa group exercises, and other activities in the Kaohsiung area. Life was rich and colorful for them.
"My mind and body have undergone visible changes," she said.
One day, she suddenly had a pain in the foot and couldn't walk or sit in the lotus position. Through intensified Fa study, she constantly improved her character. A semester later, her foot recovered. 
"Thanks to Master 's teaching," she said, "I could see my shortcomings and firm up cultivation in difficult times. I changed from being self-centered to harmonizing my environment. Although I learned it the hard way, I could eventually improve my xinxing and became a better person." 
Four years of cultivation has brought mental elevation to Ming Hua. 
People say school work was very heavy at the Institute of Electrical Machinery, but Ming Hua said, "Every time I study the Fa, I feel very calm, clear-minded, and studying became easy, pleasant and efficient. Thanks to Master 's teaching, I realize that I still have a lot of shortcomings. I will practice real cultivation and advance diligently to repay Master's compassion."