Three Brothers and Their Father Die in the Persecution of Their Faith
March 23, 2020 | By a Minghui correspondent in Henan Province, China
(Minghui.org) A mother in Sanmenxia City, Henan Province was dealt another blow when her youngest son, Chen Xiaomin, died on March 10, 2020, less than two months after he was released from prison for practicing Falun Gong.
She had already lost her husband and two oldest sons to the persecution of their shared faith in Falun Gong. She and her third son (and only surviving child), who doesn't practice Falun Gong, struggle to cope with four deaths in 19 years in their family.
Falun Gong, also known as Falun Dafa, is an ancient spiritual and meditation discipline that has been persecuted by the Chinese communist regime since 1999.
Because of holding firm to their faith after the communist regime ordered the persecution, Mr. Chen Xiaomin and two of his three brothers were repeatedly arrested, detained and tortured.
Their father passed away in 2001, after he endured tremendous stress while trying to seek the release of his sons, who were arrested in Beijing for appealing for the right to practice Falun Gong.
Mr. Chen's oldest brother, Mr. Chen Yuemin, died on April 26, 2011. He was tortured and injected with unknown drugs while serving a five-year term in Xinmi Prison for his faith. He was paralyzed and often had intensive back pain after being released, yet the police continued to harass him until his final days. He was 48 when he died.
Mr. Chen Xiaomin and his second brother, Mr. Chen Shaomin, were arrested on June 6 and 7, 2016, respectively, at their respective workplaces. They were held incommunicado for more than a year at Sanmenxia Detention Center.
The authorities secretly sentenced the brother to prison in July 2017, though the length of the terms remain to be investigated. They were taken to Xinmi Prison.
According to a Falun Gong practitioner who also served time in the same prison, the brothers were severely tortured there for not renouncing their faith.
Mr. Chen Shaomin was released on medical parole in 2018. He suffered multiple health issues and had completely lost the ability to take care of himself. He passed away on May 14, 2019. His lungs were completely decayed.
Mr. Chen Xiaomin was released on January 18, 2020. He was in critical condition, emaciated and unable to eat. He died on March 10, 2020. He was 51.
Prior to his latest prison term, Mr. Chen Xiaomin was also held at the Henan Province No. 3 Forced Labor Camp for an unknown amount of time. The labor camp guards often tied his hands behind his back and pulled them up to his neck. The rope was so tight that it cut deeply into his flesh. The guards would keep him tied up for more than half an hour, loosen the rope for a while, and tie him up again.
Sometimes the guards shocked Mr. Chen with electric batons on his face and all over his body while keeping him tied up. His arms would remain numb for a long time after the torture.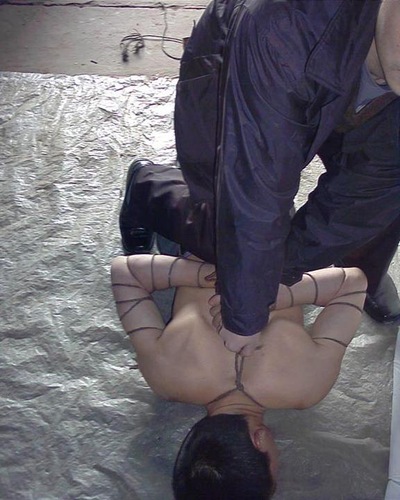 Torture re-enactment: Tied up
Related reports:
Henan Man Becomes Third Person in His Family to Die in the Persecution of Falun Gong
Two Henan Brothers Imprisoned Again after Oldest Brother Passed Away from Persecution