Japan: Practitioners Call for Persecution to End During Chinese Foreign Minister's Visit
Dec. 3, 2020 | By a Minghui correspondent in Japan
(Minghui.org) During Chinese Minister of Foreign Affairs Wang Yi's visit to Japan from November 24 - 25, 2020, Falun Gong practitioners in Japan held activities in front of the National Diet Building. They exposed the Chinese Communist Party's (CCP) persecution and called for it to end.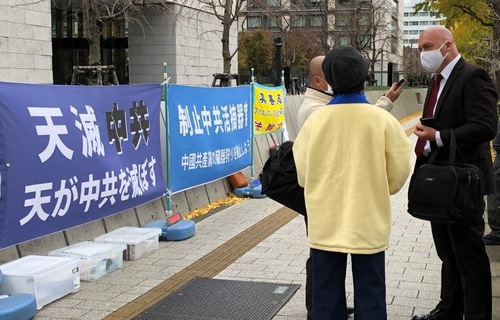 Practitioners tell passersby about the CCP's persecution.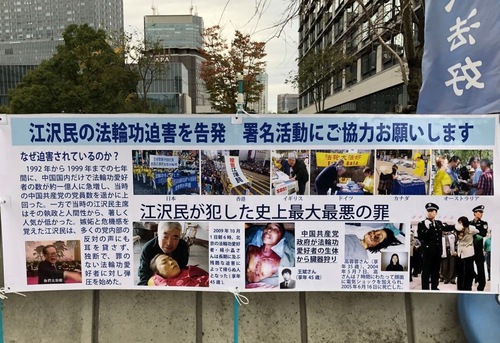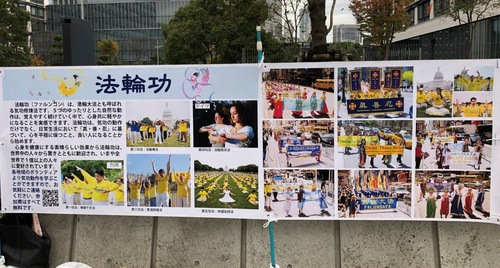 Falun Gong practitioners' banners
Practitioners displayed large banners with facts about the CCP's persecution over the past 21 years. They called on the international community to help stop the CCP's violations of human rights.
Practitioner Ms. Kento said, "I'm here today to expose the CCP's brutal persecution of Falun Gong, especially its ongoing atrocity of harvesting organs from practitioners while they are still alive. I hope the governments and people in all countries will step up to help stop this persecution."
Another practitioner, Nemoto, said, "China has a serious human rights problem. We demand an immediate end to the persecution of Falun Gong."
Many passersby learned about the persecution and signed a petition to support the practitioners' efforts. One man said, "I've gotten flyers about this when I passed by here—so I know a lot about the persecution. I'm deeply concerned about the situation of Falun Gong. I'll do my best to help."