New York: Practitioners Reflect on Blessings, Wish Falun Dafa's Founder a Happy New Year
(Minghui.org) Falun Dafa practitioners gathered in Kissena Corridor Park, in Flushing, New York on December 23, 2020 to send New Year greetings and express their gratitude to the founder of the practice, Master Li Hongzhi.
A thin layer of snow melted as warm sunlight illuminated the park. Colorful Falun Dafa banners swayed in the wind. A giant poster conveyed the event's message: "Happy New Year Revered and Compassionate Master Li!" Another banner with the image of a Falun emblem, displayed the message "In the Final Stage of Fa Rectification, Dafa Disciples Will Live Up to Their Mission and Assist Master in Saving Sentient Beings." 
Practitioners recited in chorus: "Happy New Year, Dear Master! Falun Dafa is good! Truthfulness, Compassion, Forbearance is good!" with their hands pressed together in the "heshi" gesture of respect.
Dafa Gives Artist Wisdom and Guidance to Return to Traditional Arts
Tang Dongbai is an accomplished artist. He draws portraits, wildlife paintings, and large murals using orthodox methods. His works are well received by mainstream American society. In 2011, he moved to Pontiac City, Illinois and was appointed assistant to the city's mayor. He launched a city arts project and opened a school.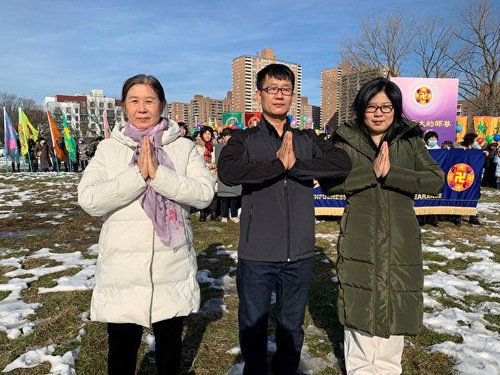 Tang Dongbai (center) said that he returned to the traditional, orthodox path of art after practicing Falun Dafa and became more adept in his creations.
Tang said that his entire family including his mother, wife and two children practice Falun Dafa. His mother previously suffered from blocked blood flow to the brain, rheumatoid arthritis, stomach disease and high blood pressure. All her symptoms disappeared after she began practicing. This also saved the family a huge amount in medical fees.
Tang said that modern art is highly influenced by liberal thinking. The standards of beauty have been reversed. Before he became a practitioner, he followed his mentor who drew garbage. After he began practicing he realized he should revive tradition and teach students about orthodox aesthetics. Dafa gave him endless inspiration and wisdom in his artistic creations, enabling him to improve professionally.
"As an art teacher, I include many traditional things in my classes and curriculum to eliminate negative artistic notions. I introduce my students to the traditional concepts of art." 
He said he feels the principles of Truthfulness, Compassion, and Forbearance guide one to pursue beauty. He was awarded art projects by city councils in Illinois and has painted large murals in several cities. Because his works showcase harmony and beauty, many Americans like and praise his paintings.
Illness Free after Practicing Falun Dafa
Ms. Zhang Guanghua, 66, has a rosy complexion, delicate skin and a kind expression. She suffered from heart disease, inflammation of the bile ducts, stomach and uterine problems, Meniere's syndrome, and eczema. During the surge of interest in spiritual practices in China, she tried various things to heal her illnesses. A friend told her about Falun Dafa in 1996. "After practicing for two months, all my ailments were gone. I felt light and healthy. I was overjoyed. I kept telling everyone that Falun Dafa saved my life!" she said.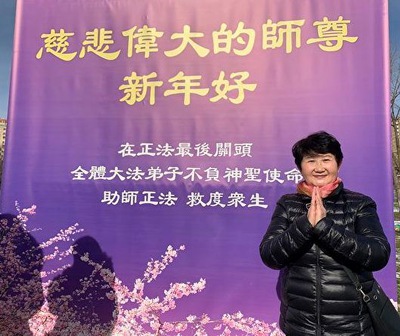 Ms. Zhang Guanghua tells people to remember, "Falun Dafa is good, Truthfulness, Compassion, Forbearance is good" to stay safe during the pandemic.
She tells people to sincerely recite, "Falun Dafa is good, Truthfulness, Compassion, Forbearance is good" to stay safe during the pandemic.
Western Practitioner Thanks Master Li for Falun Dafa
Tyrone Strachan is a department manager in an Internet company in Manhattan, and began practicing Falun Dafa in 2000. He expressed his gratitude and wished Master Li a Happy New Year.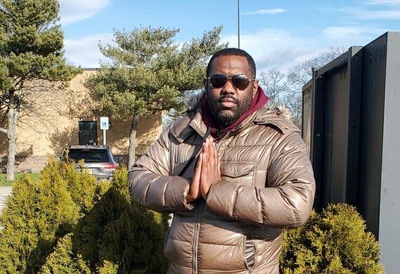 Tyrone Strachan thanks Master Li for introducing Falun Dafa.
He said, "Dafa has elevated my spiritual realm and helped me understand the purpose of life. The practice has also given me excellent health, a calm mind, and clear thinking. It also taught me to put others first. I thank Master Li. My wife now practices Falun Dafa with me."