South Korea: Attendees Cherish Nine-Day Falun Dafa Workshop
Dec. 19, 2020 | By a Minghui correspondent in Korea
(Minghui.org) The Tianti Bookstore in Seoul, South Korea, held two free Falun Dafa Workshops—one over nine mornings and the other over nine evenings—in October 2020. Attendees watched video recordings of Master Li's lectures and learned the Falun Dafa exercises.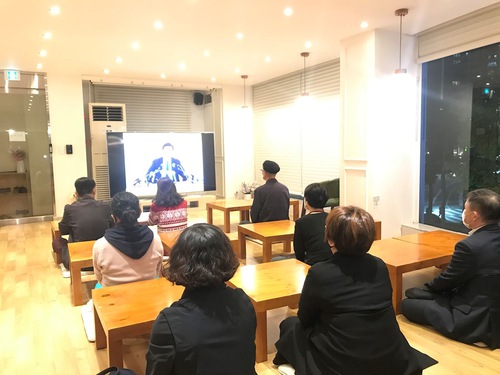 Workshop attendees watch the recordings of Master Li's lectures.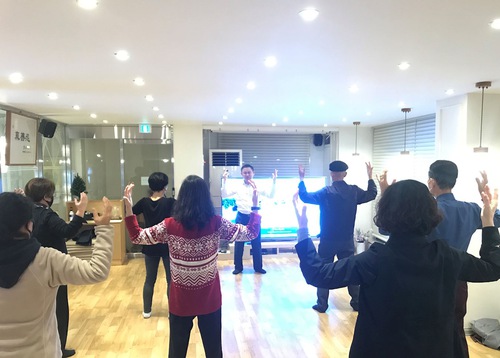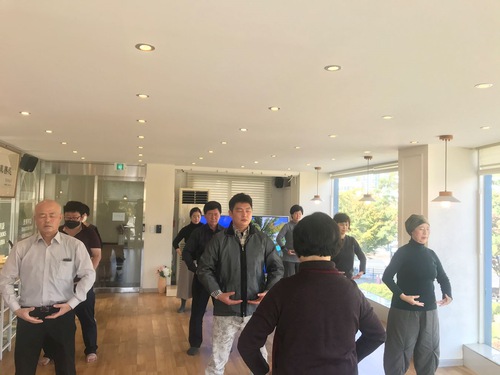 Attendees learn the second Falun Dafa exercise.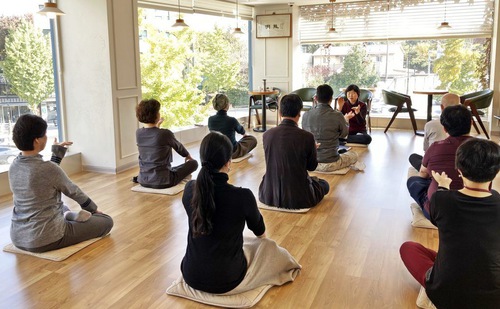 Learning the fifth Falun Dafa exercise, the meditation
Hope Restored
Ms. Lee, one of the workshop attendees, shared about how she began practicing Falun Dafa. She used to be deeply troubled by happenings in her life and work, and even considered suicide. While she was driving one day, the thought of committing suicide tormented her again. Thinking about her parents and children, she was torn. She drove to a park and sat in her car, at a loss for what to do.
Her eyes rested on a lotus flower decoration hanging from her rear-view mirror. It was a beautiful, sparkly, purple flower she'd received as a gift. Suspended under the flower was a bookmark with the words, "Falun Dafa, Truthfulness-Compassion-Forbearance."
Her heart was suddenly touched by these words. She asked herself, "Isn't this what I need?" She searched the Internet and found a Falun Dafa exercise site near her home. She decided to try it.
One chilly morning, she went to the group exercise site near her home. A practitioner taught her the basic exercise movements. She was amazed that her hands felt warm despite the cold. "Falun Dafa is extraordinary," she thought.
Ms. Lee's work involves professional legal services regarding negotiations over employment disputes. Throughout the following ten days, she was busy at work and had to deal with a lot of stress. Going through menopause made things worse. Yet after doing the exercises just once, she was able to get up every morning and go to work. 
Her intuition told her that Falun Dafa was very special. She decided to continue learning. "After I met with practitioners, I felt I was able to endure the stress and I wanted to live," she said.
While she attended the nine-day workshop from October 20 to 28, Ms. Lee experienced even more significant changes. "My knees used to hurt so much that I couldn't climb stairs. Now they've stopped hurting. I feel relaxed. My old discomforts have eased. I don't feel the mental struggle any more."
High Respect for Falun Dafa
Another workshop attendee, Sing Wai, said that she had hereditary polycystic kidney disease and had to rely on dialysis for the past five years. She started practicing Falun Dafa at her father's suggestion. One of his friend's health issues were resolved after he began practicing.
As a professional pianist, Sing Wai is under a lot of pressure to always deliver perfection. Despite intense preparations for an upcoming concert, she managed to attend every single session of the workshop. She said she usually felt tired after dialysis, but to her surprise, she didn't feel sick at all during those nine days, and her high blood pressure also improved. She didn't need to take any medicine for it. 
Sing Wai said her kidney disease isn't curable, but practicing Falun Dafa has given her great hope.
Mr. Bae, another attendee, said he found a newsletter with an introduction to Falun Dafa. He read it from cover to cover and developed a wish to cultivate. For years, he'd suffered from dry and tired eyes and had to use eye drops all the time. After he began practicing Falun Dafa, he needs eye drops far less often. His eyes stopped hurting when he reads, and his arthritis is gone. He feels energetic again. 
Mr. Bae kept praising Falun Dafa and said he has immense respect for the practice. He was impressed with how practitioners put their hearts into their cultivation and impressed by their great faith. Even though sitting with both legs crossed in the full lotus position wasn't easy, every practitioner did their best. Bae said he could sense their pure minds and dedication to spreading the practice. "I can't believe there is such a great practice group in Korea. I like Falun Dafa a lot!"
Mr. Bae shared that he had tried to meditate before but was never able to sit in the lotus position. During the workshop, however, he was able to meditate with both legs crossed. He eventually kept them crossed for an entire hour. It was totally beyond his expectation.
"My Bones Were Corrected"
Songyue, a Chinese-Korean, had heard that there were Falun Dafa practitioners in Korea. She managed to find the workshop and signed up. She'd never taken time off from work before, but decided to take her vacation days to attend this workshop.
She'd broken her tailbone years ago and she couldn't sit on the floor. Three days after the workshop started, Songyue was able sit on the floor to meditate. "The moment I sat down, I suddenly heard a clank. My bones were corrected! Ever since then, my tailbone hasn't hurt." She smiled and said, "I can even leap up the stairs now!" 
Many others who attended the workshop also have amazing stories to tell. Sun-hee recognized her attachments while reading the book Zhuan Falun. Her insomnia was gone after attending the workshop for four days. After witnessing how her daughter followed Falun Dafa's principles to look inward when she was about to lose her temper, OK-Jae decided to attend the workshop, too. Soek-Ho, who recently began practicing, decided to learn Chinese because Master Li taught in Chinese. He learned the language and has read Zhuan Falun in Chinese many times already.