Canada: People in Ottawa Condemn the Chinese Communist Regime's Crimes
Nov. 7, 2020 | By a Minghui correspondent in Ottawa
(Minghui.org) Every weekend since October 24, 2020, Falun Dafa practitioners in Ottawa have collected signatures on a petition calling for an end to the Chinese Communist Party's (CCP) crimes against the Chinese people. Several people have signed it and condemned the CCP's persecution of Falun Dafa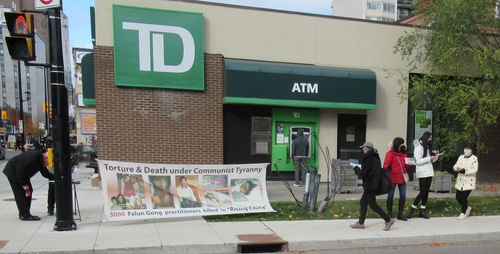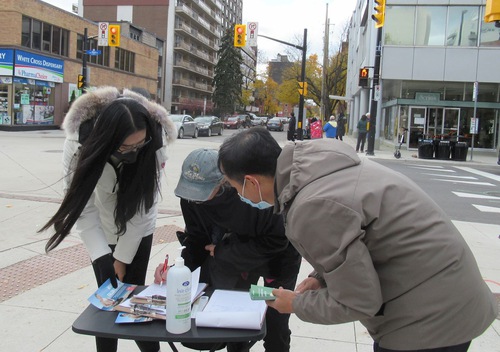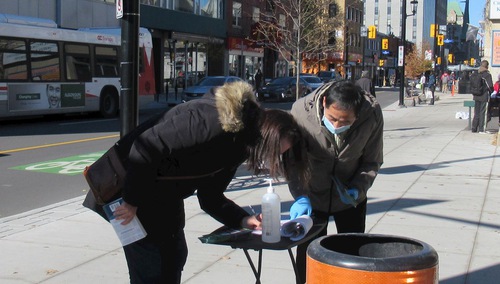 Practitioners in Ottawa collect signatures at major street crossings.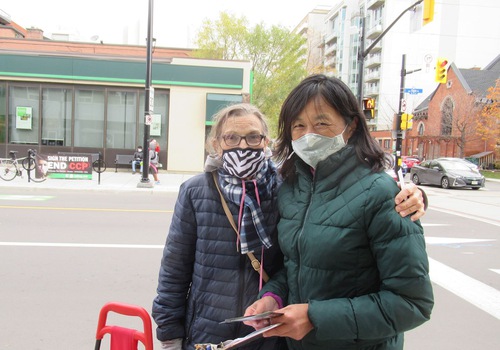 Louise Larocque (left) supports using the Magnitsky Act to sanction CCP officials.
Ms. Louise Larocque, a retired court employee, signed the petition which calls for the Canadian government to take legal action against CCP officials, including banning their entry into Canada and freezing their assets. She said that she read a report about the CCP's organ harvesting. She knew that practitioners practice compassion and strive to be good people, yet they are killed by the CCP.
Pointing to a picture of a mother and her son, Louise said, "They have been killed. The CCP didn't even spare the life of a child. The Party officials committed huge crimes by throwing innocent people into prisons, torturing them, and killing them...everything the CCP has done is evil...such persecution shouldn't be allowed to continue!"
Julie Hunt said, "We are not against the Chinese people, we are against the CCP."
Ms. Julie Hunt, another former court employee, said that she's been following the news about Falun Dafa for 10 years. She said the way the CCP covered up the coronavirus pandemic awakened her to the Party's evil nature. She signed the petition and said that the CCP is persecuting the Chinese people, and its cover-up of the virus caused it to become a worldwide pandemic. 
"The persecution is appalling," she said, "I have been following the news for almost 10 years. It's unbelievable! The world needs to wake up and pay attention to China. We aren't against the Chinese people. We are against the CCP."
Jason Renee Smith, a local resident, said he learned a lot about the Communist Party from his friend who came from the former Soviet Union. "The Communist Party isn't concerned about people. It treats people like animals and makes them feel they are just a number. Anyone against the Communist Party is regarded as bad person. They like to claim that they "share resources," but it's not true. Everything they do is for their own benefit and power." Jason said he considered the Communist Party a criminal gang.
A woman signed the petition on Wellington Street. She told a practitioner, "I'm from Poland and know the nature of the Communist Party. Communism makes people lose their humanity." She said she admired practitioners' courage and thanked them for all they have done.
Some Chinese Canadians also expressed their appreciation for practitioners' efforts. One said, "I understand what you are doing. Falun Dafa is great!"