Ministerial to Advance Religious Freedom Webinar Sheds Light on Persecution of Falun Gong
Nov. 23, 2020 | By Minghui correspondent Li Zheng
(Minghui.org) During the third Ministerial to Advance Freedom of Religion or Belief held in Poland on November 16-17, 2020, the Polish Falun Dafa Association hosted a webinar titled "Falun Dafa persecution in China: Then and now – 21 years of abuse of basic human rights " on November 18, 2020.
Falun Dafa, also known as Falun Gong, is a traditional spiritual discipline based on the principles of Truthfulness, Compassion and Forbearance that has been brutally persecuted by the Chinese Communist Party (CCP) since 1999.
The webinar gave an overview of the CCP's persecution of Falun Dafa practitioners. It also featured several people who have personally experienced persecution for practicing Falun Gong. Webinar participants further discussed why the CCP has been attacking Falun Gong so fiercely and dedicating so much resources to the persecution.
Victims of Persecution
Falun Gong practitioner Ms. Zhang Yanhua recounted during the webinar the persecution she has suffered over the past two decades. Ms. Zhang, 51, took up Falun Gong in 1992. For the next seven years, she enjoyed the benefits of Falun Gong and her life was peaceful and harmonious. But the persecution that began in July 1999 shattered her life. She was arrested in 2001 and was imprisoned for seven years in a prison in Harbin, Heilongjiang Province. She was arrested again in 2017 and detained for 3.5 months. 
"They often tortured me until I was on the verge of death. After I recovered a little, they began torturing me again. The torture they used on me included handcuffing my wrists, hanging me up with my feet not touching the ground and freezing. They once shackled me to a bed and didn't allow me to sleep, after depriving food from me for seven days. There were also two days when I wasn't allowed to use the restroom."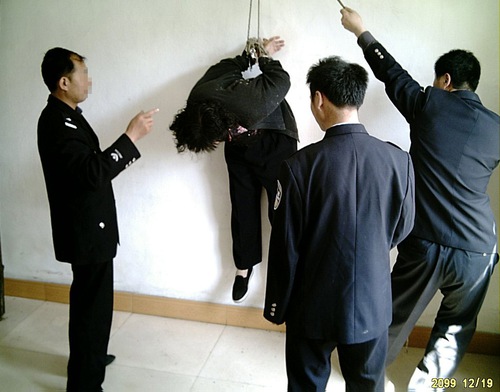 Torture reenactment: hanging up
Swedish MP: The Chinese Communist Party Must Stop the Persecution Now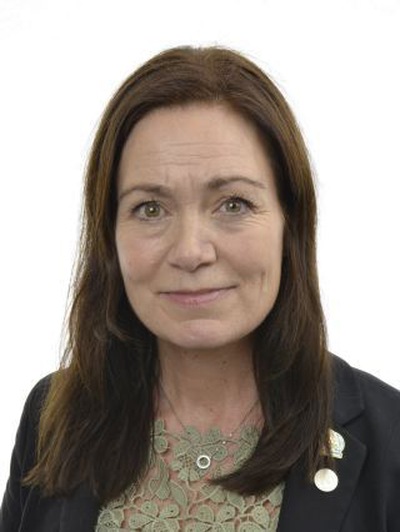 MP Ann-Sofie Alm
Ann-Sofie Alm, Swedish MP and member of the Inter-Parliamentary Alliance on China (IPAC), also talked about the persecution of Falun Gong from her perspective.
She said that she was shocked to hear the practitioners' persecution stories and she is determined to speak out against such injustice.
"Why do I think my voice could be heard all the way to Beijing, and why do I even bother to stand up for human rights in China? The answer is very simple. There is no other way. It is impossible to ignore the stories that you just heard. It's impossible to do nothing when you know such injustice, such cruelty, is made upon people just because they have a different belief."
She continued, "It has been 21 years since this persecution began. The really hard question here is how this has been able to go on for 21 years, and how it can still be ongoing. It's not only disgraceful to the CCP, it is shameful for the whole free world as I see it. The persecution of Falun Gong is inhuman. It's barbaric. And we must ask and demand a legal process to end it."
As a member of IPAC, MP Alm said that they still have a lot of work to do to protect people's basic rights, dignity and freedom. She said she is glad that the "free world is slowly being aware about the cruelness that the Chinese Communist Party is doing to its own people. The Communist Party of China needs to know what the free world wants, and we want this persecution and all other persecutions to end. It needs to stop right now.
"The international community should speak up, more forcefully, and more publicly, in denouncing the Chinese regime for its suppression of human rights. It's our duty to fight for all people's rights."
The MP expressed hope that the CCP can one day begin to respect the rule of law, freedom of speech, and the freedom for people to have their own minds.
In closing, Ms. Alm said, "Falun Gong is friendly and peaceful. Truthfulness, Compassion and Forbearance, maybe this is exactly what the world needs right now to get us through this pandemic."
Taiwanese Ambassador: Falun Gong Is Respected and Protected in Taiwan
Prof. Dr. Jhy-Wey Shieh, the ambassador of Taiwan to Germany, said that while Falun Gong is persecuted in China, it's "accepted, protected, and respected, especially by the people who are aware of the risk that the Falun Gong people have been running [in China] to practice their belief."
He added that the Taiwanese government safeguards and protects religious freedom and is working hard to create a society of mutual tolerance and acceptance. They have provided Falun Gong practitioners with venues for their group exercises and gatherings. People often see Falun Gong practitioners in colleges, outside of museums, parks and tourist sites. These practitioners introduce the practice to people and expose the persecution of their counterparts across the strait. It's estimated that there are over 600,000 Falun Gong practitioners in Taiwan. They have also made enormous contribution to the society.
Dr. Shieh said that the reason why the CCP persecutes Falun Gong is because of their dictatorship. "They can't allow another group, a religious group, to have so many followers. They are scared." He pointed out that it isn't only Falun Gong that is being persecuted in China, but also many other religions and minorities, including Christians and Buddhists. 
He added that Falun Gong's tenets, Truthfulness, Compassion, Forbearance, are what society needs and celebrates.
Dr. Shieh also said that, as a beacon of freedom, Taiwan is willing to work with free countries around the world to uphold religious freedom and freedom of speech. They are also standing with people who are being persecuted by authoritarian states, and fighting the CCP's tyranny and autocracy. They are committed to creating a world where people can freely practice their faith and are not persecuted.