Washington DC: Rally at Chinese Embassy Calls for an End to the Persecution
Oct. 5, 2020 | By a Falun Dafa practitioner in the U.S.
(Minghui.org) Falun Dafa practitioners held a rally in front of the Chinese Embassy in Washington DC on September 30, the eve of China's National Day. They called for an end to the Chinese Communist Party's (CCP) persecution and congratulated the over 360 million Chinese people who have already quit the Party and its affiliated organizations.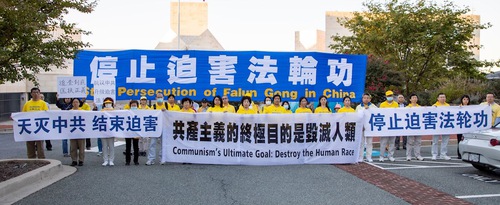 Practitioners hold a rally in front of the Chinese Embassy in Washington DC on September 30, 2020.
During the rally, several practitioners described the persecution they were subjected to at the hands of the CCP. They called on the Chinese people to learn the CCP's true nature and renounce the Party for a safe future.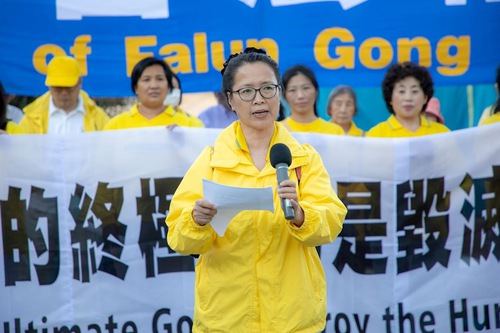 Zhang Yuhua was invited to meet with President Trump in July 2019.
Husband Held By Police After Being Released from Prison
Zhang Yuhua, former Department Chair of the Russian Nanjing Normal University, met with President Trump in the White House in July 2019 and told him how the CCP persecuted her husband. Her husband, Ma Zhenyu, former engineer at the Ministry of Information Industry of China, was imprisoned for three years after he mailed information about Falun Dafa to CCP leaders. 
His term of imprisonment ended on September 19, 2020. Suzhou Prison in Jiangsu Province said that he was released to the Nanjing police, but his wife has been unable to contact him. 
Zhenyu is being held in the Suojin Police Substation, Xuanwu District, Nanjing, Jiangsu Province, where he is kept in a room and monitored by the police. The police have intimidated his family members including his mother, who is in her 80s, and told them not to contact his wife. They also intimidated local Falun Dafa practitioners and ordered them not to contact or visit Ma Zhenyu, threatening them with arrest if they did so. 
U.S. Secretary of State Michael Pompeo issued a statement condemning the CCP's persecution of Falun Dafa two months ago. Ma Zhenyu was mentioned in the statement, which urged the CCP to end the persecution and release all imprisoned practitioners. 
"I worry about Zhenyu's safety," Ms. Zhang told rally attendees, "I don't know if his food is provided by the police. If yes, is it safe? In China, many deaths are blamed on sudden 'heart disease' or 'suicide.'" 
Ms. Zhang called on the U.S. government and the international community to condemn the CCP and the Nanjing government and urge them to free Ma Zhengyu. 
Brutally Persecuted for Her Belief
Ms. Yin Liping spoke at the rally, recounting how she was tortured by the Chinese authorities for upholding her belief. She was arrested seven times and was tortured to the brink of death six times. As a result of severe beatings, her spine was dislocated, leading to paralysis of her lower limbs and incontinence.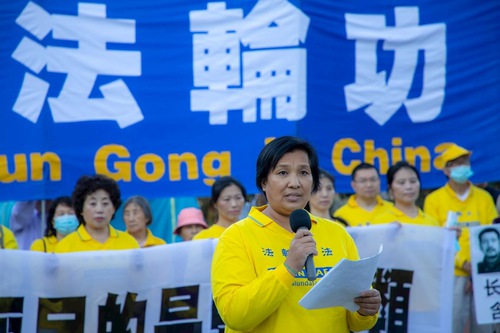 Yin Liping told how her spine was dislocated as a result of repeated beatings.
Ten practitioners that Ms. Yin knew personally were tortured to death during the CCP's 21-year-long persecution. Many practitioners in her hometown were recently arrested. Among them, Liu Qingxiang was arrested in May and is still detained. Ms. Liu is 64 years old and was imprisoned for nine years for her belief. 
Another practitioner, Feng Ping from Shanghai addressed the rally. She was detained in the Fengtai Detention Center in 2000 for appealing for Falun Dafa in Beijing. Police directed inmates to beat her after she stopped a police officer from beating an elderly practitioner. 
"The inmates beat my face with a rubber shoe sole," she recalled. "Then they forced me to put my fingers on the floor and stomped on them one by one. They also used a sewing needle to prick my fingers one by one, making them bleed." 
She was arrested several times and subjected to punitive forced-feeding. Her husband divorced her under pressure and she was dismissed from work due to the persecution. The police attempted to force her to give up her belief. She was only in her 20s but suffered unimaginable pain as a result of the abuse. 
Disintegrating the CCP for a Better China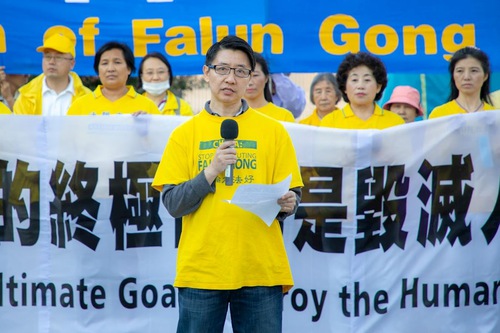 Practitioner He Bin
"What can China do if the CCP collapses?" asked He Bin. He told the rally that many people are worried that China will experience the chaos and corruption that happened in Russia when the former Soviet Union collapsed.
Referring to the quitting the CCP movement that began when the Nine Commentaries on the Communist Party was published by The Epoch Times in 2004, he said, "Quitting the CCP is a spiritual awakening. This spiritual awakening and purifying never occurred in Russia or the former Soviet-led Eastern European countries. Traces of the Communist Party are still in those countries even though the Party was dismantled. 
"Falun Dafa practitioners strive for freedom of belief. They uphold their belief but in reality they lay a foundation for a moral resetting of the world's society. When people believe good will be rewarded and evil will meet with retribution, and in divine beings, they will have righteous belief and the self-restraint to not commit wrongdoing. This righteous atmosphere will spread to throughout the world." 
"We support the quitting the CCP movement and call for an end to the persecution, to ensure freedom of belief and a better future for China," Mr. He said.